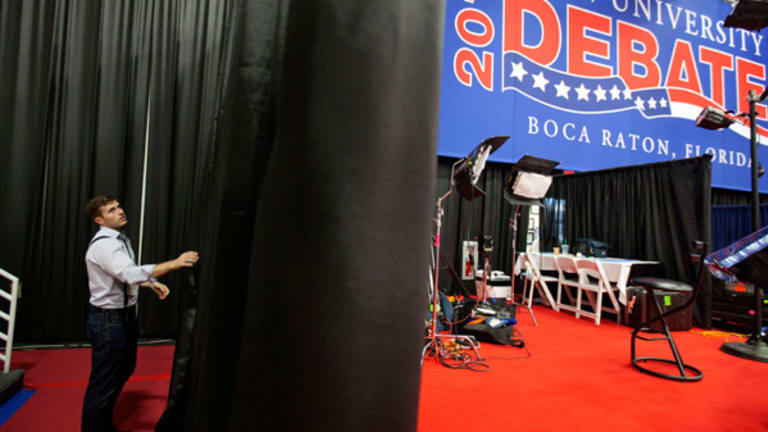 Final Presidential Debate of 2012 - Blog Recap
President Obama and Mitt Romney slugged out the third and final presidential debate in Boca Raton, Florida on Monday night.
President Obama and Mitt Romney slugged out the third and final presidential debate in Boca Raton, Florida on Monday night.
NEW YORK (TheStreet) -- President Barack Obama and Governor Mitt Romney will take the stage in the third and final presidential debate this evening at Lynn University in Boca Raton, Florida. The debate runs from 9:00-10:30 p.m. Eastern Time, but you can start the conversation earlier by joining TheStreet's presidential debate live blog.
A Preview of Tonight's Debate
The debate will feature foreign policy questions from veteran moderator Bob Schieffer of
CBS News
.
"I think this foreign affairs debate is going to segue right back to domestic issues, and Obama is probably going to say 'What I've done by ending two wars is allowed America to regain billions, if not trillions, of dollars in revenue that will come back to our shores," said Sig Rogich, a former adviser who worked on debate preparation with President George H.W. Bush.
In a seemingly timed release with the foreign policy debate, the Obama campaign was out Monday with
that touted the president's record of having returned 33,000 troops from Afghanistan and his "responsible plan to end the war." The ad slammed Romney and claimed that the Republican nominee would have left some 30,000 troops in Iraq.
"It's time to stop fighting over there and start rebuilding here," the ad's narrator says.
The Romney campaign on Monday was out with a different critique of the president as it claimed his policies have weakened America's global standing.
"At the 2008 presidential debates, candidate Obama promised to implement a foreign policy that would protect our interests and allies abroad," Amanda Henneberg, a Romney spokeswoman, wrote in a note to reporters. "But four years later, America stands weakened around the world, our safety threatened, our allies increasingly isolated, and hostile nations emboldened."
Democrats have pushed the narrative that the president has a strong record on foreign policy, and point to his killing Osama bin Laden, pulling out of Iraq, and having a time-tabled withdrawal from Afghanistan.
Caleb Faux, the Hamilton County, Ohio Democratic Party executive director, said Obama should rigorously defend his foreign policy record at the third debate, and speak more about what must happen moving forward in a second term.
"I would suspect from time to time the topic will come back to domestic issues even though this is in theory about defense and foreign policy; the fact that the economy and domestic issues are foremost on everybody's mind I think will eventually resurface," said Faux. "I know there's a tendency in these kinds of situations to look backwards, but we also need to be looking forward."
Romney will look to notch another strong debate performance, especially as national poll numbers have tightened since his
convincing performance against Obama at the first debate
.
The late surge has also shown the Republican with
improvements in key battleground states
like Ohio, Florida, Virginia and North Carolina.
With just two weeks before Election Day
, Obama and Romney will be hoping for one last opportunity to land a crucial blow against each other -- a sound bite that will rerun on voters television sets or go viral on the Web.
-- Written by Joe Deaux in New York.
>Contact by
.