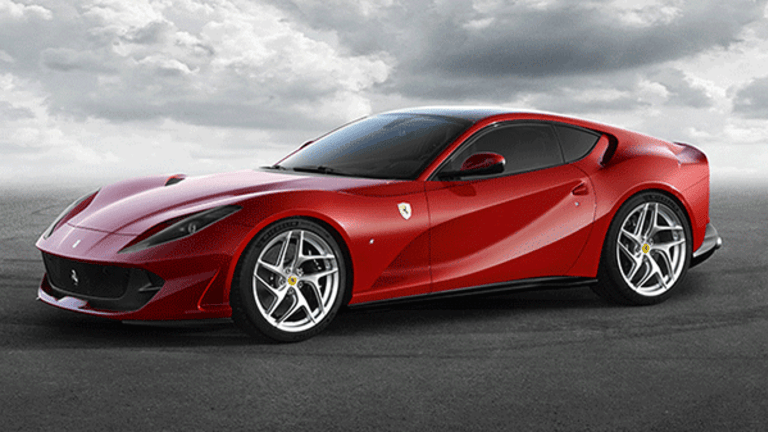 Publish date:
Ferrari's 812 Could Be Automaker's Last Middle-Finger Salute at Global Warming Hardliners
The 812 Superfast is reportedly the exotic sports car maker's last 12-cylinder model.
The 812 Superfast is reportedly the exotic sports car maker's last 12-cylinder model.
Ferrari (RACE) - Get Ferrari NV Report  always has been a giant middle finger extended at the world's global warming worrywarts.
The Maranello, Italy-based maker of high-powered exotic sports cars is pointing that finger skyward one last time with the introduction of the 789-horsepower 812 Superfast, reportedly the last model that will come equipped with a naturally aspirated V12 engine.
Future Ferrari models will be powered by engines with smaller displacement and turbo-charging or electric-assist to better control CO2 emissions and improve fuel mileage. Evidently, the standards influencing the design of other carmakers' models finally have gotten to Ferrari, which typically produces cars in very small numbers.
The company's executives are expected to say more at the biennial Geneva Auto Show in early March, where the 812 will debut.
No automotive name carries more cachet than Ferrari. The brand's devotees usually favor maintaining the same automotive technologies that have ruled racetracks and concourses for decades, especially the characteristics that cause its distinctive engine sound at high throttle. Ferrari's F1 team is the only to have raced continuously in the circuit since its inception in 1950.
The costliest sale of a car in history was reportedly the $38.1 million that telecom magnate Craig McCaw paid for a 1962 Ferrari 250 GTO in 2012.
The 812 Superfast will be the first Ferrari to feature electronic, rather than mechanical, steering. Pricing will be announced in Geneva, though it's likely to run to seven figures.
Other changes are coming as well. Look for Ferrari to increase the number of cars sold each year. Additional sales vex the faithful, who appreciate scarcity as a means of maintaining the brand's prestige. But the financial pressure is immense on a tiny automaker that must spend prodigiously to maintain technical parity with the likes of Porsche, for example, which can rely on its parent, Volkswagen (VLKAY) , for support.
Ferrari had belonged to Fiat Chrysler Automobiles until it was spun off as an independent company, with publicly traded stock. About 10% of the shares went to shareholders of FCAU in early 2016.
Shipments of new Ferraris reached a record of just more than 8,000 last year and are expected to reach 8,400 this year. Revenue last year was 3.1 billion euros, with net profit at 425 million euros.
The trick will be to keep pushing sales without going too far and spoiling Ferrari's rarity. That balance is the reason that the brand (symbolized by a prancing horse) is regarded as one of the globe's strongest, if not its No. 1.
Doron Levin is the host of "In the Driver Seat," broadcast on SiriusXM Insight 121, Saturday at noon, encore Sunday at 9 a.m.
This article is commentary by an independent contributor. At the time of publication, the author held no positions in the stocks mentioned.