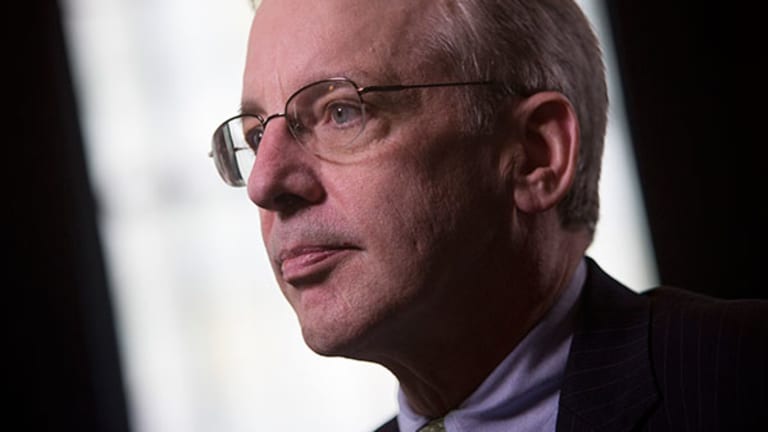 September Rate Hike 'Less Compelling' as China Batters Markets, Fed's Dudley Says
Federal Reserve officials will consider global economic conditions and financial market developments along with U.S. data such as consumer confidence and home sales when deciding whether to raise interest rates.
NEW YORK (TheStreet) -- A September interest-rate hike is "less compelling" against the backdrop of low oil prices and a slowing Chinese economy that may curb U.S. growth, New York Fed President William Dudley said Wednesday.
"At the end of the day, we're concerned about the economic outlook: how the economy is going to perform in the future," Dudley said in a news briefing at the Federal Reserve's New York bank in lower Manhattan. "It's not just how we're performing today, it's all the things that affect the outlook beyond the next few months and I think there, international developments and financial market developments do have relevance."
Beginning to increase interest rates from around zero, the point to which they were lowered during the financial crisis, at the Federal Open Market Committee's September meeting "seems less compelling to me than it was a few weeks ago," said Dudley, who's a voting member of the committee. "But normalization could become more compelling by the time of the meeting as we get additional information on how the U.S. economy is performing and more information on international and financial market developments."
Dudley remained optimistic about raising interest rates this year, as long as the job market continues to improve and the economy meets the Fed's 2% inflation goal. 
"Let's see how the data unfold before we make any statements about when that might occur," he said. A large portion of traders had been betting the Fed would raise rates, which have hovered near zero since the financial crisis, as early as next month. That shifted to December, and then to next year, as China's economy slowed and U.S. markets plummeted in the past few days.
The Dow Jones Industrial Average, a benchmark index of 30 blue-chip stocks, lost more than 1,100 points on Friday and Monday, about 6.6% of its value. "I don't have a view on why the stock market is doing what it's doing," Dudley said. "The stock market has to move a lot and stay there for it to have implications for the economy."
Predictably, stocks got a temporary bounce Wednesday from Dudley's indication that a September rate hike might be less likely but the gains faded as it became clear he wasn't ruling out an increase altogether.
The New York Fed president emphasized that both financial-market developments and global economic conditions will be important parts of the interest-rate calculus, along with U.S. data such as consumer confidence, home sales and durable goods orders. The domestic figures have been "pretty positive," Dudley said.
More broadly, though, "international developments have increased the downside risk to U.S. economic growth," he said. "The slowdown in China and the sharp fall in commodity prices are increasing the strain on many emerging market economies, and this could lead to a slower global growth rate and less demand for U.S. goods and services."
China, the world's second-largest economy, has a challenging task ahead as it seeks to shift from investment toward consumption "yet still maintain a strong growth rate that can generate employment opportunities," Dudley said. "The good news there is that the people there are very capable and they do have quite a bit of resources in terms of policy tools they can use to facilitate this transition. I'm reasonably confident in their ability to do so."
While the recent sell-off in U.S. financial markets sparked memories of the financial crisis in 2008, Dudley emphasized that the two events are quite different. 
"What we're seeing is not a U.S. problem," he said. "The financial crisis was very much about us, about subprime mortgage lending, securitization of securities that turned out to be highly toxic. That was about us. This isn't about us. This is about developments abroad. What we have to assess is how those developments abroad could potentially impinge on us."