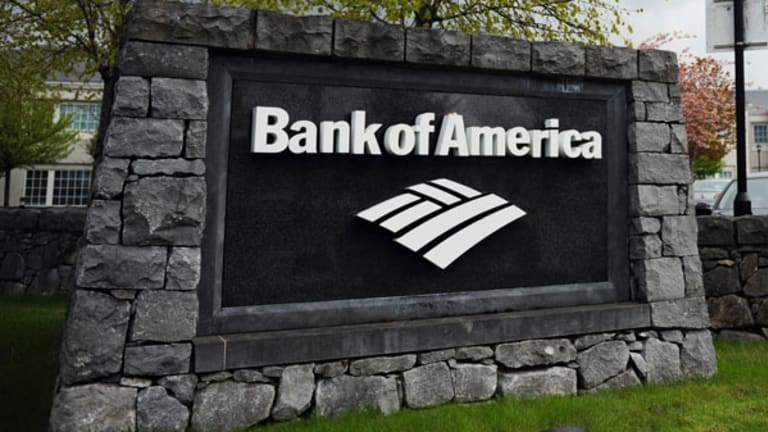 Fed Suffers Interest-Rate 'Impotency' as China Withers Markets
There's no Viagra for "central bank policy impotence." Pushing interest rates up risks spooking the markets amid China's slump, Bank of America says in a new report.
NEW YORK (TheStreet) -- Years of holding interest rates near zero have left the Federal Reserve suffering from "central bank policy impotence," a Bank of America (BAC) - Get Free Report report says, and there's no pill to provide a quick fix.
Pushing interest rates up now, even though the benefits of low rates are fizzling, risks spooking the markets just when they're getting hammered by China's slump. The S&P 500 plummeted 3.2% for the day and has fallen 7.5% since its May high, near the 10% decline which would constitute a correction. The Dow Jones Industrial Average dropped 3.1% or 539 points.
The "end of excess liquidity and the end of excess profits has caused an end of excess returns in 2015," Michael Hartnett of the bank's Merrill Lynch Global Research unit wrote in the report this week. "The summer mood of investors appears to have darkened considerably as the declines in commodities and emerging markets have induced widespread losses in equities in recent weeks."
Worldwide, stocks have dropped 2.6% in the past month, he noted.
The excess returns Hartnett's team acknowledged were largely due to the Fed's policy of keeping interest rates near zero for the past seven years. Unfortunately, the effectiveness of that policy has waned in what Bank of America characterized as "central bank policy impotence." 
Year-to-date returns across asset classes have been underwhelming compared with those in the market run-up from 2009 to 2014, Hartnett's team noted. By his measure, the total return on stocks so far this year has been 2.3%, while bonds decreased 2.5%.
Still, Bank of America advises that tactical traders -- those who take short to medium-term positions in their trades -- may want to add some riskier, potentially higher-yielding, assets to their portfolio. The recommendation comes with two big caveats, however: China devaluation and, of course, Fed policy.
Last week, China devalued its currency by 2%. While the amount is small, it can pose significant consequences to U.S. manufacturing and export businesses. Bank of America already sees U.S. inventories outpacing sales, which could lead to a supply glut. If the demand for U.S. goods overseas is further decreased by the comparably higher cost relative to Chinese goods, profits could take a hit.
As for the Fed, its grappling over rate hikes comes with risks of its own. While a September rate-hike was seen as a near certainty a few months ago, recent developments in China and the eurozone as well as the continuing fall in oil prices has made analysts less certain of the Fed's timing. Indeed, most traders are now betting that an interest-rate increase is likely to be pushed to December.
The view of September skeptics was likely reinforced on Wednesday after the Fed released the minutes from its July meeting. At the time of the meeting, China's devaluation had not yet occurred, but members of the Federal Open Market Committee acknowledged how problems in Greece and the then-recent fall of the Chinese stock market could affect its rate-hiking decision.
"Participants also discussed the risk that a possible divergence in interest rates in the United States and abroad might lead to further appreciation of the dollar, extending the downward pressure on commodity prices and the weakness in net exports," the central bank reported in minutes from the meeting.
Still, raising rates might generate surprisingly positive effects by signaling the Fed's faith in the economy.
The Fed's actions have taken on heightened importance in recent years as investment strategies became increasingly tied to the "power of central banks," after the financial crisis, Hartnett said in the report. "There are few bond vigilantes willing to punish profligate governments, fewer currency speculators willing to defy central bank intervention, and investors have become adept at front-running policy-makers and/or expecting central banks will 'blink' at signs of market volatility.
"We believe a loss of central bank potency is an unambiguous risk-off," Hartnett wrote, referring to periods in which investors try to limit risk as much as possible.