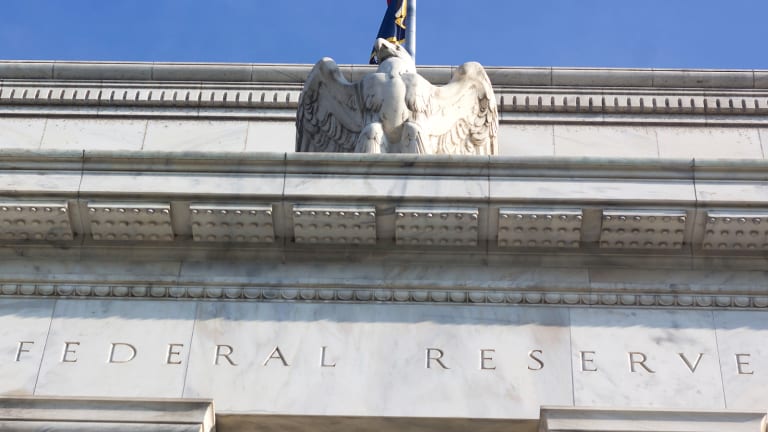 What the Fed's Vague Hints Say About a Rate Hike in March
The Federal Reserve left interest rates unchanged, and signaled caution on future increases amid jittery markets, a slowdown in China and plummeting oil prices.
This article, originally published at 2:31 p.m. on Wednesday, Jan. 27, 2015, has been updated with analyst commentary and market reaction.
Wall Street never seriously expected the Federal Reserve to make any changes to interest rates in this week's meeting, and it didn't.
Nor did it provide clear insight into rate hikes later in the year, a topic of intense speculation after sliding oil prices fueled a rocky start to the year in financial markets.
Instead, the central bank left open the door to a March increase while simultaneously signaling caution, noting that its monetary policy committee is "closely monitoring global economic and financial developments" and weighing their potential effects in the U.S. While employment has climbed and the housing market has grown moderately, inflation is below the Fed's 2% target and is likely to remain so in the near future because of further energy-price drops, the committee said in a statement. 
Economic growth will probably "warrant only gradual increases" in interest rates, which may "remain, for some time, below levels that are expected to prevail in the long run," the committee said. The central bank raised rates by 25 basis points a month ago, the first increase since cutting them to nearly zero to bolster the economy during the 2008 financial crisis.
The Fed's statement acknowledged that the U.S. outlook may be affected by the "recent tightening of financial conditions and risks from international developments," Jan Hatzius, an economist with investment bank Goldman Sachs, said in a note to clients. Still, "assuming a modest improvement in financial market conditions, we expect the committee to follow through with a rate hike in March."
The broader markets are less confident about that, with the percentage of traders betting on a March rate hike dropping 10 points, to 19%, after the announcement, according to data analyzed by Bloomberg.
Notably, "the Fed did not give a strong signal that they would wait to hike as the market has priced in," Michael S. Hanson, an economist with Bank of America Merrill Lynch, said in a note. Rather, committee members added language to the statement "to indicate they were still 'assessing their implications' for the outlook, suggesting that they want to retain the option for a March hike but don't strongly lean in one direction or the other."
Despite the central bank's previous suggestion that it might raise rates as many as four times this year, more than half the fund managers responding to a Bank of America survey earlier this month predicted only two hikes. The sample included 200 participants supervising $610 billion of assets.
Blackstone Vice Chairman Byron Wien, a former economic strategist for both Pequot Capital and investment bank Morgan Stanley, expects even fewer.

"I think they may raise rates by 25 basis points in March, but they will not raise rates again during the remainder of the year," he said in a report on Tuesday, projecting that the U.S. economy will grow less than 2% this year and capital investments by energy companies may remain low.
"If the economic weakness that I suspect actually develops, we may find the Federal Reserve actively considers reducing rates later in the year rather than raising them."
Maintaining low rates, while a challenge for banks that rely on interest as a vital revenue source, would help borrowers, particularly those with high-risk credit ratings or straitened financial circumstances, such as oil producers hammered by plummeting crude prices.  Monetary policy committee members reiterated Wednesday that the Fed would remain accommodative, relying on economic and employment data to guide the pace of increases.  
While banks have been eager for higher rates, executives said during fourth-quarter earnings reports that they're not taking further hikes this year as a given. Such uncertainty, combined with concerns about possible energy loan defaults, has helped pull the KBW Bank Index down by 14% so far this year, roughly double broader market declines.
JPMorgan Chase (JPM) , the largest U.S. bank, based a projection of $2 billion in additional interest income this year solely on the December rate hike combined with increases in lending volume. The biggest U.S. mortgage lender, Wells Fargo (WFC) , said its executives were working with models based on a range of rate-hike outlooks -- from just one to as many as four. 
Exclusive Look Inside:Jim Cramer'sAction Alerts PLUS holds Wells Fargo stock in its portfolio. Learn more now.
The higher end of that range remains a viable possibility, despite investor concerns over sliding crude oil prices and China's economic slowdown, Vikas Gupta, chief investment officer for Mumbai-based ArthVeda Capital, said in a telephone interview.
"For the rest of the year, if financial markets are not jittery, they will continue as per their original pace," he said.
"The energy prices cannot stay that low for too long," Gupta said. But even if they do, "the Fed hasn't got any concern on that front. In fact, it adds to the ease of doing business because the consumers will have that money in their pockets." 
While China, the world's second-largest economy, will continue to struggle as it pivots to a consumer basis from an emphasis on exporting manufactured goods, that slowdown will spill into smaller Asian dependents like Vietnam rather than the U.S., Gupta said. 
"There is an upside surprise, which people will realize, that some of the developed economies are doing much better than people want to admit," Gupta said. "Right now, people are grasping at news flows which are more like panic-mongering, I would say."