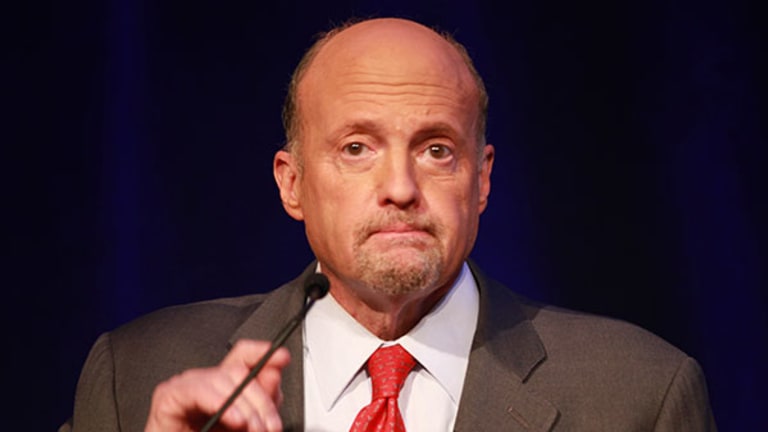 Fed Shouldn't Choke Nascent Housing Boom; Workday's Challenges: Jim Cramer's Best Blogs
Catch up on Jim Cramer's ideas this past week about how the Fed can avoid hurting the housing market, Workday's tough competition and six leading stocks in cybersecurity.
NEW YORK (Real Money) -- Jim Cramer fills his blog on RealMoney every day with his up-to-the-minute reactions to what's happening in the market and his legendary ahead-of-the-crowd ideas. This week he blogged on:
The misconception by many Fed-heads that housing is hot enough and business is good enough for the central bank to act.
Evaluating Workday's competition from Oracle and SAP.
Six firms to know in cybersecurity.
Click here for information on RealMoney, where you can see all the blogs, including Jim Cramer's -- and reader comments -- in real time.

Dear Fed: Please Don't Strangle a Nascent Housing Boom
Posted May 27 at 12:04 p.m. EDT
Maybe you need to be a gardener, like I am, to know how big these days are for Home Depot (HD) - Get Report and Lowe's (LOW) - Get Report. We are at the peak of planting season, and these two chains are the go-to stores for everything garden -- from seeds and fencing to flats and fertilizers -- that is, unless your garden is organic and natural, like mine is.
No wonder Home Depot brings on 70,000 new associates just for this period, which is the equivalent of the Christmas holiday season for sales. It even calls the second weekend in April its "Spring Black Friday" to note the traditional kickoff of gardening season.
It's also the season for refurbishing your home after a long winter. You paint, you fix the roof, you get the shingles, you upgrade the windows -- all the things that you don't do during the winter. It's worth the investment, given the sharp appreciation in home values, according to yesterday's latest from the Case-Shiller home price index, which showed a 5% appreciation in the month of March.
Housing, which we know punches well above its weight in the U.S. economy, is beginning to get back to where it was before the Great Recession, with the possibility of more than 1 million homes being built this year, double what as seen just a few years ago. Zillow's chief economist, Stan Humphries, was quoted in The Wall Street Journal today saying that he believes we need 1.5 million new homes to keep up with the growing population.
These trends are probably why the so-called disappointing Lowe's earnings number barely dinged the company's stock and now both Home Depot and Lowe's are on the upswing. Which brings me to the notion of the coming interest rate hike. We are beginning to hear chatter that if the Fed begins raising rates, there will be a surge of buyers who don't want to miss the bottom in mortgage rates.
I could not disagree more.
This nascent housing boom could be threatened instantly by any rate hike. In fact, housing is the industry I am most worried about. And, yes, while we may hear stories of rapid home price appreciation, I would contend that this could be cured by building more homes, not raising interest rates.
More important, I want to stress the term "nascent." Toll Brothers (TOL) - Get Report this very morning said that right now sales are "choppy," even as they are strong in some areas, notably, California, Texas and New York City.
Rates shouldn't be raised when things are "choppy." but when things are humming and it's sure that things are sturdy enough that the trend isn't damaged or destroyed. We may just now be getting to 1 million housing starts.
Why can't the Fed wait until things are strong enough to sustain more than that, so there's more demand for everything from paint to wood to bedding to flooring, as well as kitchen, bath, appliances and tools, all of which are doing fine but have room to run?
There is a tremendous misconception by many Fed-heads that housing is hot enough and business is good enough in this country for the central bank to act. There's a foreboding inevitability to all their discussions.
Here's my advice to the Fed: Get more comfortable with being on hold until the dollar is truly turning down and housing sales are so strong that they need to be hemmed in by rates.
But we simply aren't there yet. The gardens look great, but the robust home sales could easily prove to be ephemeral if the Fed simple determines that June or September must produce a rate hike or else.
Sure, I don't want the Fed to be late, but there's harm in being early, and we are still early when it comes to this key segment of the economy. Fed members who constantly blather about when and how much should stop the clock, stay close to the data, take time to smell the newly planted roses and, for heaven's sake, shut up!
A Tesla-Like Valuation for a Cloud Play
Posted May 27 at 4:52 a.m. EDT
Aneel Bushri didn't mean to drop the bomb, the bomb of competition in the human capital space. His company, Workday (WDAY) - Get Report, had just delivered another excellent quarter. But there was no doubt that competition has cut into the ability to cut big deals with huge price tags that have made this stock a popular favorite among so many cloud devotees.
That's why the last words on the conference call left such a bad taste in peoples' mouths and that's a main reason why the stock got hit. In answer to a question about "irrational pricing" by competitor Oracle (ORCL) - Get Report and the "heated" competition in the space, Bushri replied, "I don't think it is any different in terms of their tactics in the first quarter than it has been in the previous quarters. I mean I'd say every quarter is an ebb and flow. I'd say right now Oracle has their act together better than SAP (SAP) - Get Report. SAP seems to be in a bit of disarray."
That's all well and good, and I am sure that it's better to have only one strong competitor than two. But I sure didn't want to hear that Oracle has its act together when I know from the Oracle side that it is doing everything it can to frustrate Workday, having not paid attention to Marc Benioff and his cloud efforts when Salesforce.com (CRM) - Get Report snuck up to being a $6 billion, soon to be $7 billion, in sales company.
Workday just crossed $1 billion.
Now, Workday was one of the few companies that rallied coming out of yesterday's miserable session for tech and so many other segments of the market.
It is incredibly highly valued, as it should be, given that it wins so many head-to-head contests against SAP and Oracle for new business. But if Oracle has gotten its act together and is being brutal on price rather than revenue growth, here it's going to slow, and the drop-off of SAP won't be as significant as it would normally be.
Oracle has told everyone and his brother that it's not going to let this human capital vertical or the payroll adjacency be taken away from it by upstart cloud companies.
I thought last night's weaker billings number and forecast slowdown, as strong as it would be for any other company, was a sign that Oracle means business. It is not going to let another Salesforce.com swing into action.
That's bad news for Workday shareholders, even if the company does have both a superior product and an amazing sales pitch.
Oracle has the cash and the moxie to give business away if it wants to in this particular vertical. Workday has to hope that SAP's "disarray" gets worse and that Oracle relents so it can get back to the super-high-growth path it is on.
Otherwise, it is just on a high-growth one, which is not good for a company with good cash flow but minuscule earnings and, some would say, a Tesla (TSLA) - Get Report valuation for a cloud play, especially after Salesforce.com shocked investors with a very profitable and fast-growing quarter one week ago.
The Elite Six of Cybersecurity
Posted May 28 at 4:12 p.m. EDT
Sometimes when you have a broad theme, the money seeks out whatever investments it can find in the space. That's the way it's developing in the cybersecurity and organic and natural spaces.
Last night's quarter from Palo Alto Networks (PANW) - Get Report is an excellent case in point. Here's a company that may be the single hottest stock in the universe of enterprises I follow.
While I have always found the stock to be expensive, in many ways it deserves to be expensive. The premier best-of-breed cybersecurity company offered 55% revenue growth, beating the estimates by 5% and lifting sales 8% from the previous quarter, signaling some amazing order wins.
Plus it bought a company, CirroSecure, which works on cloud security, bolstering what will be recurring revenue in the subscription area -- the best kind. The company is huge overseas, but you didn't hear any complaints from CEO Mark McLaughlin, one of my favorites, because business is accelerating everywhere.
Remember, McLaughlin said that ever since cybersecurity became a "board level issue" -- meaning that there's a chunk of time being spent with board members about the need to spend money on this issue -- business has been accelerating.
Palo Alto offers a soup-to-nuts option and is known for its prevention strength. With no let-up in growth and new clients begging for help, Palo Alto represents the quintessential company that executives want to bring in to please the board and assuage shareholders that management is doing everything it can to stop cybercrimes.
And Palo Alto is part of an elite group of pure plays on cybersecurity. FireEye (FEYE) - Get Report is the ultimate in cybersecurity forensics and is now the go-to company in order to avoid liability for cybercrimes, as it has earned a federal government seal of approval that says a company's doing everything it can to stop cyberintrusions. It's a terrific company with best-of-breed technology to find out who is hacking. When there's any big hacking, such as that experienced by Sony (SNE) - Get Report, Home Depot (HD) - Get Report, Target (TGT) - Get Report, it's possible to presume this company is getting the call.
CyberArk (CYBR) - Get Report has got the keys to the kingdom, assuring that nobody hijacks the entire internal security system. It's run by a bunch of brilliant Israeli Defense Force guys who seem to thrive on protecting the inside of the cyberdefense ring.
Fortinet's (FTNT) - Get Report got terrific technology for threat protection. It's less even in earnings than some of the other companies, but it serves as a pure play.
And I like Checkpoint (CKP) , even as it was downgraded the other day to a sell at Morgan Stanley. I think this segment is too hot to take any player to a sell.
Finally, if you want to think big, the name on everyone's lips for security integrated and embedded into the Internet infrastructure, that's Cisco's (CSCO) - Get Report bailiwick. I think it is far too underestimated as the ultimate in security for the future. That's another reason why the stock's too cheap not to invest in.
When you have a shortage of stocks to play a theme, you can levitate for a very long time as can be seen in the companies that offer organic and natural product lines. Hain Celestial (HAIN) - Get Report and WhiteWave (WWAV)  are the only pure plays and it can be seen from Hormel's (HRL) - Get Report purchase of Applegate, companies either get more organic and natural or they fail to meet the demand of the millennials, who won't always be millennials. They will be majoritarians. That's why I like both of those stocks.
And it's why I think you can still buy any cybersecurity stock. We are in the early innings and we don't have enough choices so they will all get their due and trade higher even as they are among the most expensive stocks in the entire market. High growth and cybersecurity equals scarcity value, and when you have scarcity demand overwhelms supply in any business and the price of the merchandise -- in this case the stocks -- almost ineluctably goes higher.
Action Alerts PLUS, which Cramer co-manages as a charitable trust is long CSCO, TGT and WWAV.