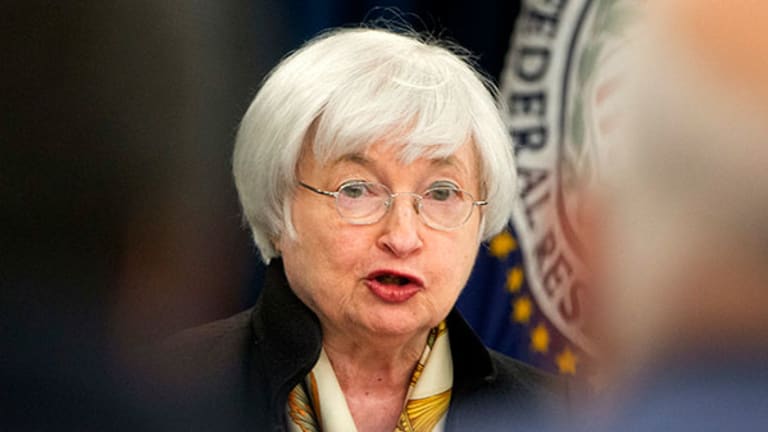 Fed Sees Global Headwinds Fostering a Slower Economy
Six of the 17 policymakers now anticipate just one rate increase this year.
This commentary was originally sent to Growth Seeker subscribers at 09:10 ET on June 16. Click here for more information on this dynamic portfolio and market information service.
The cat is out of the bag and the anticipation is now over. Shocker! The Fed did not raise rates at its June FOMC meeting. Yes, that is a snarky tone, but this was hardly a surprise, given the economic data we've been sharing with you over the last several weeks. That downward vector and slowing velocity was once again evident in yesterday's May Industrial Production report that showed the manufacturing economy slip back into contraction territory.
Eyeing this and other data as well as the recent cuts to global growth forecast by the OECD and the World Bank, we're not surprised to see the Fed cut its domestic 2016 GDP projection to 2.0% from 2.2% in March. The Fed also trimmed its 2017 GDP forecast to 2.0% from the prior 2.1%. Sifting through more of the details, six of the 17 policymakers now see just one rate increase this year, and the Fed has slowed the number of interest rate moves in both 2017 and 2018 to three increases in each of those years, down from the four they expected in March, per their latest median forecast.
This tells us that even the ever-optimistic economic cheerleader that is the Fed sees global headwinds fostering a slower economy, despite continued easy monetary policy throughout much of the developed world. If the Fed is taking this position, then it's rather likely growth will remain spotty over the coming months. Let's remember that we are in the middle of one of the most "interesting" presidential elections ever. Until Corporate America has a better understanding of which candidate will land in the White House come 2017 and what his or her policies will be, odds are high that it will keep a tight rein on the spending purse strings. Uncertainty is a growth killer, so the odds of a big uptick in the economy over the next few months are rather low.
Turning to the Fed's other key focus, inflation, core CPI, which excludes food and energy, has been tracking near 1.5%, which is below the Fed's 2.0% target. Again, diving into the Fed's updated economic projections, it does not see annual inflation hitting 2.0% until 2018. With more domestic oil rigs coming on stream and oil exports surging from Iran, odds are we've already seen the bulk of the upward move in oil prices until the global economy starts to perk up. That should help keep inflation in check, at least in the short-term, and help keep the Fed's fingers off the interest rate increase button.
With just one more month's worth of data before the Fed's July meeting, we rather doubt we will see such a meaningful improvement in the data that it will prompt the Fed to boost rates at that meeting. The Fed is pretty much telling us that and signaling that any eventual move upward in rates will be "gradual" when it says:

"The Committee expects that economic conditions will evolve in a manner that will warrant only gradual increases in the federal funds rate; the federal funds rate is likely to remain, for some time, below levels that are expected to prevail in the longer run. However, the actual path of the federal funds rate will depend on the economic outlook as informed by incoming data."
Putting down our economist hat and donning our investing one, delaying the rate hike until sometime late in 2016, (given the Fed's next meeting after July is September) is going to weigh on interest rate expectations for financials. We've seen this already, as more evidence suggested the Fed would not boost interest rates, but as we've come to realize it's one thing to see it coming and quite another for the market to digest the actual news. The push out combined with the slowing economy and the disconnect between the current stock market valuation and expected earnings growth has a high probability of rekindling investor appetite for safer haven investments as we get ready for the upcoming June quarter earnings season. That means more inelastic business models, as well higher dividend yielding stocks will be in vogue over growth stocks.
Finally, during the Fed's press conference, Fed Chair Janet Yellen admitted the pending Brexit vote was a consideration in the Fed's decision. "It is a decision that could have consequences for economic and financial conditions in global financial markets," she said. A vote on June 23 by Britons to leave the EU "could have consequences in turn for the US economic outlook."
The question boils down to which way will the Brexit vote fall come June 23rd?

Per Reuters, "An opinion poll published late on Tuesday showed the once double-digit lead of the "In" campaign had narrowed to just 1 percentage point. Other polls have shown the "Out" camp ahead, reducing the value of sterling and wiping billions of dollars off global stock markets."
There are many issues that need to be addressed, but from our perspective the level of uncertainty is high heading into next week.
How regulations in the EU and Britain trading will change is a big question on everyone's mind as there are no easy answers, which is one of the many reasons the markets are so nervous right now. A few weeks ago no one thought this was a real possibility. Today it is. There are countless unknowns concerning how it will impact businesses and stock markets, as that will take years to sort out. That alone is a major headwind to growth, as uncertainty makes businesses less likely to take on the risks necessary to grow -- not something an already weak global economy needs.

A Brexit directly and immediately calls into question the long term viability of the EU and gives the market further reason to be wary that other nations may decide they'd be better off out. That will put upward pressure on the dollar, which makes U.S. companies less competitive abroad, threatens emerging markets, (as they have massive levels of USD-denominated debt) and puts pressure on the Fed to not raise rates as that would only further strengthen the dollar. This also has enormous impact on sovereign debt markets as we've seen, with Germany's 10-year bund dropping into negative rate territory for the first time in history. Just today, the 30-year Swiss bond fell into negative yield territory. Imagine buying a home with a 30-year mortgage that pays you!
A Brexit is also a headwind to corporate activity such as mergers and acquisitions, as it is unclear, under a "yes" vote, just how the exit would in fact be implemented. Keep in mind that most of the British politicians actually in office or in leadership positions in their respective parties are against a Brexit, which puts them in the exceptionally difficult position of having their constituents tell them to do something they do not think is a good idea. Imagine the complexity of writing, debating and voting on legislation to implement a Brexit when they don't want to do it in the first place! This is part of the downward pressure facing Growth Seeker holding Lazard (LAZ) - Get Lazard Ltd Class A Report .
Today, many banks in Europe no longer want to hold much cash. Some are telling those clients with large cash balances that they will have to come up with some other way or some other place to hold their cash, a conversation that was unthinkable just a few years ago and is the direct result of negative interest rates. Can you imagine getting a call from Wells Fargo telling you they no longer want the cash you hold in your checking account and to please come and take it all back? If you want an idea of just how brutal this environment has become for European banks, just look at the charts for Deutsche Bank (DB) - Get Deutsche Bank AG Report , down nearly 60% from its one-year high and over 90% from its 10-year high. Credit Suisse Group (CS) - Get Credit Suisse Group AG Sponsored ADR Report is down nearly 60% from its on-year high and 85% from its 10-year high. Barclays (BCS) - Get Barclays PLC Sponsored ADR Report is down 50% from its one-year high and 85% from its 10-year.... this list goes on and on.
The bottom line is, the near term is likely to be challenging, with earnings expectations reassessed, especially for traditionally viewed growth stocks. Using our thematic perspective, we've reframed the way we think about growth, looking instead for companies whose businesses have thematic tailwinds behind them, rather than scouring traditional Wall Street classifications. We will continue to do so as we add to the Bullpen, and when conditions are more attractive, to the active Growth Seeker portfolio.
This article is commentary by an independent contributor. At the time of publication, the author held no positions in the stocks mentioned. Versace manages a portfolio that owns shares in FB.
Follow Chris Versace on Twitter and Facebook.