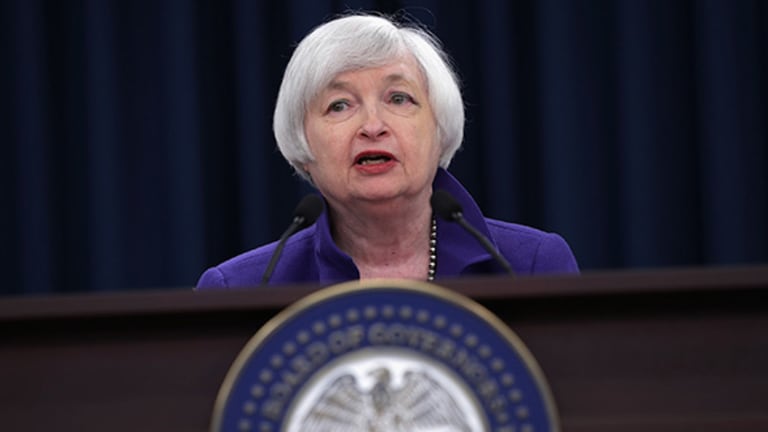 Fed's January Statement Signals Fewer Rate Hikes in 2016
The Federal Reserve indicated it may be pulling back from its rather hawkish December forecast of four rate hikes in 2016.
The Federal Reserve's January statement indicated that the central bank may be pulling away from its rather hawkish forecast back in December of four rate hikes in 2016.
"This did not read like a Fed that is ready to pull the trigger any time soon," said Nick Colas, chief market strategist at Convergex, based in New York.
"And with four rate hikes on the dot plot in December -- we'd have to start seeing some visibility this quarter, and it just isn't there."
The Federal Reverse left short-term interest rates unchanged, following its closely watched January statement. Though the central bank commented on the volatility seen throughout the markets in recent weeks, saying it's "closely monitoring global economic and financial developments."
"It's almost like the Fed is as much in the dark as the markets are right now," Colas said. "They see the push and pull of some still decent growth in the U.S., potentially combined with pressures overseas, and they don't know what to make of it either."
Investors are now focused on the Fed's March meeting, where the markets are pricing in a 29% chance of a rate liftoff, compared to 36% before the January statement was released. The Fed raised rates for the first time in nearly a decade last month.
While Wednesday's statement leaned towards the dovish side, if the Fed wanted to stick to its original forecast of four rate hikes in 2016, it still has the means to do so.
"We shouldn't make too much of this one month -- as hairy as it's been," Colas added. "And the Fed is trying very hard not to get suckered in by all of the market volatility, the way it did back in September (2015) when it held off on raising rates because of the China volatility in August."
Meanwhile, absent from the January statement was language saying the Federal Reserve was "reasonably confident" that inflation would move back towards its 2% target. Such language was included in the Fed's December statement.
"This feels very much like a response to oil prices in the near-term," Colas said. "Even though inflation isn't driven ultimately by just one commodity, it is a very important component -- the Fed seems to be saying that that piece of the equation might be further off than they thought previously."