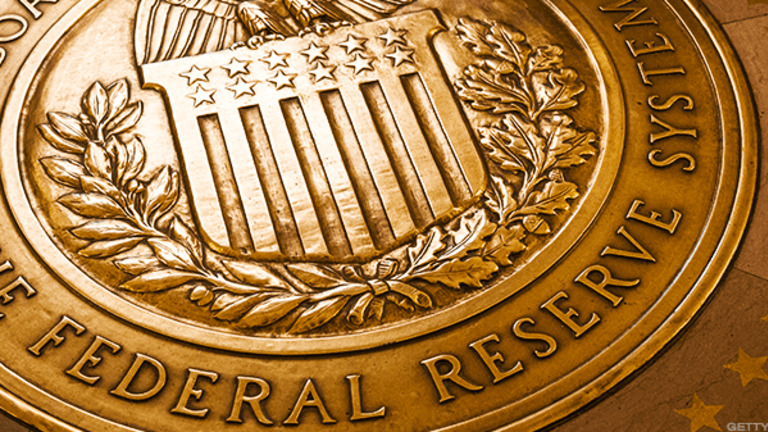 Fed Raises Rates Above 1% for First Time Since 2008 -- And It's Not Done
The central bank also indicated it will cap reductions to its $4.5 trillion balance sheet at $10 billion a month initially.
The central bank also indicated it will cap reductions to its $4.5 trillion balance sheet at $10 billion a month initially.
The Federal Reserve's 25 basis-point increase in short-term interest rates pushed them above 1% for the first time since the 2008 financial crisis, and may still have been the central bank's least intriguing move on Wednesday.
Trading in rate futures, after all, indicated a 90% chance of a hike before the June 14 session concluded, according to Bloomberg data.
What investors were more eager to receive -- and didn't really expect -- was an update on how the Fed will wind down a balance sheet that ballooned to $4.5 trillion as it bought billions of dollars a month in government debt and mortgage-backed securities to buoy the economy after the crisis.
But the central bank delivered on that score, too, detailing a plan to slowly pare the amount of proceeds from maturing securities that are reinvested. Chair Janet Yellen said the process will probably start later this year, but declined to be more specific.
To avoid spooking financial markets, the Fed will cap the total amount of securities that roll off its portfolio each month at $10 billion initially, then raise the cap by the same amount every three months until it reaches $50 billion. The maximum is derived by combining a $6 billion initial limit on Treasury notes that gradually climbs to $30 billion with a $4 billion starting cap on maturing agency debt and mortgage-backed securities that moves incrementally toward $20 billion.
"By limiting the volume of securities that private investors will have to absorb as we reduce our holdings, the caps should guard against outsize moves in interest rates and other market strains," Yellen said at a news conference after the committee meeting.
Committee members anticipate that the caps "will remain in place once they reach their respective maximums so that the Federal Reserve's securities holdings will continue to decline in a gradual and predictable manner," the central bank said in an update to its so-called policy normalization principles.
How much the balance sheet will shrink has yet to be determined, Yellen said. "We anticipate reducing reserve balances and our overall balance sheet to levels appreciably below those seen in recent years but larger than before the financial crisis," she added. The portfolio totaled roughly $869 billion in August 2007.
How the Fed shares information about its plans is extremely important to financial markets, even more so "than the actual event of letting the balance sheet decline," Ryan Sweet, director of real-time economics at Moody's, said in an interview before the announcement.
The Fed may start paring its holdings as soon as October, investment bank Morgan Stanley (MS) - Get Report has predicted, trimming as much as $30 billion by the end of this year and no more than $300 billion in the first 12 months. The amounts the central bank outlined Wednesday are in line with that.
Shrinking the balance sheet would begin to reduce the Fed's deep involvement in global financial markets while curbing incentives for companies to load up on cheap debt. It also would help the central bank skirt criticism over its payment of above-market interest rates on foreign lenders' deposits.
While Sweet doesn't expect the balance-sheet cuts to forestall a third rate hike this year, he said the Fed is unlikely to act on both at the same time.
"They're not going to do a double tightening -- that would be too much for the markets to digest," he said. "The Fed's mantra on the balance sheet is going to be very similar to its mantra on interest rates. They're going to go very, very slowly."
For now, Yellen said, the Fed will continue to reinvest proceeds from maturing securities. Once it stops doing so, it retains the option of resuming the practice if the economic outlook deteriorates enough to warrant a "sizable reduction" in short-term rates, the monetary policy committee said in a statement.
Barring such an event, the balance-sheet reduction is less data-dependent than rate hikes, Bank of America (BAC) - Get Report economist Joseph Song said in an interview, and the Fed might continue trimming its securities investments even if weak economic data prompts it to postpone further increases.
"It's definitely a bit surprising that they're willing to give us all the details right now," he said. "It raises the risk that they start implementing it at the September meeting, given that we've gotten the specific plans much earlier than anticipated."