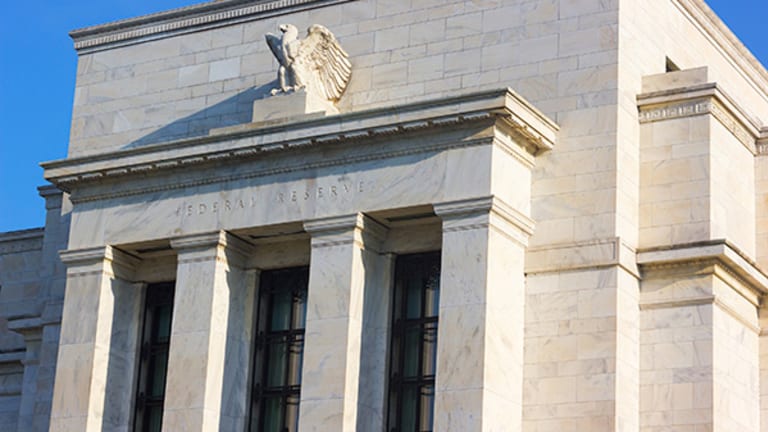 Fed Proposes Tough Rules for 'Systemic' Prudential, AIG
Eight years after the crisis, the central bank is getting started on tough new regulatory regime for "systemic" insurers AIG and Prudential.
Eight years after the financial crisis, Federal Reserve Board governors voted unanimously to propose a tough new regulatory regime for "systemically important" insurers American International Group (AIG) - Get Free Report and Prudential (PRU) - Get Free Report , both of which traded down on the news.
The new measures - which were introduced in draft form - includes one on a new capital regime and a second on liquidity, governance and risk management.
As far as capital requirements, the Fed issued a so-called "advanced notice of proposed rulemaking," which means the central bank is at an early stage of its examination and wants feedback before it issues a formal proposal. The measure seeks comment on two approaches, one that would impact Prudential and AIG and another that would focus on smaller insurers that have bank holding companies. In addition, the measure subjects the two big insurers to yet-to-be-designed stress tests meant to determine if the institutions have sufficient capital buffers to survive a financial crisis.
The proposal, still at an early stage, didn't provide specifics on the types and levels of capital big insurers would be required to maintain. However, Fed Governor Daniel Tarullo last week assured the National Association of Insurance Commissioners that compliance costs as part of the new regime will be "considerably lower" than what big banks are subject to.
Despite that, a Fed official suggested that the capital rules will be tough and cover a broader array of assets, in the U.S. and beyond. He acknowledged that prior to the crisis regulators didn't regulate the London office of AIG, considered the poster-child for the 2008 financial crisis, from a capital perspective and that the consolidated approach considered in the proposal would look at the totality of AIG operations including London operations. During the height of the financial crisis, AIG Financial Products, which had operations in New York and London, sold billions in derivative products without having to hold sufficient capital to back it up and was considered a major contributor to economic instability.
"The combination of the two proposals would have addressed the risks and stresses that were confronted by AIG at the time of the crisis," Fed banking supervisor Thomas Sullivan told Fed governors. "There were no capital requirements for the AIG Financial Products division because it was a non-regulated entity and there was no consolidated requirement so there was no requirement for capital for it."
That method, which The Fed suggests may be suitable for AIG and Prudential, would categorize all of the insurer's assets and insurance liabilities into yet-to-be-defined risk segments tailored to account for their liabilities and risks. The agency said that this approach could help prevent arbitrage opportunities at big insurers as well as the potential for double leverage.
The other method, dubbed the "building block" approach would set up a capital requirement summing up the capital buffers at each institution's subsidiaries, with some adjustments. This approach appears to be focused on the twelve insurance companies under the Fed that have banking operations, including First American Financial (FAF) - Get Free Report , State Farm Insurance and Donegal Mutual Insurance. A senior Fed official declined to comment on whether these firms would be subject to higher capital requirements than what state regulators currently require. Nevertheless, he noted that the Fed's mandate is more focused than state regulators on ensuring the firm is solvent, which suggests that the central bank may require more capital than what state regulators seek.
The second proposal, which has a 60-day comment period and is expected to be implemented first, would require systemic insurers, Prudential and AIG, to set up and monitor liquidity risk tolerance and maintain a contingency funding plan to manage liquidity stress events when normal sources of funding are not available.
And while Tarullo suggested that compliance costs will be lower than banks', some aspects of the proposal appeared tougher on insurers. For example, the two mega-insurers would need to maintain a "liquidity buffer" to make sure they have enough liquid assets, such as Treasury or corporate bonds and some municipal debt, to meet cash-flow needs over 90-days. That's significantly longer period than the 30-day period that applies to banks. The Fed said that provision reflects the long-term nature of certain insurance liabilities. A Fed official said that he considers these to be "best practice" approaches and insurers shouldn't have much difficulty achieving them.
In addition, the firms would need to set up liquidity stress testing requirements, risk management framework and to ensure they have a risk-committee on its board.
Jaret Seiberg, analyst at Guggenheim Partners, noted last week that a final insurer capital rule may not be completed until late 2017, which means he doesn't believe that Prudential or AIG will come under a difficult stress testing regime until 2020 or 2021. He notes this also represents "positive news" for big SIFI insurers. A Fed official on Friday declined to comment on when either proposals will be adopted.
Nevertheless, the regime for SIFI insurers is expected to be tougher than one Tarullo said the Federal Reserve set up for the smaller insurers the central bank oversees, adding that the added measures are "justified" by the increased risks to the financial system that big insurers pose.
Both Prudential Financial and AIG were designated by a council of regulators as Systemically Important Financial Institutions, of SIFIs. They are subject to SIFI rules because the group of regulators, the Financial Stability Oversight Council, believes that the global insurers are a potential threat to economic stability.
The Fed received the authority to regulate insurance companies by the Dodd-Frank Act, written in 2010 in response to the 2008 financial crisis. A 2014 legislative change gave the central bank the authority to produce different rules for SIFI insurers than that required by big banks.
Nevertheless, one large insurer, MetLife (MET) - Get Free Report  likely won't need to deal with these new requirements - for now. MetLife sued the federal government over the prospective rules and in April a federal court judge ordered regulators to remove the company's SIFI designation. The government has appealed the decision but, in addition, MetLife moved to divest and spin off a large part of its U.S. retail business as part of an effort pare down its size and complexity in an attempt to ensure it isn't designated again.