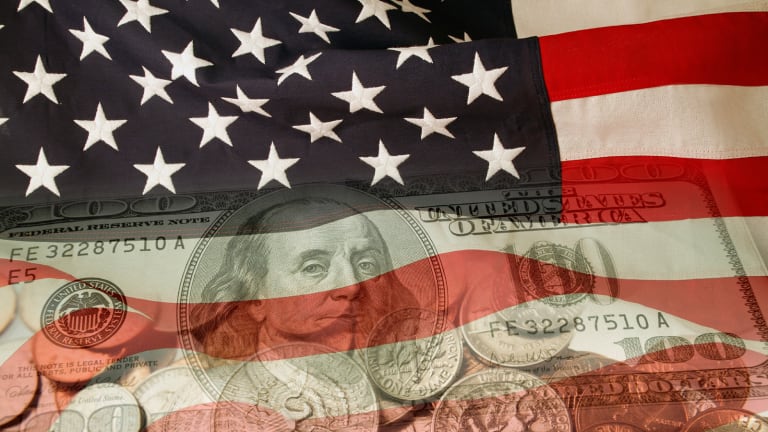 Fed Pares $4.5 Trillion Balance Sheet But Easy-Money Era Isn't Over
Slowing inflation and damage from two major hurricanes may still weigh on the Fed as it considers future changes in short-term interest rates.
It's not the end of an era yet, but it may be the beginning of the end.
The Federal Reserve will start trimming a balance sheet next month that ballooned to $4.5 trillion as it invested in capital markets to buoy the U.S. economy after the 2008 financial crisis. But slowly, very slowly.
Rather than sell any of the government debt and mortgage-backed securities purchased to bolster the effects of near-zero interest rates as unemployment surged to 10% and stock markets tumbled, the Fed is paring the amount of proceeds from maturing securities that it reinvests each month.
The rolloff will be capped at $10 billion a month initially, and the limit will be raised by the same amount every three months until it reaches $50 billion, the central bank said on Wednesday, Sept. 20.
The reversal of so-called quantitative easing, carefully forecast by the members of the Fed's monetary policy committee, had become a foregone conclusion on Wall Street in recent weeks. Coupled with the gradual rise of interest rates, which the committee only began to raise in 2015, it's designed to start reining in easy-money policies that lasted nearly a decade, giving the Fed more latitude to respond to future downturns without alarming financial markets.
Now that the reduction has begun, even if economic conditions weakened, "we would really only consider resuming reinvestment if it were what what we refer to as a material deterioration," Chair Janet Yellen said in a news conference after the announcement.
If the Fed were forced to trim interest rates to nearly zero again, "we recognize that we might be unable to pursue our objectives just by adjusting" the benchmark federal funds rate, she added. Barring such a circumstance, however, the Fed prefers to use rate adjustments -- a traditional tool that's better understood -- to steer the economy while letting its securities portfolio grow smaller.
Still, private economists aren't looking for a huge decrease. 
"We expect the balance sheet to shrink from 24% of gross domestic product -- $4.5 trillion today -- to 13.4% of gross domestic product -- $3.0 trillion -- in 2021," Jan Hatzius, an economist with Goldman Sachs Group Inc. (GS) - Get Free Report , said in a note to clients.
Goldman and Barclays Plcs have both projected the Fed will ultimately trim its balance sheet by only about $1 trillion, a view shared by Bank of America (BAC) - Get Free Report .
That, of course, depends on the U.S. economy avoiding any significant shocks in the interim, Joseph Song, an economist with Bank of America, said in a telephone interview.
And simply starting the reduction may be enough to shift the economic landscape.
"When the Fed bought bonds it helped bring long-term rates lower, drive the stock market and home prices higher, and gave a boost to economic growth," Greg McBride, chief financial analyst with Bankrate.com, said in an e-mailed statement. "As the Fed downsizes their portfolio, we risk the opposite on each of those fronts -- higher rates, a sharp stock market correction, and a headwind to already slow economic growth."
While the Fed declined to let the potential that such risks would compound the challenge of tightening inflation delay its balance-sheet reduction, the pace of rate hikes may still be curbed. 
Such changes are an important consideration for banks from JPMorgan Chase & Co. (JPM) - Get Free Report to Citigroup Inc. (C) - Get Free Report , which typically boost margins by passing increases on to borrowers more quickly than depositors, whose money is used to fund loans.
Citigroup is a holding in Jim Cramer's Action Alerts PLUS charitable trust portfolio. Want to be alerted before Cramer and the AAP team buy or sell the stock? Learn more now.
The lenders' revenue has benefited over the past two years as the Fed approved four hikes, taking rates to a range of 1% to 1.25%. And although rates were left unchanged on Wednesday, the central bank has projected a third increase this year, as many as three each in 2018 and 2019 and a chance of moving above 3% in 2020.
None of those are locked in, Yellen said on Wednesday, noting that the 2% inflation the Fed equates with stable economic growth has been elusive. 
Indeed, growth in core personal expenditures -- one of the Fed's preferred inflation gauges -- has narrowed 20 basis points in the past few months to 1.4% despite low unemployment, sparking concern that policymakers might be moving too fast.
"Once balance-sheet normalization is under way, I will be looking closely at the evolution of inflation before making a determination about further adjustments" to interest rates, Fed Governor Lael Brainard, a member of the monetary policy panel, said earlier this month.
Her colleagues, however, remain fairly supportive of at least one more 25 basis-point bump this year, which would take rates to a range of 1.25% to 1.5%.
"There seems to be a clear consensus brewing around a December hike," Song said. Trading in interest-rate futures now indicates a 62% chance that rates will increase then, a nine-point jump from the day before.
The number of monetary policymakers supporting three hikes next year also increased, he noted: "The committee is kind of circling the wagons around those projections."
Updated from 2:04 p.m. ET on Wednesday, Sept. 20, 2017.