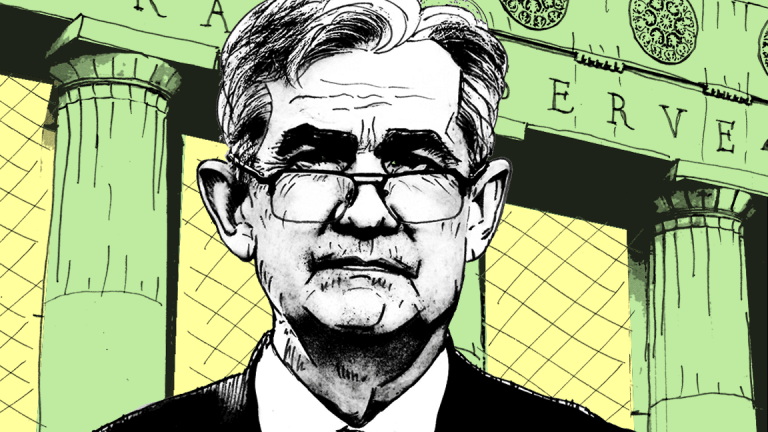 Fed Officials Saw Strengthening Job Market at March Meeting
The Federal Reserve's monetary-policy committee released minutes of its March meeting, in which officials raised benchmark interest rates by
Federal Reserve officials saw signs that the job market continues to strengthen when they voted last month to raise interest rates by a quarter percentage point, minutes released Wednesday showed.
"All members viewed the recent data and other developments bearing on real economic activity as suggesting that the outlook for the economy beyond the current quarter had strengthened in recent months," the minutes read.
And despite heightened market volatility -- fueled partly by speculation over the pace of future Fed rate hikes -- officials viewed financial conditions as "accommodative," according to the minutes.
The Fed's monetary-policy committee, led by Chairman Jerome Powell, has been raising U.S. borrowing costs in a bid to keep inflation from rising too fast as the economy accelerates. At the March meeting, the panel increased the benchmark interest rate to a range between 1.5% and 1.75%. It was the sixth hike since late 2015.
The Standard & Poor's 500 Index of U.S. stocks was down 1.1% in late-afternoon trading on Wednesday, while yields on 10-year Treasury notes slid about 0.02 percentage point to 2.78%.
Donald Ellenberger, a senior fixed-income portfolio manager at the $397 billion money manager Federated Investors Inc., said that much of the information in the Fed minutes was already known via extensive Fed publications at the time of the meeting, a March 21 press conference with Powell and speeches since then by Powell and other officials.
Traders are likely more consumed by the prospect of a trade war with China; Trump's recent suggestions of impending military action over the alleged use of chemical weapons in Syria, a key Russian ally; and Facebook Inc. (FB) - Get Meta Platforms Inc. Report  CEO Mark Zuckerberg's testimony this week before U.S. lawmakers.
"The market is probably less focused on these minutes and more focused on what's going on with Syria, what's going on with Russia, what's going on with China, and what Mark Zuckerberg is telling Congress," Ellenberger said.  
For the seven years after the 2008 financial crisis, the Fed held rates close to zero to stimulate growth and recovery from the recession. Since then, unemployment has fallen to a 17-year low of 4.1%, and stocks have surged to records on anticipation of a big windfall for companies this year and beyond due to President Donald Trump's tax cuts. Recent reports have also shown that workers' wages, stubbornly stagnant in past years, are picking up.
While inflation, at around 1.8%, is still running below the Fed's target of 2%, Fed staff economists projected at the March meeting that price increases would accelerate toward the mark this year and reach it in 2019, the minutes show. High inflation is considered bad for the economy, but persistently low inflation is usually seen as a sign of a sluggish economy.
Complicating the outlook for the Fed is the fact that fiscal-stimulus packages like Trump's $1.5 trillion of tax cuts have rarely come at a time when the economy is already accelerating and unemployment is so low. The central bank officials are monitoring the situation closely to assure that inflation doesn't spiral out of control.
"Participants generally regarded the magnitude and timing of the economic effects of the fiscal policy changes as uncertain, partly because there have been few historical examples of expansionary fiscal policy being implemented when the economy was operating at a high level of resource utilization," according to the minutes. 
Investors have scrutinized recent employment reports for clues on whether the Fed might need to accelerate the pace of interest-rate hikes compared with officials' projections for two more quarter-point increases this year. In January, a report showing year-over-year wage growth accelerated to 2.9% triggered a stock-market selloff, as traders worried that the gains might push the Fed to raise rates faster, thus putting the brakes on economic growth.
A report last week from the Labor Department showed that the U.S. economy added 103,000 jobs in March, shy of economists' estimates of a 185,000 increase in non-farm payrolls and a slowdown from February's increase of 313,000. 
The disappointing jobs growth in March was interpreted as a signal that workers are getting harder to find with unemployment so low, rather than a sign of an economic slowdown. A tighter labor market could portend faster wage increases ahead, fueling inflation. 
Fed officials also are eyeing the potential impact of Trump's recently imposed tariffs on imports from China, according to the minutes. Economists say the tariffs could drive up the cost of goods for consumers while also hurting exports for U.S. companies and farmers that ship goods abroad.
"Participants did not see the steel and aluminum tariffs by themselves as likely to have a significant effect on the national economic outlook, but a strong majority of participants viewed the prospect of retaliatory trade actions by other countries, as well as other issues and uncertainties associated with trade policies, as downside risks for the U.S. economy," the minutes show. "Contacts in the agricultural sector reported feeling particularly vulnerable to retaliation."