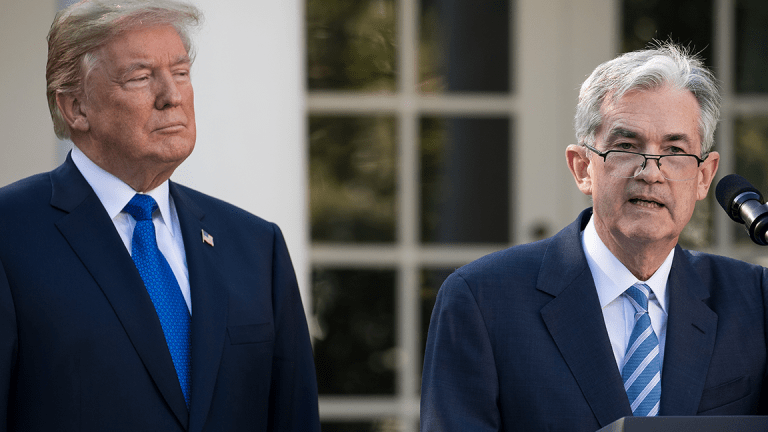 Will the New Federal Reserve Chief Be Good for Investors?
Powell is widely expected to stick with current Fed chair Janet Yellen's monetary policies, but ease bank regulation.
Jay Powell -- good for investors? Jim Cramer and the other experts on our November Trading Strategies roundtable think so.
President Trump recently decided not to give current Federal Reserve chair Janet Yellen a second four-year term, nominating Powell to the post instead. Powell is a current Fed board member and a former Wall Streeter, having worked at Bankers Trust, The Carlyle Group (CG) - Get Carlyle Group Inc Report and other financial firms.
Cramer said during TheStreet's latest Trading Strategies roundtable that "Jay Powell is the opposite [of Yellen]. I think Jay Powell wants people to get wealthy, and I think that Janet Yellen didn't want people to be poor."
Most panelists at the roundtable agreed that Powell is an investor-friendly pick.
"I don't think we should worry," said Liz Ann Sonders, senior vice president and chief investment strategist at Charles Schwab & Co. "I think he represents continuity in approach to monetary policy -- a consensus-builder, which is similar to both Yellen and [Yellen's predecessor Ben] Bernanke."
Powell is widely expected to stick with much of Yellen's monetary policy, but to ease stricter rules placed on banks following the 2008 financial crisis. "I think for the most part he is in favor of a deregulation environment," Sonders said.
Sonders and Cramer also praised Powell's private-sector experience at a Fed that's often been led by academics. "Isn't that a pleasure vs. just being someone who's taught?" Cramer said.
The stock picker said that while he's been a big Yellen fan, it's time for a change. Cramer said that Yellen, who took office in 2014 while the U.S. economy was still struggling, was the right pick for a time "when we needed steady hands -- don't raise rates, whatever. Now I think we have a time when you go on a [JPMorgan Chase & Co. (JPM) - Get JPMorgan Chase & Co. Report CEO] Jamie Dimon conference call and he talks about how he wants to lend more but he's afraid of the Fed. Well you know what, maybe you need that change of pace."
Jeff Marks, senior portfolio analyst with Action Alerts PLUS, which oversees Cramer's charitable portfolio and special VIP club for investors, praised Powell's "dovish tone" on interest rates. "The Fed is going to stay pretty pragmatic in their approach," he said. "The market needs this type of consistency to churn higher. I think that people don't like the exogenous. They don't like surprises."
But Stephen Guilfoyle, co-manager of TheStreet's Stocks Under $10 model portfolio and author of the Market Recon column on TheStreet and our Real Money premium site, said: "I have to admit I have not been a fan of Janet Yellen's over the years."
However, Guilfoyle added that "I'm willing to accept that I may be wrong on this, because things are turning out better than I thought they would. I was one of the naysayers -- but the song isn't over yet."
More November Trading Strategies
Click here to watch our full November Trading Strategies roundtable, or you can read more of our columnists' November recommendations here: