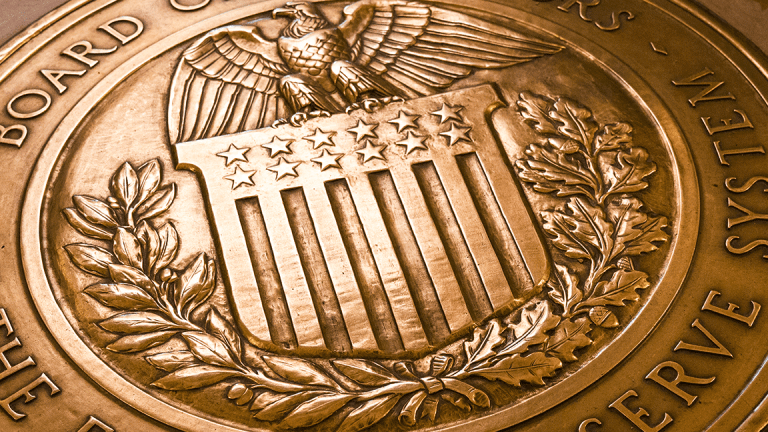 Fed Minutes Can Show You More Than Just Odds of a Christmas Interest Rate Hike
Federal Reserve officials are questioning whether the central bank's 2% inflation target should be reconsidered.
Among the first things Wall Street looks for in records of Federal Reserve meetings are signals about interest rates: When they might change as well as how much.
Right now, the focus is on whether the U.S. central bank's monetary policy committee will follow through on a 25 basis-point rate hike before the Christmas holiday, which would be the third this year. Trading in interest-rate futures pegged the odds at 92% early Wednesday, Nov. 22, and the minutes of this month's meeting released in the early afternoon didn't curb that confidence. They did, however, offer insight into a shift that, over the long run, might prove even more meaningful: the Fed's inflation target.
As the central bank gradually raised interest rates held at nearly zero for seven years after the 2008 financial crisis, with four hikes so far yielding a range of 1% to 1.25%, its monetary policymakers have been perplexed by inflation that remains stubbornly shy of a 2% target.
That benchmark is the bank's proxy for stable economic growth, half of a dual mission that also includes fostering full employment. Because it hasn't been reached, "a couple of participants discussed the possibility that potential alternative frameworks for the conduct of monetary policy could be helpful," according to the minutes. Options might include aiming for steadily increasing price levels rather than a growth rate, with adjustments to make up for previous deviations, officials said.
Adjusting the framework is a topic that a number of regional Fed presidents have broached, and "given the breadth and increase in the intensity of this discussion, markets should take note," Deutsche Bank AG (DB) - Get Free Report economist Matthew Luzzetti wrote in a report this week. "The turnover in the Fed presents an opening for a serious re-think of its policy framework." Such a shift could have major implications for how the central bank sets interest rates in the future as well as its ability to respond to the next economic downturn.
Understanding how and why requires reviewing some of the more arcane parts of economic theory, including real and nominal interest rates and what, exactly, constitutes normal growth. Think of the nominal rate as the one that appears in print, or the current federal funds rate that the Fed pays on overnight deposits. The so-called real rate is only a portion of that -- the amount that would keep both employment and economic growth stable.
If lenders charged only that inflation would wipe out any benefit: i.e., 2% inflation from one year to the next would overwhelm the estimated current real interest rate of 0.5%. The nominal rate would normally adjust for that by adding hypothetical 2% inflation for a total of 2.5%.
If the federal funds rate doesn't climb beyond that level before the next recession, the Fed would lose much of its punch in responding -- it would be unable to lower interest rates by a typical 5 percentage points without going below zero, San Francisco Fed President John Williams explained in a Nov. 16 speech. 
For comparison, during previous recessions beginning in 1990 and 2007, real interest rates were 3.5% and 2.3%, respectively, giving the central bank more room to act.
When reducing rates to nearly zero didn't sufficiently buoy the economy in late 2008 and 2009, the Fed responded by buying up government debt and mortgage-backed securities, expanding its own portfolio more than fourfold to about $4.5 trillion and earning the ire of Republican lawmakers in the process. The Fed only began to pare that balance sheet a month ago.
While buying securities to boost market liquidity -- quantitative easing, as the policy was known -- might be more difficult now politically, it remains an option for future downturns if interest rates don't climb sufficiently, Williams said. Other choices might be deploying negative rates, as both Europe and Japan have done, or boosting the target inflation rate.
"It would be downright naive to assume we won't face another economic downturn," Williams said. "So it's prudent to spend this period examining our monetary policy framework and considering how to make ourselves more resilient. No one's yet come up with a cure for the common cold, but we do know that good hand-washing, vitamin C, and rest can reduce symptoms and prevent it from spreading. Now is the time to stock up on tissues and make sure we're as well prepared as we can be for the next recession."
How the Fed might prepare is open to debate at present, with four openings on its seven-member board of governors after Chair Janet Yellen leaves. All of the governors are also members of the 12-person monetary policy committee, along with five regional Fed presidents. While the presidents may exercise more power in the near-term, that would change if President Donald Trump moves forward with appointments.
So far, however, he hasn't filled the two vacancies that were open when he was inaugurated in January, moving only to install Randy Quarles as the vice chair for banking supervision when Daniel Tarullo stepped down and Jerome Powell, a sitting governor, as chair when Yellen's term expires.
"We expect that it will take some time for any conclusion to be reached about how to change the Fed's framework, if at all," Deutsche Bank's Luzzetti wrote. "The Fed is a deliberative body, and it will not be prone to abruptly scrapping an operating framework that has been, for the most part, effective in recent decades."
Updated from 1:37 p.m. ET on Wednesday, Nov. 22, 2017.
More of What's Trending on TheStreet: