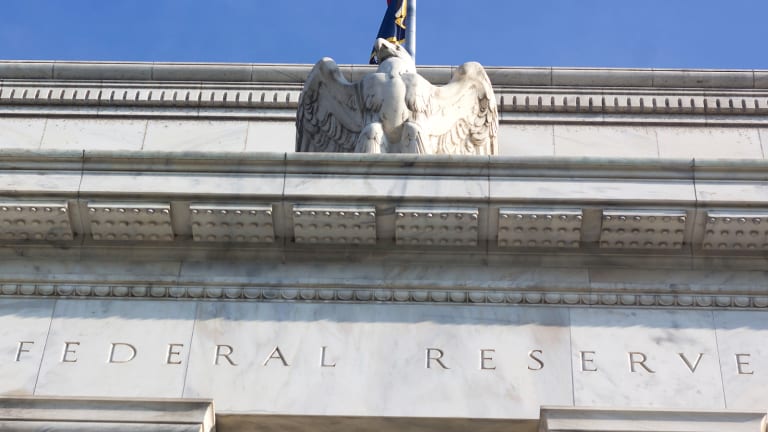 Fed May Start Slicing its $4.5 Trillion Balance Sheet by Halloween
The goal of shrinking it now is to reduce the Fed's deep involvement in global financial markets while curbing incentives for companies to load up on cheap debt.
Just in time for Halloween, but ideally without the fright factor.
The Federal Reserve will probably begin in October to shrink a balance sheet that swelled to $4.5 trillion after the financial crisis, investment bank Morgan Stanley (MS) - Get Morgan Stanley Report predicts, trimming as much as $30 billion by the end of this year and no more than $300 billion in the first 12 months.
Fed officials said in minutes of the monetary policy committee's May meeting that they expect to use a system of gradually escalating caps on the amount pared from the central bank's holdings in order to avoid upheaval in financial markets due to concerns about how much liquidity would evaporate. 
"The caps would initially be set at low levels and then be raised every month, over a set period of time," according to the minutes. The Fed began buying Treasury bonds and mortgage-backed securities by the billions per month to stimulate economic growth after the 2008 crisis froze credit and sent unemployment soaring.
Even after the central bank stopped new purchases, it reinvested proceeds from maturing securities to maintain the portfolio's size. The goal of shrinking it now is to reduce the Fed's deep involvement in global financial markets while curbing incentives for companies to load up on cheap debt.
Reversing so-called quantitative easing would also help the central bank to skirt criticism over its payment of above-market interest rates on foreign lenders' deposits.
During the first year of what might be termed quantitative tightening, the Fed will probably increase its caps from $10 billion a month to $40 billion a month, or as much as $480 billion a year, until its balance sheet reaches pre-crisis levels, Morgan Stanley economist Ellen Zentner said in a note to clients.
"The Fed has been inching closer to balance-sheet action since reintroducing the topic at its December 2016 meeting," she wrote. "If there were baby steps made, this was one giant baby as the Fed now appears to have hammered out the tough decisions and is on the cusp of action."
The first step would be rewriting the central bank's official strategy for policy normalization, which is voted on by the committee. That will likely be published at the Fed's June 13-14 meeting, Zentner said. The effects of the first year of the Fed's plan, if $300 billion in securities roll off, would be the equivalent of boosting short-term interest rates by 35 basis points, she estimated.
In comparison, each of the central bank's three rate hikes since the financial crisis have been 25 basis points. Zentner doesn't expect the wind-down to prevent at least two more increases this year and four next year, which would take rates to a range of 2.25% to 2.5%.
The Fed's minutes didn't disclose what levels the caps might be set at, or how much they might increase. The French bank BNP Paribas (BNPQY) predicted earlier this year that the Fed might pare its balance sheet by as much as $20 billion a month starting in the middle of next year.
Goldman Sachs (GS) - Get Goldman Sachs Group, Inc. Report , meanwhile, says the Fed may not announce the start of its initiative until December. Jan Hatzius, the bank's chief U.S. economist, noted that Fed officials specified that a pre-announced schedule might well allow the plan to proceed without periodic adjustments, "implying a fairly strong bias toward sticking to the schedule once announced."
Nearly all Fed policymakers "expressed a favorable view of this general approach," according to the minutes, which were published on Wednesday. Still, members were unanimous in their reluctance to take any such step -- or to raise rates any further -- before establishing that slowing economic growth earlier this year was, indeed, transitory as they believed.
Deutsche Bank (DB) - Get Deutsche Bank AG Report economist Joe LaVorgna, whose timetable concurred with Zentner's, said the Fed would likely raise rates in June, pause in September to observe the effects of shrinking its securities holdings and approve another hike in December.
While increasing rates benefits banks such as Citigroup (C) - Get Citigroup Inc. Report and JPMorgan Chase (JPM) - Get JPMorgan Chase & Co. Report that pass hikes on to borrowers more quickly than depositors, there are also risks. Higher interest raises costs for borrowers with adjustable-rate loans such as mortgages and heightens the potential that corporate borrowers with low credit ratings may default, compounding the risk from any slowdown in growth.
"The pathway to higher rates and a smaller balance sheet is first and foremost predicated on continued evidence that weakness in the first quarter was temporary," Lindsey Piegza, the chief economist at Stifel, said in an e-mail. 
Lackluster consumer spending and uncertainty about whether and when the government stimulus proposed by President Donald Trump might be enacted "may undermine at least some committee members' confidence in a more robust state of affairs from April to June," she said.
EXCLUSIVE LOOK INSIDE: Citigroup is a holding in Jim Cramer's Action Alerts PLUS charitable trust portfolio. Want to be alerted before Cramer and the AAP team buy or sell the stock? Learn more now.