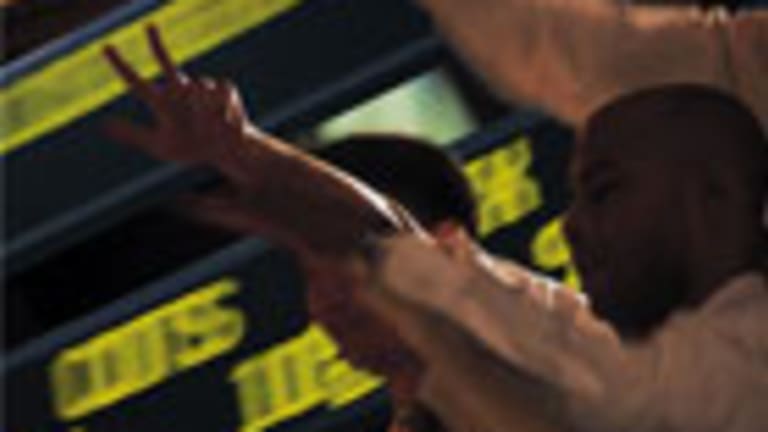 Fed Losing Cred; Bull Market in Complacency Might Crack: Best of Kass
In highlights from his trading diary of the past week, Doug Kass writes about the Fed losing cred and the bull market in complacency.
NEW YORK (TheStreet) -- Doug Kass of Seabreeze Partners is known for his accurate stock market calls and keen insights into the economy, which he shares with RealMoney Pro readers in his daily trading diary.
Last week, Kass wrote about how the Fed is ignoring the metrics that are supposed to determine central bank policy, and how the market has practically no concern about negative outcomes.
Please click here for information about subscribing to RealMoney Pro.
Fed Losing Cred
Originally published on Thursday, June 19, at 7:40 a.m. EDT.
Liesman: There's every reason to expect, Madam Chair, that the PCE inflation rate, which is followed by the Fed, looks likely to exceed your 2016 consensus forecast next week. Does this suggest that the Federal Reserve is behind the curve on inflation? And what tolerance is there for higher inflation at the Federal Reserve? And if it's above the 2% target, then how is that not kind of blowing through a target the same way you blew through the 6.5% unemployment target, in that they become these soft targets? Thanks.
Yellen: So I think recent readings on, for example, the CPI index have been a bit on the high side, but I think it's -- the data that we're seeing is noisy.
I think it's important to remember that, broadly speaking, inflation is evolving in line with the committee's expectations.
The committee has expected a gradual return in inflation toward its 2% objective. And I think the recent evidence we have seen, abstracting from the noise, suggests that we are moving back gradually over time toward our 2% objective, and I see things roughly in line with where we expected inflation to be.
I think if you look at the SEP projections that were submitted this time, you see very little change in inflation projections of the committee.
-- FOMC press conference on June 18 (exchange between CNBC'sSteve Liesman and Fed Chair Janet Yellen)
Still believe the Fed has inflation all under control?
[Read: Inflation Inches Up as Fed Pares Stimulus]
On June 18, Whirlybird Janet (the successor to Helicopter Ben) lived up to her name, and in the process, she and the Fed are likely losing their credibility posthaste.
Not surprisingly, the FOMC statement was essentially consistent with previous comments.
The Fed dismissed signs of emerging inflation, citing that it was running below the committee's long-term objective (I suppose under the belief that food and energy is irrelevant to the Average Joe).
The Fed maintained the notion that it would keep the federal funds rate at current levels well after tapering ends.
2014 U.S. economic growth was brought down, owing to the inclement weather. The unemployment rate was taken down a few tenths of a percent (by year-end 2014).
Core PCE inflation was taken up a tad to between 1.5% and 1.6%.
The "dots" exhibited a higher expectation of GDP growth for 2015 and a bit lower for the long run rate.
The Fed did not lift inflation targets for 2014-2015.
Whirlybird Yellen failed to mention the pickup in inflation, which was made quite clear in a June 17 CPI release and abundantly clear to most consumers. While understandable and consistent with Yellen's dovish history (and why I nicknamed her Whirlybird), this is shortsighted, as the employment and inflation data fail to warrant a more dovish statement.
Below is a chart demonstrating what appears to be nascent food inflation that Yellen described as "noise" (courtesy of Zero Hedge).
Food Inflation
Source: Zero Hedge
View Chart »View in New Window »
The Fed's errant economic forecasts have been well-documented.
Since 2009, the Fed's economic projections have substantially overstated domestic economic activity, failing to recognize the strength of the structural headwinds and the residual impact of the 2007-2009 Great Decession. (Note: Before 2009, the Fed's projections were spotty as well.)
Nevertheless (and surprising to me), investors and traders still take the Fed's forecasts as gospel.
I have been thinking that a stock market top was likely based on the growing evidence of a rising rate of inflation and a decelerating rate of domestic economic growth -- something the fixed-income markets have sensed throughout 2014 and the Fed, again, failed to anticipate.
[Read: Janet Yellen Speaks and Up Goes the S&P 500: Mission Accomplished]
Moreover, my bearish argument has centered on the recognition that QE is now having a moderating impact on U.S. economic activity. Indeed, one can argue that QE is now having an adverse impact by penalizing the savings class, potentially impregnating our economy with inflation and worsening economic equality (among other factors).
Even if the Fed's policy is moderately effective, the burden of stimulating growth continues to ring hollow in Washington, D.C., where fiscal policy is inert -- and will continue to be so, especially with the recent defeat of Congressman Cantor.
The disconnect between the real economy and stock prices remains conspicuous. But, for now the markets are singing "Everything's Coming Up Roses," endorsing the notion that price is truth and ignoring this potentially toxic cocktail, instead assigning a Goldilocks  scenario (not too hot, not too cold) to the investment backdrop.
I had been discussing the potential for a speculative stock market blow-off, thinking it was occurring two weeks ago.
"A bull market is a lot like sex. It feels best just before it ends."
-- Warren Buffett 
The June 18 rally resembled a Sotheby's auction of Jeff Koons' artwork -- frenetic and furious. Similar to my market top call, Koons' art has recently sold well above estimates.
That said, Yellen et al. are risking central bank credibility by ignoring the very metrics (employment and inflation) that were supposed to determine central bank policy.
So while investors rejoiced last week, it is quite possible that they will begin to focus on the intermediate-term effects of a Fed that is losing its credibility.
This could occur as soon as this week's PCE inflation rate is released.
And by then the rally might be old news.
The Bull Market in Complacency Might Crack
Originally published on Tuesday, June 17, at 9:24 a.m. EDT.
"Complacency (noun): Self-satisfaction especially when accompanied by unawareness of actual dangers or deficiencies."
-- Merriam-Webster definition of complacency
As I wrote in my "15 Surprises for 2014," the word "stagflation" will appear anew in the narrative this year.
In my surprise list, I had anticipated disappointing domestic and global economic growth (with housing as a key headwind). This has occurred.
[Read: Federal Reserve Continues Down Road to End Stimulus]
And I anticipated a drought (or some similar event) that would inflate commodities and other prices.
Instead of a drought, we are getting higher oil prices, owing to the chaos in the Middle East.
As I mentioned in my opening comment on June 17, we are in a bull market in complacency within which there is practically no concern about negative outcomes.
That said, "stagflation" is not value-additive to the market's valuation.
Doug Kass is the president of Seabreeze Partners Management Inc. Under no circumstances does this information represent a recommendation to buy, sell or hold any security.