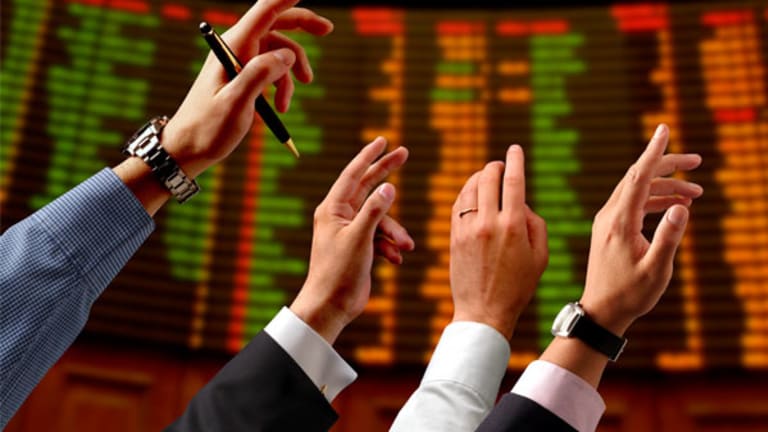 Fed Hike May Flatten Yield Curve; Gold Loses Some Luster: Best of Kass
In highlights from this week's trading diary and posts, Kass discusses the Fed hike, and also discusses gold losing some of its shine.
Doug Kass fills his blog on RealMoney every day with his up-to-the-minute reactions to what's happening in the market and his legendary ahead-of-the-crowd ideas. This week he blogged on:
How the Fed hike may flatten the yield curve.
How gold is doing.
Click here for information on RealMoney, where you can see all the blogs, including Doug Kass'--and reader comments--in real time.
Atlanta Fed Cuts GDP Forecast Again
Originally published March 15 at 12:21 p.m. EST
In my Bloomberg appearance Wednesday morning I warned that while many are convinced that the economic skies are sunny, I see growing evidence that we are far more advanced in this business cycle than the consensus believes.
I cited numerous reasons.
In keeping with this view, the Atlanta Fed has just lowered its first-quarter 2017 GDP estimate to +0.9% from +1.2% after seeing the BLS report Friday and consumer spending and CPI data Wednesday.
This is obviously in contrast to the dramatic improvement we've seen in confidence, so let's assume that the second quarter will see a nice bounce back.
It better.
Position: None.
Fed Hikes May Flatten Yield Curve
Originally published March 15 at 12:04 p.m. EST
I agree with Jeff Gundlach that a series of Fed interest rate hikes will produce a flattening (and not a steepening) yield curve in 2017, and that the 10-year U.S. note yield (now at 2.57%) will likely decline a bit this year from current levels.
Here's why:
Slowing Economic Growth: The foundations of domestic economic growth are more fragile than the consensus believes.
Peak Inflation: Inflation may be now peaking for the year.
Speculative Positioning Is Lopsided: The aggregate (speculators') short position in Treasury futures is close to the largest ever.
The Cycle Low in Bond Yields Is in Place: I continue to believe that a Generational Bottom in Bond Yields was reached in July 2016.
Ergo, it remains my view (again a minority) that financial stocks are vulnerable.
Position: none.
Gold Loses Some Luster
Originally published March 15 at 8:20 a.m. EST
I am trading gold like any other commodity, on technicals and by observing the action in junior gold miners as a possible leading indicator.
In my elementary view, the action of the last 24 hours has shifted from slightly positive to slightly negative, and I reduced my exposure Tuesday afternoon as junior gold miners (and ETFs VanEck Vectors Junior Gold Miners (GDXJ) and Direxion Daily Junior Gold Miners (JNUG) ) fell sharply.
I would say that gold technicals are now neutral and my SPDR Gold Shares (GLD) position is small.
Position: Long GLD small.
, which Cramer manages as a charitable trust, has no positions in the stocks mentioned.