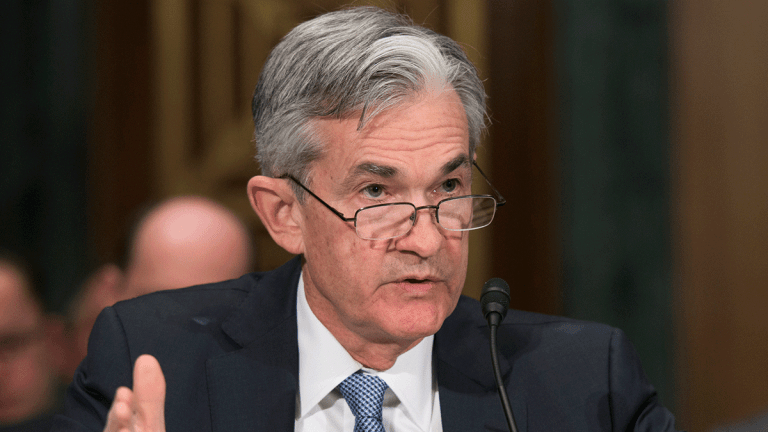 Fed Chairman Powell Doesn't See Why U.S. Economic Expansion Can't Continue
But temporary setback are a 'natural part' of any lengthy expansion.
Federal Reserve Chairman Jerome Powell said Tuesday that he doesn't see why the 10-year-old U.S. economic expansion must give way to a recession any time soon.
"If you look through these long expansions [of the 1990s and 2000s], there have been periods when the economy slows and .... then moves forward again," Powell said during a closely watched Denver appearance before the National Association for Business Economics.
"That is a natural its part of these very long expansions that we've been having for the last 40 years," the Fed chief said. "Clearly things are slowing a bit now ... and job growth is slowing as well. But there's no reason why the expansion can't continue."
Powell said that current economic conditions feel "very sustainable," unlike the early 2000s real estate boom that helped lead to the 2007-2009 Great Recession.
"There's no aspect of the economy that's [overheating]," he said. "You've got a solid consumer sector. Wages are going up, but are going up right at the level of [productivity gains] and inflation ... There's no one sector like a housing bubble."
Still, the Fed chair said that "there are risks to this favorable outlook, principally from global developments. Growth around much of the world has weakened over the past year-and-a-half, and uncertainties around trade, Brexit and other issues pose risks to the outlook."
"As those factors have evolved, my colleagues and I have shifted our views about appropriate monetary policy toward a lower path for the Federal funds rate and have lowered its target range by 50 basis points," he said.
But Powell said any future rate cuts are "not on a preset course. The next [Fed interest-rate] meeting is several weeks away, and we will be carefully monitoring incoming information. ... We will act as appropriate to support continued growth, a strong job market, and inflation moving back to our symmetric 2% [target]."
In other remarks, the central banker said:
The Fed Will Soon Act to Prevent Repo-Market Rate Spikes. Powell said the central bank is close to unveiling a program to prevent repeats of recent short-term rate spikes in the overnight-lending market (known as the "repo" market). "We're working on plan ... to add enough reserves back in" to avoid future rate spikes, he said.
No Negative Interest Rates. Powell said the Fed probably won't employ the negative interest rates that other countries' central banks are either considering or actually implementing. "I don't think we regard that ... as something we'd be likely to use," he said.
The Central Bank Won't Ignore an Inverted Yield Curve. The Fed chief said the central bank pays attention when the U.S. Treasury yield curve inverts and short-term interest rates actually rise above long-term interest rates. Such an inversion can often signal a looming recession. "When the curve is inverted, we focus very carefully on that," Powell said. "It's not something you need to deal with immediately, but it's not something we'd be comfortable [with] for an extended period of time."
Employees of TheStreet are restricted from trading individual securities.