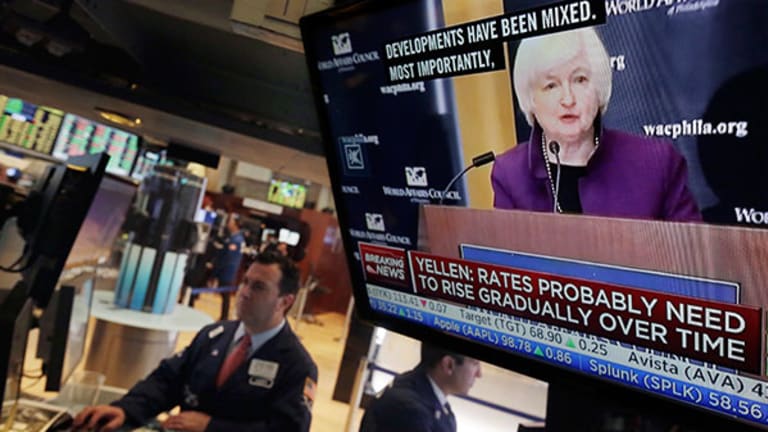 Fed, After Pushing to Reform Repo Market, Is Now Its Biggest Player
A two-year-old Fed program designed to help control benchmark rates has turned the central bank into a dominant participant in a once-private market at the heart of Wall Street.
The U.S. Federal Reserve, after pushing Wall Street firms since the financial crisis to reduce risk in the $2-trillion-plus short-term lending arena known as repo, has quietly become the market's biggest player.
Repo loans, technically called repurchase agreements, have been used for more than a century by Wall Street firms and traders to buy bonds with borrowed money, under a strategy designed to multiply returns. The market is so vital that Lehman Brothers' loss of repo financing in 2008 helped drive that firm into bankruptcy.
Now, the Fed has moved in, using a two-year-old program that allows it to borrow cash through repos from money-market fund operators like Fidelity and BlackRock (BLK) - Get BlackRock, Inc. Report . Last month, the central bank's repo borrowings shot up to almost $600 billion, a 14-fold increase from September 2008.
While Fed officials have described the repo program as temporary, and a way to control short-term interest rates, experts worry the central bank's role won't diminish soon, and that in the meantime pricing in short-term lending markets is getting distorted. The money funds, for their part, have grown comfortable using the Fed as an easy place to park cash for a profit.
"I don't think you can talk about this market without talking abut the Fed," said James Tabacchi, CEO of South Street Securities, a New York-based brokerage that specializes in repos. "They are the 800-pound gorrilla in the room. They provide a lot of support."
In September, some 60% of all money-market fund repo deals backed by U.S. Treasuries were with the Fed, according to the Office of Financial Research. Prior to 2014, when the Fed set up its repo program, the biggest counterparties were European banks like Barclays (BCS) - Get Barclays PLC Sponsored ADR Report , BNP Paribas (BNPQY) and Credit Agricole (CRARY) .
It's a paradoxical twist, given that Fed regulators in recent years have pushed Wall Street firms to reduce their risk from repos. 
A Fed spokesman didn't respond to a request for comment.
Ever since Lehman's bankruptcy, the Fed has fretted that the market could serve as a conduit for spreading devastating losses across Wall Street. If another large bank or brokerage firm ever defaulted, its repo lenders could seize the underlying collateral -- mostly Treasury bonds and other government-backed securities. They then would have to sell those bonds to recoup the cash; the fear is that these "fire sales" -- quick liquidations at a deep discount -- could crater the broader market.
The central bank has pressed Bank of New York Mellon (BK) - Get Bank of New York Mellon Corporation Report , a key processor of repos, to tighten up its trade-settlement procedures, while pushing Wall Street firms to mull additional measures to cut risk in the market.
Yet as recently as July, researchers at the Federal Reserve Bank of New York lamented in an academic paper that there are "no established tools" to mitigate the risk of fire sales following a big default.
The Fed's own repo program, officially known as the Overnight Reverse Repurchase Agreement Facility, was set up as an extension of the unconventional monetary policies initiated under former Chairman Ben Bernanke following the financial crisis. Years of quantitative easing swelled central-bank assets to $4.5 trillion, leaving so much extra money in the financial system that controlling the benchmark federal funds rate became unwieldy.
The new program gave the central bank a way to mop up extra cash from money-market funds and retake control of benchmark rates. The strategy has worked, helping the Fed to keep rates within the current targeted range of 0.25% to 0.5%.
The side effect is that the Fed now dominates the repo market.
"They've become a very large player in a very short period of time, and that creates a market distortion that I view as undesired," said Josh Galper, a repo-market expert at Finadium, a consultancy in Concord, Mass. "It crowds out private-sector players and it distorts pricing."
The Fed currently offers an annualized rate of 0.25% to money-market funds that lend money through the repo program. It effectively sets a floor, since the money funds have little incentive to lend out money at a lower rate; and with the Fed as the borrower, there's zero risk of not getting paid back.
There's also a convenience factor, according to Debbie Cunningham, chief investment officer for global money markets at the $364 billion asset manager Federated Investors (FII) - Get Federated Investors, Inc. Class B Report .
"The Fed's program is very easy," Cunningham said. "It takes a lot of work otherwise to call 40 other counterparties."
She says she takes the Fed at its word that the program is temporary -- with a qualifier. "It's temporary in the context of talking about our kids' kids," she said.