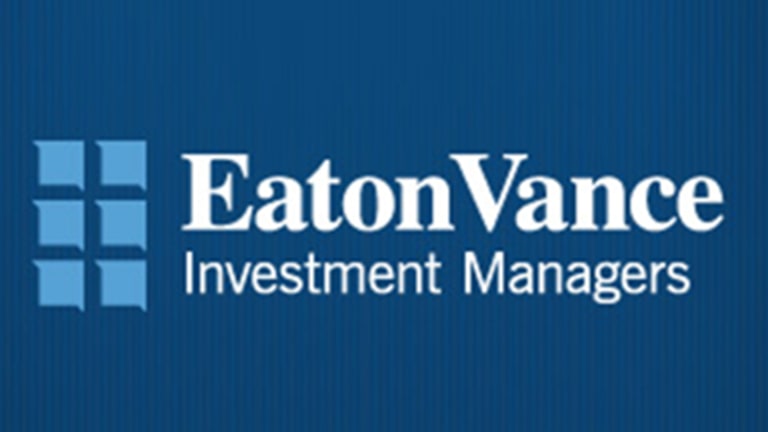 Feast on Some Good Eaton (Vance)
Temporary problems often lead to good trading opportunities. Fund management company Eaton Vance appears to be one such undervalued investment now.
Temporary problems often lead to good trading opportunities. Fund management company Eaton Vance (EV) - Get Free Report is a solid company whose shares pulled back from last year's peak of $46.80 to under $36 on a slight decline in year-over-year earnings per share.
Adjusted fiscal year 2015 EPS (FY ended Oct. 31, 2015) came in at $2.29 vs. record profits of $2.44 per share in 2014.
The company took steps to help future prospects. Entrance into the booming ETF market with its NextShares products is due for launch soon. Value Line sees EV's EPS rebounding to $2.70 in FY 2016 while the consensus viewpoint is even stronger, at $2.74.
Even the lower projection means EV is now trading for just 13.3x forward estimates while yielding almost 3%. Both those numbers compare favorably with the firm's average price-to-earnings ratio of 18.5x and its typical 2.45% payout level. Note that management raised cash dividends to 26.5-cents quarterly starting with the October period.
The three best entry points of the past six years (green-starred below) all represented excellent chances for traders to position for quick rebounds. Obvious historical exit points (red-starred) came with P/Es of 19x to 29x along with below-average yields that were closer to the 2% area.
A regression to a more typical valuation could send EV up to about $48 to $50 within a year. That 33% or better upside target is far from crazy as the shares peaked above $44 during parts of 2013, 2014 and 2015 YTD when EPS and dividends were lower than what's expected for 2016.
Option writers can establish relatively low-risk positions by selling EV $35 or $40 strike price May 20, 2016, expiration date puts. The $35 would likely bring about $2.25 per share dropping the "if put" price to just $32.75.
I went with the more aggressive $40s at $5.16 in premium per share. Break-even on those dipped to $34.84, near the lower end of EV's range dating back to the beginning of 2013.
The best-case scenario with all option sales is keeping 100% of all premium received upfront. The worst-case result would be forced purchase of 100 shares per contract sold at the net exercise prices committed to (strike price minus put premium).
Eaton Vance is a lesser-followed but good quality name in the money management industry. Buy the shares, sell some puts or do both.
This article was originally published on RealMoney at 7:00 a.m. EST, Nov. 27, 2015.
At the time of publication Price was short EV May 2016, $40 puts but positions are subject to change at any time.