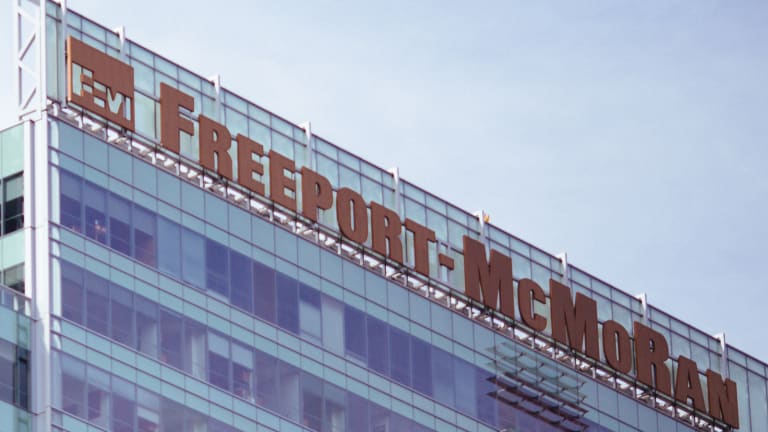 FCX, CLF, BIIB, COF: Jim Cramer's Views
Jim Cramer shares his views on a really bad day and when a leader stumbles. Freeport McMoRan, Google, Biogen and Capital One are among the many stocks discussed here.
NEW YORK (Real Money) -- Jim Cramer shares his views every day on RealMoney.Click here for a real-time look at his insights and musings.
The Day Was Even Worse Than It Looked
Posted at 6:31 p.m. EDT on Friday, July 24, 2015
Now that was one miserable day, far worse than it even looked because it was one of those days where the smart people you talk to were more inclined to be humming "This is the end, my friend," by Jim Morrison, than "Sittin' on the Dock of the Bay," by Otis Redding, where I wish I was instead of watching the selling go on.
Let's just say, first, most of the selling seems almost forced in the oil patch. I found myself thinking today if you haven't sold your Freeport McMoRan (FCX)  now, what's the point? Wait until it goes to the single digits like in the Great Recession and then sell it? If you are still in Cliffs Natural (CLF)  because you like it when activists come in, you own a lottery ticket. Why not see if it wins?
You heard about whole countries blowing up. How many times did someone tell you today that Brazil's goose is cooked? Did you hear anyone speak of the competence of the Chinese Communists? Now we think they are a bunch of fools. A couple of months ago, we thought they were going to take over the world.
Yeah, today was "bad news," as my friend and writing colleague Matt Horween would say, and the toppiness wasn't lost on me.
In fact, the only good thing this market has going for it is that it is despised.
Biogen (BIIB) , Capital One (COF) , Brazil, China. What hath these negatives wrought?
Somehow, it doesn't feel like it will be any better Monday, and if it is, the sellers will be out in full force by 9:47 a.m. ET. Yeah. That's the time they come in when it's higher. I know it. I have a commercial break when it does.
At the time of publication, Action Alerts PLUS, which Cramer co-manages as a charitable trust, had no positions in the stocks mentioned.
When Leader Goes Down, Whole Sector Feels It
Posted at 11:24 a.m. EDT on Friday, July 24, 2015
You can't have leadership get taken out and shot and expect to have a good day.
Take biotech. Biogen (BIIB) , one of my long-term favorites in the group, reported astonishingly weak numbers this morning, offering a huge guide-down for its critical MS drug, Tecfidera. At the beginning of the year, Biogen was looking for a very robust 14% to 16% growth for the drug, but now it's coming in at just 6% to 8%. Just as important, the much-ballyhooed Alzheimer's formulation had already been revealed earlier in the week, seemed good, not as great as we thought, and it is way too far off to save the near-term story.
Biogen puts pressure on the whole complex because it is joined through ETFs that are made up of biotechs. So even though Celgene (CELG)  reported a terrific number, Regeneron's (REGN)  getting a lot of love for its anti-cholesterol drug and Gilead (GILD)  could be about to do a transformational acquisition like the one Celgene did with Receptos  (RCPT) , to diversify away from its key hepatitis C drug, Biogen's wrecking the whole shooting match. I know you might consider all of this silly, but remember, as I wrote in Get Rich Carefully, you often get amazing opportunities in stocks that are pulled down by ETFs as collateral damage. However, you usually have to wait until the second day to take advantage of it because the ETF pressure tends to last the entire day.
Or how about Capital One (COF) , the aggressive credit card company? The banks have been monster leaders in this quarter's earnings period because they are winners in an environment where everyone expects the Fed to raise rates. They do better in a rising rate environment.
But they never do better in a rising credit risk environment where people default on loans. We've been through that nightmare and we thought we had put it behind us with the Great Recession. Looks like that might not be the case as Capital One, in an attempt to expand quickly, had to increase its loan loss provision by 21%. Talk about a piece of data that took your breath away. You think we can rally the most important group in the market when one of its number reports something that hideous? No way.
Then there's health care. How many times has this group saved us? How many? But then we get an announced deal, Anthem (WLP)  buying Cigna (CI) , and both stocks go down. That's not the pattern we've seen with health care consolidation. It's been the opposite. They've all gone up.
These new patterns are just plain negative. We have already "lost" China. We are seeing all the money go to a handful of growth stocks. That's bad breadth. The commodity stocks are signaling a recession.
I say let's be careful out there.
At the time of publication, Action Alerts PLUS, which Cramer co-manages as a charitable trust, had no positions in the stocks mentioned.