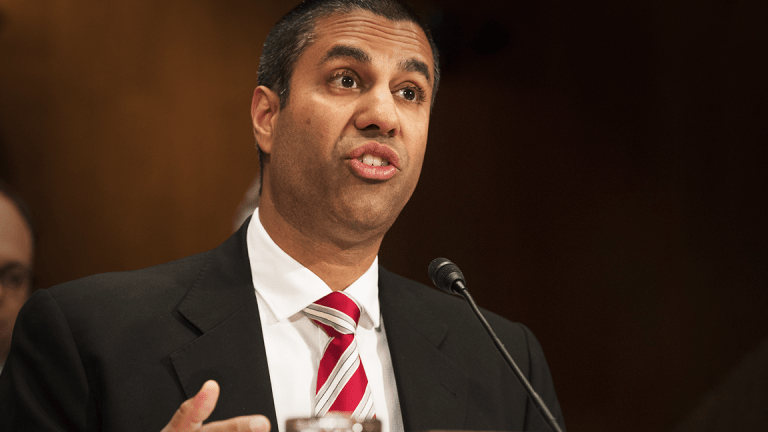 FCC Chief Pai Unexpectedly Slams Sinclair Deal for Tribune
Ajit Pai makes a surprising critique of Sinclair's proposed divestitures in its purchase of Tribune.
Federal Communications Commission Chairman Ajit Pai rocked prospective merger partners Sinclair and Tribune Monday.
Pai, who did not bat an eye at AT&T Inc.'s (T) blockbuster purchase of Time Warner Inc., expressed "serious concerns" about Sinclair Broadcast Group Inc.'s (SBGI) purchase of Tribune Media Co. (TRCO) in a statement that caught investors off guard.
Shares of Sinclair dropped 4.9% to $31.35 on Monday, while Tribune plummeted about 15% to $5.73. On Tuesday, Sinclair shares were down another 2.8% while Tribune was rising 5.2%. 
Sinclair agreed to buy Tribune for $3.9 billion, or $6.6 billion including debt, in May 2017. The companies proposed a $1.5 billion sale of 23 stations in May to assuage regulators. Sinclair would provide services to some of the stations following the divestitures and would have the right to buy back some of the properties. 
The efforts did not win over Pai, who has taken a hands-off approach on issues such as net neutrality and AT&T's purchase of Time Warner. 
"The evidence we've received suggests that certain station divestitures that have been proposed to the FCC would allow Sinclair to control those stations in practice, even if not in name, in violation of the law,'" Pai wrote.
The FCC Chairman said he would circulate a draft order, to be presented to an administrative law judge, outlining his concerns.
"When the FCC confronts disputed issues like these, the Communications Act does not allow it to approve a transaction," Pai wrote. "Instead, the law requires the FCC to designate the transaction for a hearing in order to get to the bottom of those disputed issues."
The American Cable Association, which represents about 800 small and medium-sized cable, phone, and related organizations, had pressed regulators to reject the deal, saying Sinclair would be too large and had made insufficient disclosures.
"From the beginning, ACA has insisted that the transaction is unlawful and certain to create numerous consumer harms, such as higher retransmission consent fees," ACA President and CEO Matthew Polka said in a statement on Monday. "It's well past time for Sinclair to realize that its effort to engage in massive media consolidation has failed and that it should withdraw the transaction without delay so the FCC no longer needs to devote any of its limited resources to a doomed endeavor."
Sinclair and Tribune did not immediately respond to queries on Monday.
Editor's note: This article was originally published by The Deal, a sister publication of TheStreet that offers sophisticated insight and analysis on all types of deals, from inception to integration. Click here for a free trial.