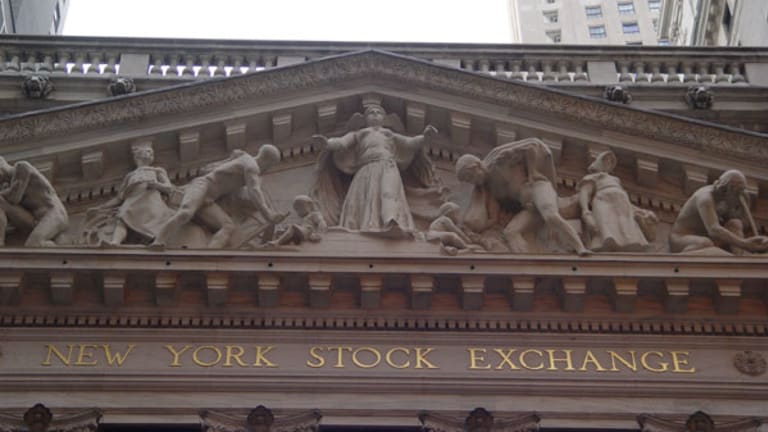 Facebook, Cisco and Kraft Heinz: Jim Cramer's Views
Cramer shares his views on what could happen if we stop feeding the beast. He also discusses spoiled investors and what they can do to your foxhole.
Jim Cramer shares his views every day on RealMoney. Click here for a real-time look at his insights and musings.
Cramer: What Happens if We Stop Feeding the Beast?
Posted at 7:19 a.m. EDT on Tuesday, Dec. 13, 2016

When you go up like this, relentlessly, new high after new high, you have to feed the beast.
You need fresh earnings, good data, positive news and research flow. As long as you get it, the charge can be maintained and the negatives overlooked or explained away. The moment you lose it, then you look below and recognize, holy cow, you advanced on much more treacherous territory than you thought, but you got there and you can be satisfied that the stock market has given you all you need to get ahead.
Let me give you some perfect examples. Monday, I suggested that we have been overlooking higher rates, a higher dollar, a potentially growing deficit and the possibility of a far more interventionist government--both with our trading partners and with our companies, themselves.
They have been the tradeoff for deregulation, lower corporate taxes and repatriation.
The tradeoff has worked for the stock market, but not for the bond market. Curiously, we have heard forever that it was monetary policy that buoyed stocks. But not this time, especially on the eve of a Fed rate hike. It's money coming out of bonds into stocks coupled with a notion that growth will ignite those myriad companies that have been starved for top-line opportunities.
And what about the stocks of companies that have been left behind? Those that had top-line growth anyway and stocks that had bottom-line growth but no top-line growth to speak of. The ones that are advancing? Those that will have increased sales from a more-robust economy.
That's the triad that has been the backdrop for the advance. But that's not what I call feeding the beast. Here's what feeding the beast means:
The appointment of Goldman's Gary Cohn as chief economic advisor to the President. Cohn is about as sophisticated as they come--not about Wall Street but about how technology has caused an incredible upheaval in jobs, and what the government can do about it. Those of us who have been most concerned that the Obama White House didn't get the potentially pernicious impact of tech on job growth should cheer this pick. Plus, the notion of someone who is truly aware of what jobs are being created and is job-growth neutral -- meaning he doesn't mind jobs being created, say, by oil going higher or by our currency going lower -- should also cheer this pick. Savvy is positive. I can't say that Obama's people were always that savvy about business, because by and large they weren't business people. They were academics. This is a beast feeder par excellence.
Boeing's dividend boost and buyback. This is a classic feed the beast bit of news, because many have been worried about the impact of lower wide body sales. In another time, a decline in production of such a lucrative plane as the 777 would have overshadowed a 30% dividend boost and a $14 billion buyback for this $96 billion company. But the deregulatory/lower tax regime prism has changed the orientation, and so good news like this can feed the beast.
UniCredit's stunning recapitalization. The $13.8 billion rights offering from Italy's largest bank sets the tone for the long-awaited boost to the financial system that can get Italy out of the doldrums it has been in. The simultaneous sale of €17 billion in bad loans to Fortress Investment Group and Pimco sets the stage for a much-better balance sheet and put the bank on firmer footing--where it might be able to get its tier one equity ratio to 12.5%. This is stunningly positive--and might be the key to getting the Monte Paschi bailout completed. Remember that recap of Italy's third-largest bank might lead to the cram down of $48 billion in debt. UniCredit gives hope that something can get done, because its stock rallied 2.5% on the news.
Oil going higher on OPEC and non-OPEC cuts has allowed the banks to show year-over-year improvement on criticized loans. Recall last year the rate hike we got occurred at the same time as the collapse of oil, which led to some really stiff bank reserves being taken just when we were hoping they could rebuild capital. Now, the compares will be easy and the rate hike will allow numbers to come up, something that hasn't yet happened.
Now I know these are isolated, and you may not think they make up for a 2.5% 10-year. I come back and say that if that 2.5% 10-year is based on economic growth and not inflation--and the macro news background is positive while the Trump adviser picks remain pro-business--then the beast is fed enough to advance.
Last night, I began to factor in the notion that the GOP might not fall in line with the appointment of Exxon Mobil's (XOM) - Get Exxon Mobil Corporation Report CEO Rex Tillerson as Secretary of State. It may be seen as objectionable by the leadership because of Exxon's close ties to Russia.
The appointment itself can be seen as a positive for world growth: Recall that the downturn in Europe's return to expansion was precipitated by the sanctions on Russia and the concomitant business freeze between Europe and Russia. Go back and look at when business activity peaked in Europe. It was right after Vladimir Putin's move to take back Crimea at the end of 2014--and the sanctions were then put on. A Tillerson pick moves our nation closer to Russia and further from Germany's Angela Merkel, who must be furious about this choice.
It is a total repudiation of the special relationship Obama has built with the German Chancellor, Merkel, who is somewhat conservative in terms of economic growth policies.
If the GOP breaks ranks with Trump, that will be regarded as a negative for the advance.
So keep in mind that any negatives will remind us that we have been ignoring concerns that would have normally taken us down, not up.
Stay tuned to what happens with Tillerson. We have been presuming deregulation, corporate tax relief and repatriation the whole way. If the Tillerson pick ends up mucking up the works, then the big backdrop that ignited the beast will die down and it won't matter whether it is fed or not.
So keep your eye on the news flow that merits the rally. And be ready for the market to retreat, if the news flow goes negative or the election backdrop is seriously threatened by any rift with the Republicans who are meant to be useful props for the Republican agenda.
Cramer: You Don't Want Spoiled Investors in Your Foxhole
Posted at 6:42 p.m. EDT on Monday, Dec. 12, 2016

Valuations are stretched. We do need a breather.
But the Dow hasn't complied, even as we have been treading water for the Nasdaq.
I just want to say, though, that I am having some issues with the kinds of holders we have here. They are the kind you don't want in your foxhole.
I am talking about people who are concerned that Nvidia (NVDA) - Get NVIDIA Corporation Report didn't go up Monday. Or someone who tweeted that he is trapped in Disney (DIS) - Get The Walt Disney Company Report . (Disney is part of TheStreet's Trifecta Stocks portfolio.)
Or another investor who is concerned that Facebook (FB) - Get Meta Platforms Inc. Report has stopped going higher.
People are spoiled.
Spoiled investors are not good investors to be alongside in a downturn.
Just be aware that those who want to push the envelope and feel trapped in a stock that's up 171% like Nvidia are not going to do well. It's almost inescapable.
Oddly, I am more concerned about the stretched valuations in tech than I am in the big international industrials, even as they aren't any picnic either.
But here's the difference. The old-line industrials aren't issuing stock. They are buying it back. Look at that monster buyback Boeing (BA) - Get The Boeing Company Report just announced. The old-line industrials pay dividends and boost them, again like the 30% boost Boeing gave you.
The new techs? They are always issuing stock and rarely, with a couple of exceptions--like Cisco (CSCO) - Get Cisco Systems Inc. Report , Microsoft (MSFT) - Get Microsoft Corporation Report , Intel (INTC) - Get Intel Corporation Report and Broadcom (AVGO) - Get Broadcom Inc. Report --don't pay decent dividends. (Facebook and Cisco are part of TheStreet's Action Alerts PLUS portfolio.)
I am just concerned that if you are unhappy with Nvidia or griping about Disney, you are not emotionally prepared for what could await you. If that's your mindset, do some selling ... so you can buy when it goes down and not blow it all out when it gets there.
Cramer: Effect of News on These Companies Is Positively Stunning
Posted at 2:48 p.m. EDT on Monday, Dec. 12, 2016
Good news travels fast and impacts even faster, and it's almost comical how positively all news flow is being taken.
A positive article in Barron's turns around the stock of Johnson & Johnson (JNJ) - Get Johnson & Johnson Report , which has been a dead-weight loser since the election.
Not only that, but we see genuine pin action in the group, with Pfizer (PFE) - Get Pfizer Inc. Report gaining 2.5% on nothing other than coattails.
The oil stocks rally again on news of a new production cut, even as they have rallied seemingly endlessly for weeks.
Some moves just seem downright giddy. Walmart's (WMT) - Get Walmart Inc. Report running on nothing. Same with Home Depot (HD) - Get Home Depot Inc. (The) Report .
Even the hammered stocks have a hard time staying down. Lockheed Martin (LMT) - Get Lockheed Martin Corporation Report has trimmed its loss by half. (Pfizer and Lockheed Martin are part of TheStreet's Dividend Stock Advisor portfolio.)
Procter & Gamble (PG) - Get Procter & Gamble Company (The) Report , Kraft Heinz (KHC) - Get The Kraft Heinz Company Report , PepsiCo (PEP) - Get PepsiCo Inc. Report and McDonald's (MCD) - Get McDonald's Corporation Report are all rallying as if the dollar's peaked. Sure, the euro's having a little move here, but the damage? It's serious! (Kraft Heinz and PepsiCo are part of TheStreet's Action Alerts PLUS portfolio.)
I see this stuff every day and I marvel. Who are these buyers? Where are the sellers? How can people be so sanguine in the face of such heavy losses in the tech sector, especially the higher-growth cohort?
And this ahead of a Fed meeting where rates are going to be raised?
Remarkable...
Cramer: Tweet's a Bargaining Tool for Trump
Posted at 1:30 p.m. EDT on Monday, Dec. 12, 2016

It's the tweet heard 'round the world ... again. I am talking about the tweet by President-elect Donald Trump blasting still one more industry for charging the government too much.
Here's the tweet from @realDonaldTrump: "The F-35 program and cost is out of control. Billions of dollars can and will be saved on military (and other) purchases after January 20."
Lockheed Martin (LMT) - Get Lockheed Martin Corporation Report makes the F-35, but there are plenty of subcontractors including Pratt & Whitney, the division of United Technologies (UTX) - Get n.a. Report that I visited last week and is responsible for the jet's turbo engine. It's Lockheed's stock, though, that has borne the brunt of the tweet, falling more than 4%.
The tweet had real impact across the board, though, as Northrop Grumman (NOC) - Get Northrop Grumman Corporation Report has dropped 4%, Raytheon (RTN) - Get Raytheon Company Report has shed 3% and General Dynamics (GD) - Get General Dynamics Corporation Report is down 2%.
Now, let's understand that this Joint Strike Fighter program has a long history of billions and billions of dollars of overruns dating back 15 years. In fact, back at the beginning of November, the Department of Defense decided unilaterally to cut the cost of the next batch of jets by 3.7%.
Lockheed Martin hasn't agreed to that rollback. So it's been a standoff between the two. It sounds like Trump's out to drive a much better bargain than that small rollback.
Once again, Wall Street's been drawn offsides here. The defense stocks have roared since the election as Trump talked tough on defense throughout the campaign. But he's also famously against "the swamp," the kind of built-in coziness that has often been the case between the government and the lobbyists pushing for different industries, in particular defense. He's no fan of the military-industrial complex.
Now does he really have the ability to drive down the cost of the jet? I think until a few weeks ago we might have thought a campaign promise like draining the swamp was just campaign talk and that he wouldn't be involved in the actual jawboning of companies to do what he wants.
But then he called Greg Hayes, the CEO of United Technologies, to get him to keep Carrier jobs from leaving Indiana for Mexico. Greg agreed to keep about half of those jobs in Indiana. Why? I think that while Trump didn't threaten to take away some of the $6 billion in defense contracts that United Technologies has, the message got across, as Hayes suggested when he said he was born at night but not last night.
No threat needed.
Then we got the "bargaining" over Air Force One, where Boeing (BA) - Get The Boeing Company Report CEO Dennis Muilenburg agreed to talk to the president-elect about lowering the cost of the two planes the government has ordered.
Then last week we got Time magazine's Person of the Year interview where Trump vowed to go after those drug companies that raise prices exorbitantly, again with the idea that the government's not going to pay as much as it does now for them.
I think you see the pattern. If a company relies on the government for a big chunk of recompense, that stream of revenue is now in jeopardy. Who knows, for example, if Trump will call Marilyn Hewson, CEO of Lockheed Martin, and say, "Look, I want 2,400 of those planes" -- the actual number the government wants--"but I am only paying for the first 2,000 and you are giving me the rest free."
Or how about if he calls Boeing again and says, "Hey, over the weekend I saw you got $16.6 billion for 80 passenger jets from Iran. Sorry, I am going to have to cancel that order because we are going toe-to-toe to redo our deal with Iran, and to show we mean business we're killing that order. We will make it up to you."
That's why I think you need to examine your portfolios and ask yourself, can you handle the risk of owning shares in a company that feeds at the trough of the feds? It's a risk factor and if you don't account for it, you could find yourself on the receiving end of a tweet or a call.
Drug companies and defense contractors are the obvious losers here. But you need to think about companies that need government approvals--like the Time Warner (TWX) -AT&T (T) - Get AT&T Inc. Report deal he has said he doesn't like. You need to think about those who want to pull out of the U.S. for some manufacturing. (Lockheed and Martin and AT&T are part of TheStreet's Dividend Stock Advisor portfolio.)
I am not saying to sell the shares in these companies. I am saying, Trump cuts both ways. Don't be fooled. He's a tweeter-in-chief, he's a negotiator-in-chief, and right now at least, he seems to have all the cards.
Action Alerts PLUS, which Cramer co-manages as a charitable trust, is long C, CSCO, FB, KHC, PEP and WFC.