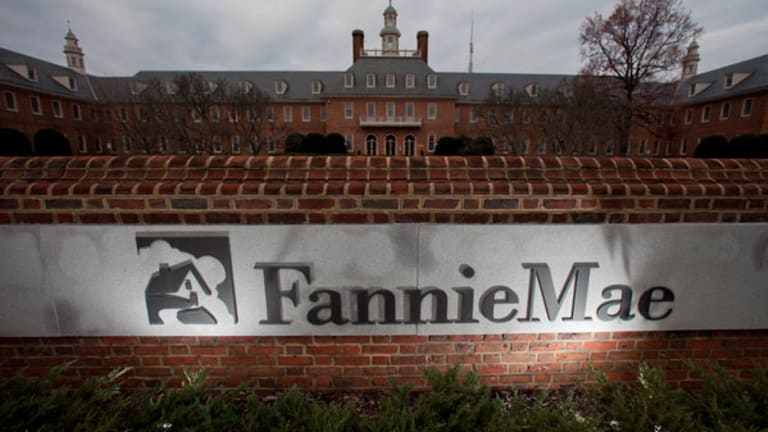 Fannie Mae Preferred Shares: Financial Winners
The preferred shares continued to rise on Friday, as investors looked far ahead to the eventual repayment of the GSEs' government bailout.
NEW YORK (
) --
Fannie Mae
(FNMA)
preferred shares were the winners on Friday among stocks of major U.S. financial companies.
For example, Fannie's preferred series E (FNMFM) shares, with a coupon of 5.10% and a par value of $50, rose 9% on Friday to close at $12.25, after a gain of 75% over the previous three trading sessions.
Fannie Mae and its sister mortgage giant
Freddie Mac
(FMCC)
were taken under government conservatorship by the Federal Housing Finance Agency (FHFA) in September 2008. The shares of both companies have been extremely volatile since the
Wall Street Journal
called attention to a March 14 filing, in which Fannie said it would delay filing its annual 10-K report to the
Securities and Exchange Commission
, specifically to consider whether it could recapture some of its $61.5 billion valuation allowance for deferred tax assets (DTA), as of Sept. 30.
The recapture of Fannie's DTA would provide a major boost to the company's effort to redeem $116.1 billion in preferred stock held by the
U.S. Treasury
, for bailout assistance since September 2008.
This week's trading interest in Freddie Mac's preferred shares was more subdued, but in the same upward direction. For example, Freddie's preferred series Z (FMCKJ) shares, with a coupon of 5.375% and a par value of $25, were down 2.5% to close at $3.09 Friday, following a gain of 10% over the previous three days. The preferred series Z shares have risen 46% over the past month.
Common shares of
Fannie Mae
(FNMA)
and
Freddie Mac
(FMCC)
had a wild ride this week. Fannie Mae's common shares WERE UP 2% to close at 79 cents Friday, following a combined gain of 80% for Tuesday and Wednesday, and a sharp pull-back of 28% on Thursday. Freddie's common shares were unchanged on Friday, closing at 78 cents, after a combined 71% gain for Tuesday and Wednesday, followed by a 28% drop on Thursday.
Investors are obviously buying the theory that eventually significant value will be realized for the preferred shares of both government sponsored enterprises (GSEs), as the housing recovery and recovery of some previous credit losses fuels a great increase in earnings.
An example of a major credit recovery was the
in January by
Bank of America
(BAC) - Get Free Report
of a long simmering mortgage putback from Fannie Mae. Bank of America agreed to pay Fannie $3.6 billion in cash and pay roughly $6.75 billion to repurchase about 30,000 mortgage loans.
Fannie reported a third-quarter profit of $1.8 billion, which was the company's third consecutive profit. Earnings for the first three quarters of 2012 were $9.7 billion, compared to a net loss of $14.4 billion during the first three quarters of 2011. The company was also able to pay its third-quarter dividend of $2.9 billion in the Treasury's preferred shares, without resorting to further government borrowings.
Freddie Mac filed its
on time, saying its valuation allowance for deferred tax assets (DTA) was $31.7 billion, as of Dec. 31. The government held $72.2 billion in Freddie Mac preferred shares at the end of 2012. Freddie earned $11 billion during 2012, swinging from a loss of $11 billion in 2011. The company paid $7.2 billion in dividends to the Treasury during 2012, for a total of $23.8 billion in dividends paid since the company was taken under conservatorship.
While the GSEs are now required to pay all profits in excess of certain capital buffers directly to the Treasury, the expected continued profit improvement, along with a possible massive DTA recapture, could put them on a solid path to escaping the bailout faster than most investors expected back in September 2008. That points to a possible massive payday ahead for long-term investors, although there's plenty of political risk as the GSEs' fate is eventually decided.
There is also the prospect of a lawsuit by preferred shareholders against the FHFA. After all, if Fannie and Freddie are able to recover sufficiently to repay the government, which shouldn't other preferred shareholders -- who are ahead of the common shareholders in line -- get paid too?
The above examples show the obvious potential for very large gains for long-term investors, if the preferred shares of Fannie and Freddie rise to par, and if the companies continue to improve, that is a possibility if the dividends are restored, because those yields are quite attractive in such a low-rate environment.
Long-term investors who ride the shares up might also consider hanging in there for the income. If Fannie were to restore the dividend on the preferred series E shares, investors would receive dividends of $2.55 a share per year, for a yield of 20.8%, based on Friday's closing price.
If Freddie were to restore the dividend on its preferred series Z shares, the annual income would be $1.34 a share, for a yield of 43.37%, based on Friday's closing price.
Please see
TheStreet's
previous coverage, for much more information on Fannie Mae and Freddie Mac, including:
Turning away from Fannie Mae and Freddie Mac, the broad indexes all saw 1% gains, as investors appeared confident that Cyprus would be able to secure a bailout for the island nation's banks. After the Cypriot parliament rejected a "stability levy" against deposit accounts, the country's "bank holiday" continued, as officials on Friday prepared a new plan to restructure large banks and restrict deposit outflow after the country's banks reopen.
The
KBW Bank Index
undefined
rose slightly to close at 56.62.
-- Written by Philip van Doorn in Jupiter, Fla.
>Contact by
.
RELATED STORIES:
First Niagara Is a Long-Term Bargain After M&A Mess
Manhattan Bidding Wars to Persist as Housing Supply Stays Tight
Freddie Mac Servicers Slow To Address Serious Borrower Complaints:Watchdog
Philip W. van Doorn is a member of TheStreet's banking and finance team, commenting on industry and regulatory trends. He previously served as the senior analyst for TheStreet.com Ratings, responsible for assigning financial strength ratings to banks and savings and loan institutions. Mr. van Doorn previously served as a loan operations officer at Riverside National Bank in Fort Pierce, Fla., and as a credit analyst at the Federal Home Loan Bank of New York, where he monitored banks in New York, New Jersey and Puerto Rico. Mr. van Doorn has additional experience in the mutual fund and computer software industries. He holds a bachelor of science in business administration from Long Island University.