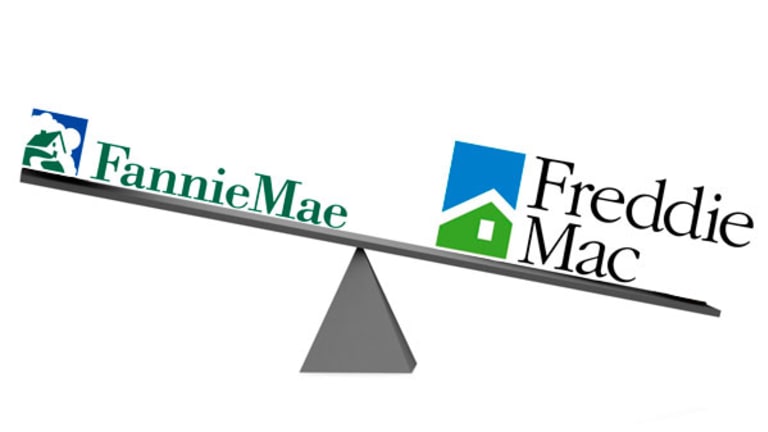 Fannie Mae Leads U.S. Financials Higher
The government-sponsored enterprise leads financial names higher on a very strong Monday for the broad market.
NEW YORK (TheStreet) -- Fannie Mae (FNMA) was the winner among major U.S. financial stocks on Monday, with shares rising more than 9% to close at $3.58.
The S&P 500undefined rose 0.7% to set a closing record of 1,847.7, as U.S. markets followed European markets higher. The move came after news that the Obama administration was working with European leaders on a financial rescue package for Ukraine, on the heels of that nation's removal of President Viktor Yanukovych over the weekend.
The KBW Bank indexundefined rose 1.2% to 68.7, with all 24 component stocks showing gains. Morgan Stanley (MS) - Get Free Report was the leader among large-cap banks, with shares rising 2.3% to close at $30.39.  Please see 'Too Big to Fail' Gets Even Bigger for more on stock valuations for Morgan Stanley and other large-cap banks.
Fannie Mae on Monday announced fourth-quarter earnings of $6.5 billion and said it would pay dividends totaling $7.2 billion to the government in March.
Fannie Mae and its sister company Freddie Mac (FMCC) are together known as the government sponsored enterprises, or GSEs, and were taken under government conservatorship at the height of the U.S. real estate crisis in September 2008.  Freddie's shares rose 6.2% to close at $3.44. 
For all of 2013, Fannie earned nearly $84 billion, with earnings boosted by a huge recovery of deferred tax assets, but following the payment of dividends on government-held senior preferred shares, common shareholders were left with a net loss of 25 cents a share.
The U.S. Treasury holds $117.1 billion senior preferred Fannie Mae shares and $72.3 billion in senior preferred Freddie Mac shares. The GSEs stopped taking draws from the Treasury during the second quarter of 2012, and have remained profitable ever since. Under their modified bailout agreements, the GSEs must pay all of their earnings to the government in the form of dividends, except for minimal capital cushions.
Meanwhile, all dividends for junior preferred shareholders have been suspended since September 2008. After trading at very low levels for several years, common and preferred shares of the GSEs recovered significantly during 2013, and interest among institutional investors has continued to grow.
Fannie on Monday said once the March dividend payment is made, it will have paid the government total dividends of $117.2 billion, exceeding the size of the Federal Government's preferred stake. That's a return of over 100%, for an investment of less than five and a half years, but there's still no mechanism in place for either GSE to begin repurchasing government-held preferred shares.
Freddie Mac as of Dec. 31 had paid $71.3 billion in dividends to the government, so it's a safe bet that Freddie's total dividends paid will exceed Uncle Sam's after Freddie pays its next dividend in March, following the company's fourth-quarter earnings announcement.
Several institutional investors holding junior preferred or common shares -- the highest profile being Bruce Berkowitz of Fairholme Funds -- have sued the government and have been trying to push a solution that will either allow the GSEs to go on operating, or at least leave some value for non-government investors if the GSEs are wound down.
Before their bailout agreements with the Treasury were modified, Fannie and Freddie were required to pay annual dividends of 10% on the government's senior preferred shares. Rafferty Capital Markets analyst Richard Bove believes that, since the bailout agreement was modified in August 2012, after the GSEs had returned to profitability and after they had stopped taking draws from the Treasury, the amendments to the bailout agreement were unnecessary.
At that time, "the Treasury and the Federal Housing Finance Agency acted for one reason alone," Bove wrote in a note to clients on Monday. "That reason was to prevent shareholders from sharing in the profits that these entities knew were coming," Bove added.
Looking ahead, it's difficult to predict what lies ahead for Fannie and Freddie. Politicians in Washington for years have been saying the GSEs should go out of existence. Then again, neither Congress nor President Obama have wanted to jeopardize the recovery of the U.S. housing market, by replacing the entities that purchase nearly all newly originated mortgage loans.
The government will also lose a major source of revenue if Fannie and Freddie are wound down. Berkowitz has proposed a solution that will bring in additional private capital to keep Fannie and Freddie running, and there's even hope in Congress for the private investors, as indicated by comments from Senators Bob Corker (R., Tenn.) and Mark Warner (D., Va.), during a Financial Services Roundtable meeting in January.
The government is seeking to have Berkowitz's suit thrown out. "If they get away with this ploy Fannie Mae's stock will plummet to zero. If they do not, the stock has a very bright future," Bove wrote.
-- Written by Philip van Doorn in Jupiter, Fla.
'Too Big to Fail' Gets Even Bigger
Philip W. van Doorn is a member of TheStreet's banking and finance team, commenting on industry and regulatory trends. He previously served as the senior analyst for TheStreet.com Ratings, responsible for assigning financial strength ratings to banks and savings and loan institutions. Mr. van Doorn previously served as a loan operations officer at Riverside National Bank in Fort Pierce, Fla., and as a credit analyst at the Federal Home Loan Bank of New York, where he monitored banks in New York, New Jersey and Puerto Rico. Mr. van Doorn has additional experience in the mutual fund and computer software industries. He holds a bachelor of science in business administration from Long Island University.