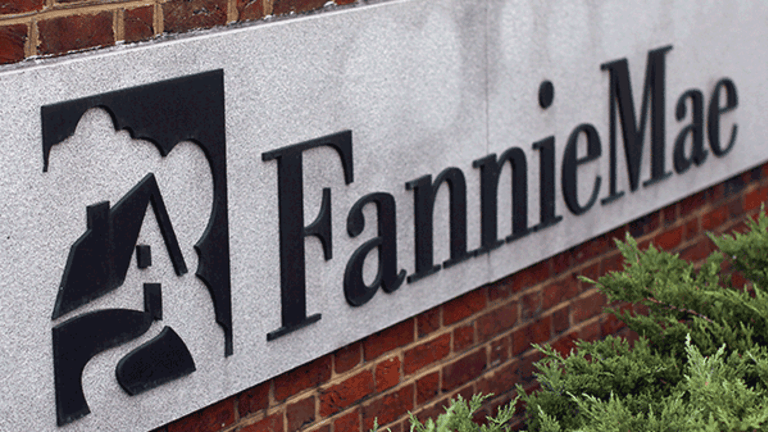 Fannie, Freddie Shares Whacked on Trump's Treasury Pick Mnuchin's Comments
This is what he said that moved the stocks.
Fannie Mae (FNMA) and Freddie Mac (FMCC)  shares fell Thursday after President-elect Donald Trump's pick for Treasury Secretary, Steve Mnuchin, downplayed the idea that he would push for a recapitalization or privatization of the two government-seized housing giants.
"My comments were never that [Fannie, Freddie] should be recapitalized and released," Mnuchin said at his confirmation hearing at the Senate Finance Committee. "I think we could find a bipartisan fix for these, so on the one hand we don't end up with a giant bailout, and on the other hand we don't run the risk of limiting housing finance."
The statement appears to walk back comments Mnuchin, a former Goldman Sachs banker, made in November, where he told Fox Business that "we've got to get Fannie and Freddie" out of government ownership. He also said in November that the two companies often displace private lenders in the mortgage market and should be restructured so they're strong enough to avoid future bailouts. "It makes no sense that these are owned by the government and have been controlled by the government for as long as they have," Mnuchin said.
On Thursday, Mnuchin said he has been involved in the mortgage industry for a 30 years and has significant "expertise" when it comes to Fannie Mae and Freddie Mac. "For long periods of time I think that Fannie and Freddie have been well run without creating risk to the government," he said. "These are very important entities to provide the necessary liquidity for housing finance. What I am committed to is I would work with both Democrats and Republicans... We need housing reform so we shouldn't just leave Fannie and Freddie as is for the next eight years under government control without a fix."
Fannie stock dropped by almost 5% to $3.76 while Freddie fell more than 5% to $3.62 a share on Thursday's session.
In response to questions from Sen. Mike Crapo, R-Idaho, Mnuchin said it would be one of his priorities to work with the Idaho Republican to reform the two firms. "The status quo is not acceptable," Mnuchin said. "We don't want to put taxpayers at risk and we don't want to limit capital for housing."
Regulators took control of the two mortgage-finance companies in 2008, when the souring housing market saddled them with steep losses, rattling investor confidence. In 2012, the companies were directed to pay essentially all of their profits to the Treasury Department, instead of the fixed-rate 10% quarterly dividend to the government stipulated originally.
In addition, Mnuchin also said he not supportive of bringing back the 1933 Depression era Glass-Steagall Act, which would effectively break up the largest banks by separating their investment banking units from the commercial bank divisions. Mnuchin suggested that separating commercial banks and investment banks through reinstating Glass-Steagall would have a negative effect on liquidity and capital markets and lending. However, he said the incoming administration supports a 21st century Glass-Steagall statute, though he didn't provide any details explaining what he meant by that.