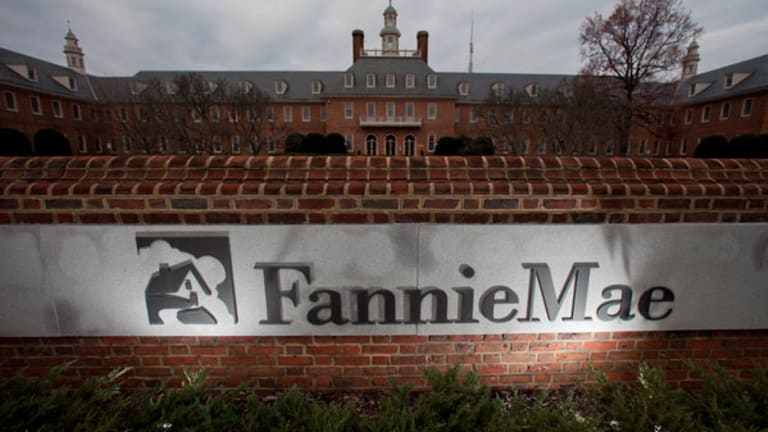 Fannie, Freddie Retreat After Historic Gains
Shares of Fannie and Freddie took a big breather on Wednesday, following seven straight trading sessions of major gains.
Updated from 1:44 p.m. with market close information, Bruce Berkowitz's big bet on Fannie and Freddie and bank stock commentary.
NEW YORK (
) --
Fannie Mae
(FNMA)
and
Freddie Mac
(FMCC)
retreated Wednesday following a surging seven-session ride in which both stocks more than doubled in value.
Shares of Fannie Mae were down 29% to close at $2.90. The shares had risen 140% over the preceding week to close at $4.08 on Tuesday.
Freddie Mac's shares were down 30% to close at $2.61, after seeing a one-week return of 150% through Tuesday's close at $3.75.
"The furor that took the common stock to a $40 billion combined market cap seemed overdone when the preferreds have continued to languish at an $8 billion capitalization," wrote Michael Kao, head of Los Angeles-based hedge fund Akanthos Capital Management, in an email.
The two mortgage lenders, known as the government-sponsored enterprises, or GSEs, and were taken under government conservatorship in September 2008 following the implosion of the industry.
Also see: Fannie and Freddie Vultures Need a Facelift >>
Fannie and Freddie benefited from better-than-expected housing data from the S&P/Case-Shiller 20-city home price index which showed a month-over-month increase of 1.4% and a 10.9% gain from the same period a year ago. The national 20-city and 10-city indices all posted the largest year-over-year gains since 2006, according to S&P Dow Jones Indices. Economists polled by
Thomson Reuters
on average expected the 20-city index to show a year-over-year increase of 10.2%.
The gains by both GSEs was sidetracked Friday after Ralph Nader, the longtime consumer activist, wrote in a column for the
Wall Street Journal
that
the two companies' common shareholders should fight
against the federal government's "great Fannie and Freddie rip-off."
As part of its bailout agreements with Fannie and Freddie, the GSEs granted the government warrants to purchase just under 80% of the common shares of the two GSEs at a strike price of $0.00001 per share.
"The zombie common shareholders have no rights or remedies against Fannie and Freddie, both operationally active companies, or their regulator -- the Federal Housing Finance Agency," Nader wrote on Friday. "FHFA ordered the Fannie and Freddie boards and executives to suspend communications with shareholders and abolish the annual stockholders meeting."
Also see: U.S. Housing 'Has to Move Higher' >>
President Obama and Congress are expected to begin negotiations in the coming days over the future of the country's secondary mortgage market, including a long-term plan that could lead to the dissolution of Fannie and Freddie or their continuance in a modified form. The GSEs together purchase roughly 90% of new mortgage loans being issued, as private players' secondary market purchasing and securitization hasn't yet recovered to anywhere near their pre-crisis levels.
A decision to "abolish the GSEs," would be a very complicated matter, as Fannie Mae had $3.2 trillion in total assets as of March 31, while Freddie Mac had $2.0 trillion in assets.
Nader wrote that "the common shareholders of Fannie and Freddie need to organize and make their voices heard in Washington. Clearly, they should have a say in how Fannie and Freddie are managed -- in the board room and in Congress -- from here onward."
Government-Held Senior Preferred Shares
The U.S. Treasury holds $117.1 billion in Fannie Mae senior preferred shares and $72.3 billion in Freddie Mac senior preferred shares, in lieu of bailout funds provided to both companies. Fannie Mae announced on May 9 it would pay the Treasury a second-quarter dividend of $59.5 billion, after the GSE determined it could recapture most of its valuation allowance for deferred tax assets (DTA) at the end of the first quarter,.
Freddie Mac announced on May 8 it would pay a dividend of $7 billion to the Treasury in June.
Following the announced June dividend payments from Fannie Mae and Freddie Mac, the government will have received dividends totaling $131.6 billion on its combined GSE preferred investment of $189.4 billion.
Also see: Investors Should Pick Discover Over Capital One, says Credit Suisse >>
The government appears to be making the best of its investment in Fannie and Freddie, and there is no agreement in place allowing either GSE to repurchase any government-held preferred stock. And that -- along with the potential government feast on the common-share warrants -- could be a ticking time bomb, assuming the GSEs' common and junior preferred shareholders decide to sue the government for their share of the gravy.
Junior Preferred Shares
Dividend payments on junior preferred shares of Fannie and Freddie were suspended in September 2008 when the two companies were taken under conservatorship.
With junior preferred shareholders ahead of common shareholders in line for a potential reward from Fannie and Freddie, assuming the government ever allows the GSEs to repay the government, the market action for the junior preferred was strong for several sessions through Tuesday's close. But they tumbled in line with the common shares on Wednesday.
Fannie's preferred Series E shares, with a face value of $50, declined 24.5% to close at $15.10. The shares trade under the symbol FNMFM.
Freddie Mac's preferred Series Z shares, with a face value of $25, were down only slightly to close at $6.66.
With institutional investors taking major interest and providing support for the junior preferred shares, investors will be intrigued to see investment funds' 13F filings with the Securities and Exchange Commission on July 15, to review holdings as of June 30.
CNBC
on Wednesday reported that
Bruce Berkowitz's Fairholme Capital Management had taken a roughly $500 million position in GSE preferred shares
.
Berkowitz in a note to
CNBC
wrote "taxpayer dollars expended by the government during a time of national crisis will be fully repaid," adding that "equitable treatment of taxpaying shareholders, including community banks and insurance companies, must be restored.
"The government's ability to fully recoup its investment and restoring value to shareholders are not mutually exclusive," Berkowitz wrote.
According to the report, Berkowitz went on to say "the time to restructure Fannie and Freddie is upon us," and that "sustaining our nation's economic recovery requires it."
Fish or Cut Bait?
We were inundated with questions from readers Tuesday afternoon asking for insight into when the rally in Fannie Mae and Freddie Mac shares might end. Some investors apparently took profits on Wednesday.
While day-traders can make their own decisions on what bets to place, with the potential to make tremendous gains or take tremendous losses in a matter of minutes, long-term investors need to know that the events surrounding the conservatorship of Fannie and Freddie are unprecedented. There is certainly value in the GSEs, since they are very profitable, but there is no way to know what future form the GSEs will take, or what the company's non-government shareholders can expect.
Also see: Banks Set Record of $40.3B in Earnings >>
Other Financial Services News
The broad indices all saw 1% gains on Wednesday, over continued concern that the
Federal Reserve
might soon curtail its balance sheet expansion. The central bank has been making monthly purchases of $85 billion in long-term securities, in an effort to hold long-term rates down.
With evidence of a strengthening U.S. economy and housing market continuing to flow, investors have been pushing up long-term rates. The market yield on 10-year U.S. treasury bonds was 2.11%, down slightly from 2.15% on Wednesday, which was the highest yield for 10-year Treasury paper in six months.
The centerpiece of the Fed's economic stimulus has been keeping the federal funds rate in a range of zero to 0.25% since late 2008. Most economists expect the central bank to curtail its securities purchases before it begins raising the federal funds rate.
The Federal Deposit Insurance Corp. on Wednesday reported that
U.S. banks earned record $40.3 billion during the first quarter
, with the continued improvement in credit quality providing a major, but temporary, boost to earnings as banks release loan loss reserves. The FDIC also said the industry's net interest margin -- the spread between the average yield on loans and investments and the average cost for deposits and borrowings -- continued to narrow.
While the rising long-term rates in the market could reverse, FBR analyst Paul Miller in a note to investors on Wednesday wrote that in a rising rate environment, "we prefer asset-sensitive lenders," such as Comerica, First Niagara Financial Group, Huntington Bancshares, KeyCorp, Prosperity Bancshares, People's United Financial, Texas Capital Bancshares and Zions Bancorporation."
"We expect the more traditional residential mortgage thrift lending model of
Northwest Bancshares
(NWBI) - Get Northwest Bancshares, Inc. Report
and
Washington Federal
(WAFD) - Get Washington Federal, Inc. Report
to be more challenged," Miller wrote.
The
KBW Bank Index
(I:BKX)
was up slightly to close at 61.80.
-- Written by Philip van Doorn in Jupiter, Fla.
>Contact by
.
Philip W. van Doorn is a member of TheStreet's banking and finance team, commenting on industry and regulatory trends. He previously served as the senior analyst for TheStreet.com Ratings, responsible for assigning financial strength ratings to banks and savings and loan institutions. Mr. van Doorn previously served as a loan operations officer at Riverside National Bank in Fort Pierce, Fla., and as a credit analyst at the Federal Home Loan Bank of New York, where he monitored banks in New York, New Jersey and Puerto Rico. Mr. van Doorn has additional experience in the mutual fund and computer software industries. He holds a bachelor of science in business administration from Long Island University.