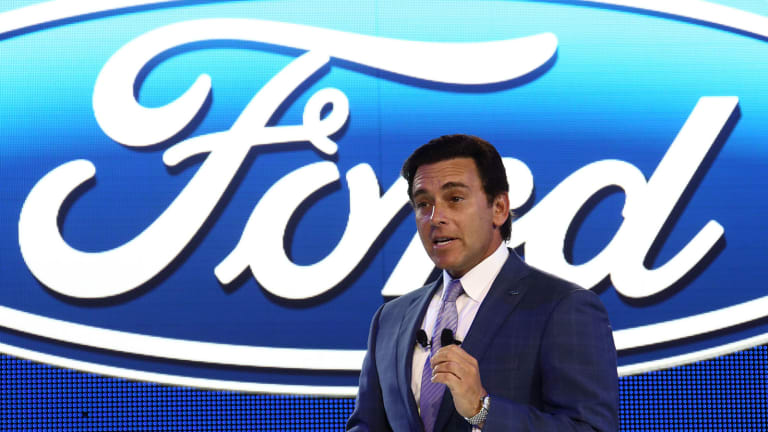 Family-Controlled Ford Has a Penchant for Impatience With Who's In Charge
The heirs of Henry Ford are dependent on a share price that has lost 40% of value under Mark Fields.
Ford (F) - Get Ford Motor Company Report , perhaps best known for its full-size F-Series pickup trucks, also has earned a reputation as a company that has struggled with executive leadership, changing its mind quickly and unpredictably with regard to who's in charge.
The abrupt firing of Mark Fields, 56, as CEO less than three years into his tenure looks odd at first. Ford is a massively profitable automaker that has bounced back from the edge of bankruptcy during the global financial crisis -- a time when Fields was running the company's most important operations in North America.
Ford is the same automaker that fired Jacques Nasser in 2001 and pushed out Don Petersen in 1990. Current Executive Chairman Bill Ford Jr. took over from Nasser for five years before recruiting Alan Mulally. Mulally hung on until 2014. Behind the merry-go-round at the top is the Ford family, the heirs of founder Henry Ford, who control the company through a super-voting class of stock created in 1956. Though the family holds a small fraction of Ford's equity, it maintains control with 40% of the votes.
In Detroit, family ownership of the global automaker is seen as an advantage, a way of sustaining Ford's positive impact on hometown employment and economic vitality. By the same token, the public and non-family shareholders are subject to a governance philosophy that is largely hidden and private.
Scores of Ford heirs pay their bills from the dividends and the price appreciation of Ford shares, which have lost 40% of their value since Fields became CEO. Under the terms of a trust created to hold the super-voting shares, family members wishing to sell their stock are encouraged to sell to other family members to avoid diluting family control.
"Mark Fields took a long-term approach to making Ford a mobility company. However, investors -- which include the super-voting shares the Ford family owns and just confirmed again at the annual meeting May 11 -- were not so patient," said Rebecca Lindland, analyst at Kelley Blue Book. "Following Alan Mulally was never going to be easy, and Fields held his own, but the reality was he couldn't rally the troops internally and pacify investors and the Ford family externally."
Mulally is credited with keeping Ford out of bankruptcy in 2009, as opposed to rivals General Motors (GM) - Get General Motors Company Report and Chrysler (FCAU) - Get Stellantis N.V. Report .
In fairness to Fields, he was moving vigorously to push Ford into advanced mobility by developing driverless technology, buying startups where it seemed to make sense and experimenting with ride-sharing ventures like Chariot. To the extent the stock price has been weak, that's probably due to apprehension about whether Ford can sustain a downturn in sales without financial drama or a hit to its creditworthiness.
Ford remains far too dependent on big pickup trucks and the profit they generate, having fallen behind in passenger cars, especially in the luxury segment, where the Lincoln brand in the midst of mounting a comeback. Clearly, the company is shooting for "transformative" leadership by switching to Jim Hackett, 62, who accomplished such a feat by leading Steelcase, the office furniture company, away from its cubicle mindset to a new era of office design. Hackett currently serves as the chairman of Ford Smart Mobility.
Ford emerged from the global financial crisis with a weak balance sheet, unable to spend and invest as vigorously as it might have in the many capital-intensive initiatives that equity analysts have been encouraging. Hackett, the new CEO, inherits a strengthened balance sheet while facing the possibility of a big downturn in North American vehicle sales, which could once more test the Ford family's patience.
WATCH MORE: Ford Executive Chairman Bill Ford Jr. Tout's New CEO Jim Hackett's Leadership Abilities
Doron Levin is the host of "In the Driver Seat," broadcast on SiriusXM Insight 121, Saturday at noon, encore Sunday at 9 a.m.
This article is commentary by an independent contributor. At the time of publication, the author held no positions in the stocks mentioned.