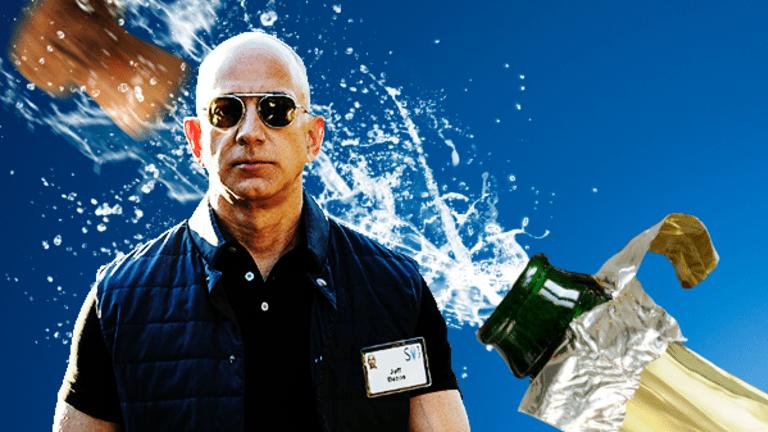 The Amazon Whole Foods Beast Sends Shares of France's Largest Grocer Crashing
Investors show concern that Amazon will flex might in European food market
Investors show concern that Amazon will flex might in European food market
The fallout from Amazon's (AMZN) - Get Report move in the food market with its purchase of Whole Foods Market (WFM) continues as France's biggest grocery store issued a sales warning, bringing a vague malaise to Europe's biggest supermarkets.
Carrefour (CRRFY) , the world's second-largest retailer and France's largest supermarket, fell more than 14% Thursday morning after it issued a profit warning for the second half of the year.
Paris-based Carrefour posted weaker-than-expected first half earnings of €661 million late Wednesday, down 21.5% from the same period last year, and slashed its full-year sales growth target to between 2% and 4% from a previous guidance of 3% to 5%. Sales for the six months ending in June were tabbed at €43.05 billion, the company said, up 3.3% from last year on a constant currency basis.
Carrefour had the unfortunate timing of being the first large supermarket to report since Amazon closed its $13.7 billion purchase of Whole Foods on Monday and slashed prices at the store, known for its premium pricing, by as much as 43%, and looks set to get the wrath of the uncertain impact the deal will have.
As Whole Foods does not have a large physical presence in Europe, investors are clearly concerned that Amazon will leverage its online and logistics might in the European food market.
Carrefour's new CEO Alexandre Bompard, who was named head of the group only last month, has vowed to accelerate plans to grow Carrefour's online business and "breathe new life" into the company's domestic operations.
Carrefour shares were down 14.38%, changing hands at €16.68, at 11:14 am in Paris. Fellow French supermarket Casino Guichard Perrachon (CGUSY) was down 4.9% to €46.75, as Jefferies analysts downgraded its target price to €42 on the back of Carrefour's release.
Belgian grocery store Colruyt (CUYTY) lost 3.57% to €46.28.
The sell off in the U.K., where many stores have established online delivery platforms, was less steep. Britain's No. 1 supermarket Tesco (TSCDY) was down 2% to 178.9 pence and the No. 2 supermarket Sainsbury's (JSAIY) lost 1.21% Thursday morning to change hands at 234 pence.
Morrisons (MRWSY) , the U.K.'s fourth biggest supermarket, was down just 0.63% to 243.5 pence, for one key reason - it already has a tie up with Amazon that allows one hour delivery of Morrisons food to Prime members. While, the grocer did lose more than 3% on Tuesday after Amazon began selling Whole Foods products in the U.K., shares have remained largely flat since the deal was first announced in June.
This cannot be said for Sainsbury's, which has lost 12% of its value, and Tesco, which has lost almost 4%.
More of What's Trending on TheStreet: