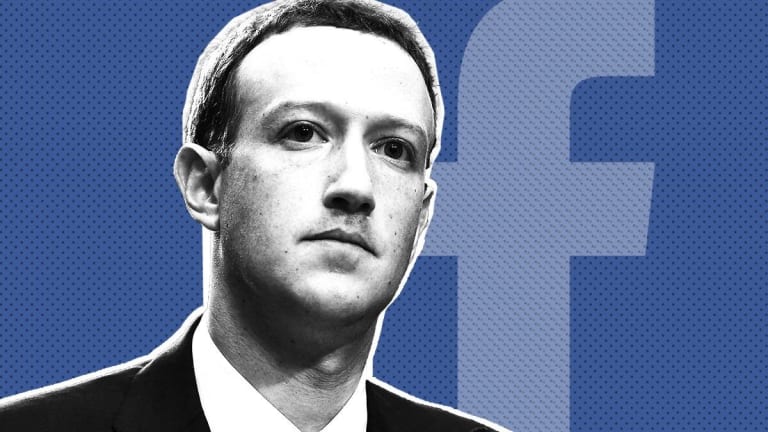 Facebook Soars on an Earnings Beat and Solid User Stats: 6 Key Takeaways
The social media giant beat revenue and EPS estimates, and it also shared relatively encouraging usage figures for its most valuable regions.
Following a year in which it saw an almost unrelenting barrage of negative coverage, Facebook (FB) - Get Free Report just shared a set of numbers that should get it some positive headlines.
After the bell on Wednesday, Mark Zuckerberg's company reported Q4 revenue of $16.91 billion (up 30% annually in dollars and 33% in constant currency) and GAAP EPS of $2.38, topping consensus analyst estimates of $16.39 billion and $2.18. Ad revenue rose 30% to $16.64 billion, and (thanks to hardware sales) "payments and other fees" revenue rose 42% to $274 million.
On its earnings call, Facebook cautioned that its revenue growth will slow by a mid-single digit percentage in constant currency (CC) in Q1, and is expected to continue decelerating in CC over the course of 2019. However, with the pre-earnings consensus only calling for 24% growth for both Q1 and the full year, and with Facebook having a history of offering conservative top-line guidance, the outlook is being taken in stride.
Shares rose sharply in after-hours trading and were up 11.2% to $167.28 in morning trading on Thursday, bringing them to their highest levels since last August. Fellow online ad giant Alphabet/Google (GOOGL) - Get Free Report , whose Q4 report arrives on Monday, was rising 1.3% to $1,102.76 on Thursday morning.
Here are some notable takeaways from Facebook's report and call.
1. User Growth Was Better Than Expected in Facebook's Most Valuable Markets
Monthly active users (MAUs) for Facebook proper and Messenger rose 2% sequentially and 9% annually to 2.32 billion, slightly topping a 2.31 billion consensus. Daily active users (DAUs) rose 2% sequentially and 9% annually to 1.52 billion, in line with consensus.
But while Facebook's total user counts were largely as expected, the company (amid worries about declining usage in these markets for its core app) outperformed DAU expectations in North America and Europe, which respectively accounted for 50% and 25% of its Q4 revenue. North American DAUs rose by 1 million sequentially to 186 million, topping consensus by 1 million. European DAUs, which fell in mid-2018 as GDPR privacy regulations were rolled out, rose by 4 million to 282 million, beating consensus by 4 million.
Facebook also reported that 2.7 billion billion people use at least one of Facebook proper, Messenger, Instagram and WhatsApp each month (that's up from over 2.6 billion
), and that over 2 billion people still use at least one of those services daily. CFO Dave Wehner indicated that Facebook will eventually phase out its sharing of user metrics that only cover Facebook proper and Messenger, in favor of sharing stats for its entire app "family."
Facebook's Q4 DAUs by geography. Source: Facebook.
2. Ad Prices Fell Slightly, But Ad Impressions Jumped
After having seen growth slow to 7% in Q3 from 17% in Q2, Facebook's average ad price fell 2% annually in Q4. However, this was easily offset by a 34% increase in ad impressions.
Wehner noted Instagram is driving much of Facebook's impression growth, both via feed and Instagram Stories ads. Ad price growth, meanwhile, is said to be pressured by "an ongoing mix shift towards product services and geographies that monetize at lower rates."
That remark is a reference to both the faster usage growth Facebook is seeing in emerging markets (whose users, on average, are less valuable to advertisers) relative to developed markets, and the fact that the average ad price for its stories services is for now lower than the average ad price on either Facebook or Instagram's feed. Wehner indicated the shift towards stories ads relative to feed ads is one of the reasons Facebook is expecting revenue growth to slow this year, as it works to boost stories ad demand within its giant advertiser base (and by doing so, lift ad prices).
In addition to running ads on Instagram Stories, Facebook has begun running them on the less popular Facebook Stories service. And later this year, the company plans to start running them on WhatsApp's heavily-used Status stories service.
Facebook and Alphabet are holdings in Jim Cramer's Action Alerts PLUS member club. Want to be alerted before Jim Cramer buys or sells FB or GOOGL? Learn more now.
3. Some Encouraging Stats Were Shared on the Call
COO Sheryl Sandberg mentioned that Facebook now has over 7 million advertisers, up from 6 million in late 2017. Notably, she added that over 2 million of those advertisers are using stories ads.
Zuckerberg disclosed that Instagram Stories now has over 500 million DAUs, up from 400 million six months ago. He also reiterated that Facebook has over 400 million MAUs for its Watch video platform, but it's worth noting that this metric covers anyone who has used Watch for just a minute. Zuckerberg did add, though, that daily Watch users spend over 20 minutes per day using the service.
4. New Messaging and Instagram Services Are Promised
Last week, The New York Times reported that Facebook plans to integrate Facebook Messenger, WhatsApp and Instagram's messaging platforms, thus allowing each app's messaging service users to communicate with each other. It also mentioned that Facebook plans to bring end-to-end encryption (currently provided by WhatsApp) to Messenger and Instagram messaging.
Zuckerberg (by and large) confirmed those efforts on the call, albeit while stating messaging app integration will be "a 2020 thing or beyond." He also said Facebook plans to roll out WhatsApp's payment services, which recently launched in India, to more countries this year, and that 2019 will see Facebook's messaging apps, which are still in the early stages of being monetized, becoming "the center of [a user's] social experience in more ways."
Zuckerberg signaled new Instagram e-commerce/shopping features are also due this year. "When I think about it, just from the consumer side, an increase in commerce on Instagram, Facebook and WhatsApp I think is one of the most exciting product opportunities that we have in all of these products and a big business opportunity as well," he said, while adding that product discovery is something that Facebook particularly wants to get right in Instagram.
5. Spending Guidance Remains Unchanged
Wehner said Facebook still expects its GAAP costs and expenses, which rose 51% in 2018, to grow by 40% to 50% in 2019 -- higher R&D spend, safety/security investments and depreciation expenses related to capital spending will all play roles. Likewise, Facebook, whose capex more than doubled in 2018 to $13.9 billion, still expects to spend $18 billion to $20 billion on capex this year.
Wehner reiterated that after 2019, Facebook expects its cost/expense growth to more closely track its revenue growth.
6. Stock Buybacks Continued
Boosting EPS a little: Facebook spent $3.5 billion on buybacks in Q4, after having spent $4.3 billion in Q3 (when its stock was generally higher). The disclosure comes after Facebook added $9 billion to its buyback authorization in December.
With Facebook having $41.1 billion in cash at the end of 2018 and no debt, and with the company coming off a 2018 in which it produced $15.4 billion in free cash flow in spite of heavy spending, it can buy back plenty of additional stock if it wants.
TheStreet's Eric Jhonsa previously covered Facebook's earnings report and call through a live blog.
Score a Touchdown with Jim Cramer's Big Game Special
Get access to the best stock picks in Jim Cramer's investment portfolio by executing a two-minute drill on our Big Game Special on Action Alerts PLUS, Jim's VIP club for investors. Sign up now through Feb. 4 and receive 58% off of the normal subscription price. Now that's a real touchdown!