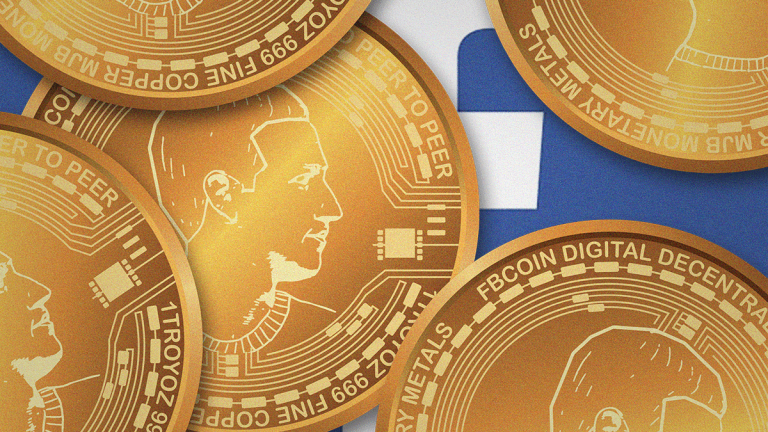 Facebook's Libra Faces Challenges, But It Can Exist Without PayPal
Facebook and other Libra backers still have much work to do to win over skeptical politicians and regulators. But their project doesn't need the support of payments incumbents to launch.
While the Facebook-led Libra cryptocurrency project still has to clear its share of hurdles to succeed, a loss of support from payments incumbents isn't necessarily a death knell for it.
On Friday afternoon, PayPal (PYPL) - Get PayPal Holdings, Inc. Report  announced that it's leaving the Libra Association, the non-profit governing organization for the cryptocurrency. PayPal was one of the Libra Association's 28 founding members when it was unveiled in June.
News of PayPal's departure arrived shortly after The Financial Times reported that the online payments giant is thinking about withdrawing support for Libra, which is meant to launch in 2020. That report featured comments from a PayPal source that suggested the online payments giants was worried Facebook  (FB) - Get Meta Platforms Inc. Class A Report hadn't done enough to address concerns about the use of Libra for money laundering, and that payments firms were worried about regulatory scrutiny bleeding into other businesses of theirs.
Separately, The Wall Street Journal reported this week that Visa (V) - Get Visa Inc. Class A Report , Mastercard (MA) - Get Mastercard Incorporated Class A Report  and other unnamed financial partners were "reconsidering their investment" in Libra amid a backlash from U.S. and European government officials. The WSJ also reported that Libra Association members have asked Facebook execs "how illegal activities such as money laundering and terrorist financing would be kept off Libra and haven't received detailed answers."
David Marcus, the Facebook exec who is in charge of the company's Libra efforts (and who once ran PayPal), responded to the WSJ's report by stating that "the part of [the WSJ's] article suggesting [Facebook wasn't] on top of, or didn't share detailed information about how to secure Libra and protect the network against illegal activity, is categorically untrue." He also insisted that Facebook is "very calmly and confidently working through the legitimate concerns that Libra has raised."
For a couple of reasons, PayPal's withdrawal of support and Visa/Mastercard's reported misgivings are a negative for Libra. The reach of companies such as PayPal, Visa and Mastercard, together with the bank account data that consumers have often shared with them or their partners, makes them well-positioned to drive Libra account sign-ups and deposits. In addition, having a stamp of approval from large and reputable payments firms could help win over some consumers who are uneasy about depositing funds into a Libra account.
Facebook and Mastercard are holdings in Jim Cramer's Action Alerts PLUS member club. Want to be alerted before Jim Cramer buys or sells FB or MA? Learn more now.
However, it's worth keeping in mind that the support of existing credit-card networks and digital wallet services isn't needed for Libra to function. Libra is meant to be accessed via Libra-specific digital wallets offered by Facebook and various third parties. In Facebook's case, the company has created a subsidiary known as Calibra that plans to offer a Libra wallet service that can be accessed both through a standalone app and via Facebook Messenger and WhatsApp.
An individual who has set up a Libra wallet could then transfer funds from his or her bank account, in much the same way that funds are currently transferred to PayPal wallets and stock brokerage accounts. In addition, Facebook is also hoping that retailers and other offline Libra resellers will help drive account sign-ups and cash deposits among "unbanked" consumers.
From the start, the support shown to Libra by the likes of Visa, Mastercard and PayPal has been a little curious, given the potential of a service like Libra, which is promised to have very low transaction fees, to become a rival to existing payments networks. Though there are reasons to think that Libra is unlikely to seriously disrupt existing credit-card payments networks, given its lack of interest payments on deposits, lack of loyalty/cash-back programs and exposure to a measure of currency volatility, it could still compete against them some on the fringes.
As I mentioned around the time that Libra was unveiled, the support the project was getting from the likes of Visa, Mastercard and PayPal could be a case of keeping your friends close and your enemies closer, with the payments giants concluding they're better off having some say in the development of a potential rival (and perhaps profiting from its growth a little) than being completely shut out. But with a political/regulatory backlash having formed, these companies might be deciding that they're now better off pulling their support.
Such moves won't necessarily torpedo Libra, which (in addition to Facebook and the payments giants) has received support from companies such as Vodafone, Booking.com, eBay, Stripe, Uber and Lyft. However, with politicians and regulators voicing concerns both about the potential use of Libra for illicit activities and its potential to compete against existing fiat currencies, the timing of PayPal's withdrawal and reports of Visa/Mastercard's cold feet is less than ideal.
Of the two sets of political/regulatory concerns swirling around Libra, worries about Libra's potential challenge to fiat currencies, such as the ones recently voiced by France's finance minister, might be the larger of the two. Given the resources of the companies and organizations that plan to be running Libra nodes, as well as the fact that Libra accounts are meant to be tied to real-world identities and will require government-issued photo IDs to set up, there's a good chance that concerns about illegal activities can be addressed.
However, calming government officials and central bankers nervous that Libra, whose financial reserve will consist of a basket of U.S. dollars, euros, yen, pounds and Singaporean dollars, will (should it take off) become a threat to their monetary power might prove more complicated. This might especially hold in countries where consumers might be eager to have funds held in something other than a volatile local currency.
But Facebook and other Libra backers still have some useful talking points as they try to argue that allowing Libra to launch will be a positive for consumers. For example, in addition to highlighting Libra's potential to offer financial services for the unbanked, Libra backers could emphasize the cryptocurrency's ability to enable much lower fees for remittances by foreign workers. They could also note Libra's ability to support digital content microtransactions that can't be economically handled today by payment cards, and how this could potentially aid media industry firms contending with ad revenue declines.
For now, it's pretty hard to predict just when and if the governments currently expressing concerns about Libra will give a green light to the project. But with or without the support of payments giants, the final chapter in this story hasn't been written yet.