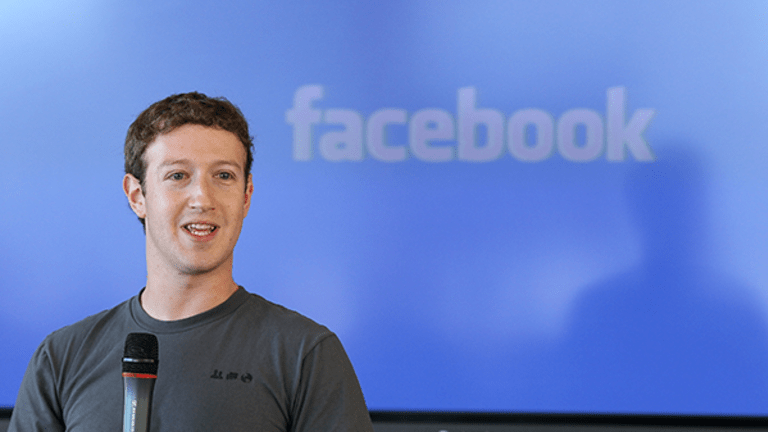 How You Can Tell Facebook Is Hungry to Change How People Use Its App
The social media giant is working on video and e-commerce features that give users new reasons to load its app, and which also give it more ad space to sell.
The social media giant is working on video and e-commerce features that give users new reasons to load its app, and which also give it more ad space to sell.
For a long time, Mark Zuckerberg gave Facebook Inc.'s (FB) - Get Report developer teams a motto of "Move Fast and Break Things." A more business-minded Zuck tweaked it three years ago to the less catchy "Move Fast With Stable Infrastructure," but Facebook still very much takes the "move fast" part of its original mantra seriously.
As the rapid rollout of offerings such as its Live streaming service and various Snapchat service clones show, Facebook doesn't waste time when it comes to launching services it considers crucial to its future, even if launching them causes big changes in the user experiences provided by its most popular apps.
Announcements made over the past couple of weeks suggest another big Facebook product push is underway. This time around, the focus isn't on embracing live streaming or stunting Snap Inc.'s (SNAP) - Get Report momentum (mission accomplished), but turning Facebook's ubiquitous main app into a place that users don't just visit to see news feed content from "friends" and followed accounts, but also a place that users explicitly visit to do things like watch videos from their favorite creators, read articles on topics of interest and shop for products.
Last week's unveiling of Facebook's Watch tab, which will roll out in the coming weeks and features professional video content from the likes of the MLB, National Geographic and Time, is certainly one big part of this strategy. Though unlikely to be a YouTube-killer, Watch can leverage Facebook's scale, viewing data, ad infrastructure and social tools to be a major ad-supported video platform in its own right.
But there have also been a string of less splashy announcements and disclosures this month that shine a light on how Facebook wants to remake its app. Among them:
Facebook is teaming with eBay Inc.  (EBAY) - Get Report to show items from eBay's Daily Deals service -- it features discounted items sold by major brands and eBay sellers -- in its Craigslist-like Marketplace section. TechCrunch states about 100 deals will be posted daily. The news came shortly after an announcement that Marketplace, which now sees over 18 million monthly item listings in the U.S., is expanding to Europe, where Craigslist isn't as strong.
Facebook is thinking about adding items such as event tickets, car listings from local dealerships and (most notably) products listed on retailers' Facebook pages to Marketplace. "We'll kind of look and see what's popular, what people want to engage with," says Marketplace chief Deb Liu. With Facebook already testing Marketplace ads, retailers could conceivably pay to promote their listings within the service.
Facebook is testing a news feed service called Featured Topic, which highlights a series of articles related to a topic that it thinks a particular user could be interested in. An excerpt for each highlighted article is shown, along with a link and a photo.
In addition to these moves, Facebook has been testing an "Explore" tab that showcases articles and videos it thinks a user might like. Unlike content in the main news feed, items in the Explore tab don't have to be from followed accounts or liked/shared by friends. The effort comes as more and more publishers buy Facebook ads to obtain traffic.
It's probably not a coincidence that these moves come as Facebook cautions increases in news feed ad load -- that is, the frequency at which ads are shown for a given amount of news feed viewing -- won't be a major contributor to revenue growth going, after having provided a major boost in recent years. Moreover, with Facebook's 1.3 billion-plus daily active users spending an average of over 50 minutes per day on its core app, Messenger and Instagram, there could be limited room to grow daily news feed viewing time. Especially with messaging apps impacting the amount of user-generated content that's shared.
Even in the absence of higher ad load and engagement, Facebook can still grow its news feed ad revenue via user and ad price growth -- monthly active users rose 17% annually in Q2, and price per ad rose 24%. And outside of the core app, it still has Instagram, Messenger and WhatsApp as long-term growth engines. But all the same, the company has a larger incentive than before to launch services that both provide users new reasons to load the Facebook app and give the company more ad inventory to sell.
Not all of these services are bound to succeed. Facebook has certainly had its share of failed products in recent years. Examples include the Home Android UI, the Paper reader app and (in spite of the recent success of Instagram Stories and WhatsApp Status) a few different Snapchat clones. That said, Watch has enough strengths to be a successful video platform, Marketplace has already achieved a measure of U.S. success and Facebook's user data and publisher support make a service providing a stream of recommended articles gain a following.
And together with other ad growth levers, such successes could make worries about Facebook's slowing ad load increases, which the company's last two earnings reports already suggest were overdone, feel like a distant memory.
More of What's Trending on TheStreet:
Like Rats Off a Sinking Ship, Steve Bannon Out at White House
10 of the Most Worthless And Expensive Olympic Venues of All Time
Jim Cramer and the AAP team hold a position in Facebook for their
Action Alerts PLUS Charitable Trust Portfolio
.