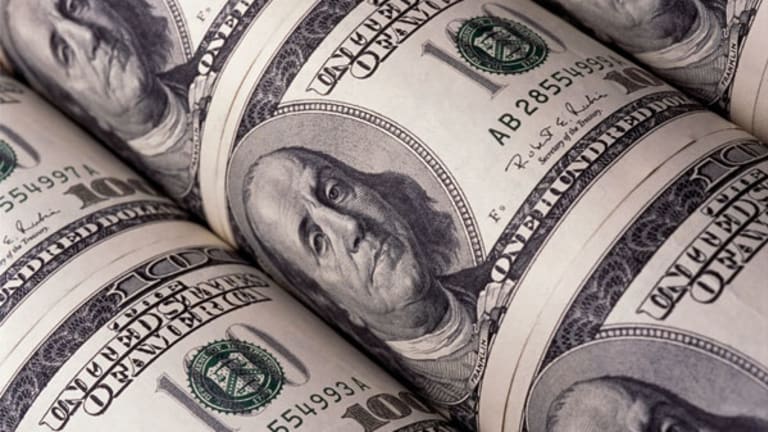 Facebook, Home Depot, Disney: Doug Kass' Views
Doug Kass shares his thoughts on contrariness and his takeaways and observations on the market.
Doug Kass shares his views every day on RealMoneyPro. Click here for a real-time look at his insights and musings.
Embracing the Contrary
Originally published Nov. 17 at 7:47 a.m. EDT
Two days ago, my opening missive discussed the
importance of contrary thinking
.
Let's begin this morning by considering and examining some possible contraries--some that I embrace, some that I don't embrace--and how markets may be impacted. Many of these contraries are obviously emanating from political uncertainties.
Some of the following outliers and non-consensus developments should be used as food for thought:
Interest Rates: Back in July, I called for a Generational Bottom in Bond Yields. I received a consistent Bronx cheer from the stands for this forecast, as many that previously had seen a spike in rates over the last few years now saw rates low forever. At that time back in early July, the 10-year U.S. note yield bottomed at 1.32%. This week the 10-year U.S. note yield hit 2.30% and, after an increase in yields of 100 basis points, the consensus is firmly now in the higher interest rate camp. (As an example, some vocal observers such as Mark Grant, who had been looking for a 1% 10-year yield weeks ago, is now assuming rates will climb higher). Should the new Trump administration's promised goal of more rapid economic growth be delayed or fail, rates will head right back down and yield spreads would flatten anew. (This morning the 10-year note yield is slightly below 2.2%, down by two basis points). Note: I believe that, at least over the short term, a long trade in bonds might be ahead.
Sector Strength: Lower rates would have broad sector implications. As an example, everyone's new favorite--bank stocks--would turn back down after a rip-roaring post-election move. Industrial stocks also would fall back to earth.
The Economy: How about the impact on the consumer of a $1 trillion bond market loss in the last month? Or an adverse impact of climbing rates on the refinancing market? How about the Trump transition? Again, should this transition be less smooth or meet opposition, any assumed economic benefits also would be delayed. So, what if the economy slows down further in the months ahead and we have seen a top in yields for months to come? What if it becomes clearer that the consensus 2017 S&P earnings forecast is way too optimistic for what would be the fifth year in a row?
Secular Growth Threats: Neither the Democrats nor Republicans are addressing the intermediate-term structural issues that are a threat to growth and create disruptions in the jobs market. Maybe the Republican policy implemented provides only a temporary relief to longer-term problems and the markets could see right through this, and falter.
The Trump Presidency (Part One): Suppose as the economy is weakening, growth-encouraging policy and tax policies are slow to be introduced? At best there will be a hiatus, as implementation of these policies becomes a late 2017/early 2018 event.
The Trump Presidency (Part Two): Is a brief presidential honeymoon ahead? Though a minority, some critics are more concerned with a disorganized Trump administration, characterized by authoritarian impulses, cronyism and incompetence. After all, the office's power is immense and the president is the most powerful person in the world. For now there is some expected in-fighting within the Republican Party. As yet there have been no roadblocks placed by the Democratic Party (even opposition to Steve Bannon has been limited) amid an incoherent process, but this, too, could change more quickly as the Democrats conceivably could get their act together.
The Trump Presidency (Part Three): Suppose Trump's tax cuts, if implemented, are a failure and don't trickle down, but, once again trickle up? Suppose his policy does Make America Great Again, but is restricted to the One Percenters? Then what happens to Trump's popularity when the middle class he wants to be elevated is demoted and not restored, again?
The Trump Presidency (Part Four): Finally, in a broader sense, there is still a legitimate question about Trump leadership and his ability to govern coherently. The President-elect's ability to govern is totally untested--even his defendants recognize it requires a leap of faith. Trump may be determined but, with little background in government, the new administration's governing philosophy is not yet recognizable. As I have previously expressed, we don't yet know how Trump will govern; this makes things of a market-kind uncertain.
The Democratic Party's Opposition: The Democrats, like the Republicans, have their own set of problems as they are caught in their own cul-de-sac. Facing a bleak few years, the Democratic leadership is old and there is a lot of tension. It is uncertain where the next leadership comes from, but should the Dems get their act together while there is some Trump administration delays, the opposition could have more impact and a more forceful policy influence on the Republicans. In other words, the Democrats may be down but not out, and how much of the Republican policies ultimately will be implemented is a big question mark.
Facebook and FANG: Facing its second significant issue in a month, the consensus favorite stock could disappoint in the months ahead. Maybe Facebook (FB) - Get Meta Platforms Inc. Report is a better short than long. FANG stocks may continue to be weighed down by fears of trade wars, a stronger currency and other threats to world trade.
Gold: The yellow metal is a hated asset. What if gold is the buy of the decade and breaks out under the aforementioned U.S. political issues?
The U.S. Dollar: Buoyed by confidence in pro-growth Trump initiatives and a Fed rate hike, our currency is strengthening. If economic growth slows and the U.S. dollar's strength continues, might we again have to ratchet down forecast global and corporate profit growth for 2017-2018?
Inflation: Consensus is for a slow increase in inflation. Suppose the pattern is quicker? Are the markets (bond and stocks) prepared for this?
The Year-End Rally: Everyone every year expects a year-end rally, and 2016 is no exception. But suppose that large hedge fund redemptions are much greater than expected. Who is left to buy to offset that selling?
Fraud: We haven't had a giant company fraud, a meaningful hedge fund fraud or any other fraud for some time. Suppose something comes up? I have a hunch about one big one. Stay tuned!
I have some more contraries, but I will wait for my 15 Surprises for 2017 next month.
Position: Long GLD small, bonds, SDS; short TLT small, SPY small .
My Takeaways and Observations
Originally published Nov. 15 at 3:47 p.m. EDT

At the end of the day!
--------------------------
Don't run with the crowd: Embrace contrary and second-level thinking instead.
Extreme policy uncertainty.
More Howard Marks.
Less Bill Miller.
Graf wrote a goodie.
The movie was in reverse Tuesday as what was good and bad over the last week, reversed fortunes.
Nasdaq up large (covered my trading short in PowerShares QQQ Trust, Series 1 ETF (QQQ) - Get PowerShares QQQ Trust Ser 1 Report Monday), Russell up small. (Tech up, banks and retail down).
Stocks trading at day's high (with a big assist from rising crude oil) near the end of the day.
Reward vs. risk turning much more negative now, though the algos and machines have things purring today.
The U.S. dollar continues to strengthen.
The price of crude oil erupted, up by $2.47, to $45.70, on OPEC rumors, non-substantiated.
Gold up $2.
Ag commodities: wheat up $0.05, corn up $0.05, soybeans up $0.08 and oats up $0.04.
Lumber down $2. (Homebuilders were weak, led by DRH downbeat report)
Bonds rebounded modestly in price. The 10-year note and long bond yields were down by 1 basis point.
The 2s/10s spread contracted by 1 basis point to 122 basis points.
Municipals recovered half of yesterday's losses. Closed-end muni bond funds recovered all yesterday's losses.
High yield was quite strong, likely on the heels of higher oil prices. iShares iBoxx $ High Yid Corp Bond ETF (HYG) - Get iShares iBoxx USD High Yield Corporate Bond ETF Report up $1.10 and SPDR Barclays Capital High Yield Bnd ETF (JNK) - Get SPDR Bloomberg High Yield Bond ETF Report up $0.45.
Here are some value-added contributions on the site:

1. Jim "El Capitan" Cramer on inflation negativity.
2. Ben Cross on OPEC strategy.
3. Tom Graf on buying municipal bonds.
4. RevShark shifts gears.
5. Divine on the S&P 500.
Positions:
Long -- HIG, SDS large, JCP large, GLD small, DD, OAK, U.S. Treasuries
Short -- TLT small, SPY small, GM small, F small, NFLX small, DIS small, KO
Position: [see above] .
Action Alerts PLUS, which Cramer co-manages as a charitable trust, is long FB, AGN and GOOGL.
Doug Kass is the president of Seabreeze Partners Management Inc. Under no circumstances does this information represent a recommendation to buy, sell or hold any security.