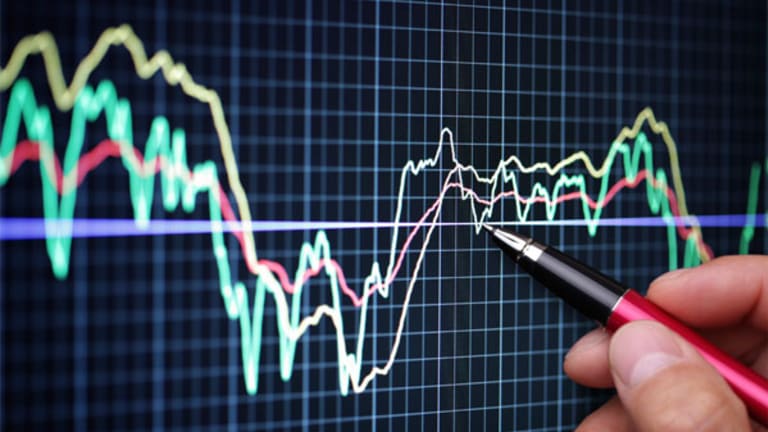 Facebook, Google, Apple: Doug Kass' Views
Doug Kass shares his thoughts on retail woes and how for everything there is a season.
Doug Kass shares his views every day on RealMoneyPro. Click here for a real-time look at his insights and musings.
My Takeaways and Observations
Originally published Nov. 2 at 4:56 p.m. EDT
"I have no doubt that Anthony Weiner's name is irrefutable proof of the existence of God and that he has a wicked sense of humor!"
-- My Thought of the Day
In Monday's opening missive I warned that market leaders energy and financials could be primed for a fall. They are a fallin' this week.
I am on the Double Top in XLF case this week! iShares Barclays 20+ Yr Treas.Bond ETF (TLT) - Get iShares 20+ Year Treasury Bond ETF Report has now rallied by $2 from Tuesday morning's lows. The 10-year U.S. note just dropped through 1.80% (it was 1.87% when I purchased some 10-year notes for my personal pension plan).
Still lovin' Trade of the Week (Short JPMorgan Chase (JPM) - Get JPMorgan Chase & Co. (JPM) Report ). (Note: JPM traded down to $68 at the market's lows Wednesday).
Added to JC Penney (JCP) - Get J. C. Penney Company, Inc. Report , Hartford Financial (HIG) - Get Hartford Financial Services Group, Inc. (HIG) Report and Campbell Soup (CPB) - Get Campbell Soup Company Report (am seeing some November call volume here, not big, but present).
FOMC... zzzzz!
Stocks were lower from flagpole to that's all on Wednesday. At midday they tried to mount a rally, but late in the day it was aborted. SPDR S&P 500 ETF Trust (SPY) - Get SPDR S&P 500 ETF Trust Report closed down by about $1.30 (an hour ago it was down by about half that amount).
Buy High, Sell Low: As discussed below, in market sectors, there are potholes everywhere. (With the benefit of hindsight, which is always 20/20 in vision, it paid to be anticipatory back in July with many of our shorts, rather than being reactionary and waiting for a decisive price break down!) The fact is that most price-following technicians who loved the market in June hate the market in November.
Tactical Strategy: I ended the day slightly net short. However, I expect the markets to begin to whiff out a Clinton victory as we move closer to Tuesday's election. Indeed, I would not be surprised if the markets, which are now oversold (and the VIX overbought), began to rally later this week and into early next week. While from a trading standpoint this might be playable (and I intend to), from an investment standpoint it will not likely be playable as the move may not be sustained. For intermediate-term investors, I would sell into a rally.
We have some important earnings releases this afternoon--led by Facebook (FB) - Get Facebook, Inc. Class A Report . My not terribly uninformed view is that FB will likely beat sales/profit consensus expectations but that the shares are priced to perfection. So, stay tuned.
For that matter, the general rollover in (T)FANG should concern investors. Perhaps, deeply.
"Successful investing takes time, discipline and patience. No matter how great the talent or effort, some things just take time: You can't produce a baby in one month by getting nine women pregnant."

-- Warren Buffett
Finally, please re-read, " They Accentuate The Positives and Eliminate the Negatives."
Remember that most talking heads in the media are inherently and by design, bullish -- now and on every dip. I would treat their optimism with healthy skepticism. Do not take these sources on face value; they are almost never bearish and almost never see a market downturn. Importantly, they almost always have something to sell you.
Always do your own homework.
And always consider reward versus risk, upside compared to downside--and weigh this against your investment time frames and risk profile/appetite.
The U.S. dollar was weaker Wednesday.
Oil continues to breakdown. Down by $1.22, to $45.45, a barrel.
Gold up $13.60, impressively breaking above $1,300 ($1,301). I have a medium-sized long in SPDR Gold Trust ETF (GLD) - Get SPDR Gold Trust Report as a hedge against continued central bank lunacy.
Ag commodities: wheat up $0.03, corn down $0.02, soybeans down $0.07 and oats up $0.06.
Lumber is flat.
Bonds continued a reversal from yesterday morning. The 10-year U.S. note yield is 1.797%.
The 2s/10s spread dropped by two basis points to 97 basis points.
Municipals were well bid and closed-end muni bond funds flourished.
Junk continues junky (likely related to crude's crude price fall), something I have been warning about for several days. Blackstone/GSO Strategic Credit Fund (BGB) - Get Blackstone / GSO Strategic Credit Fund Report down by $0.06, to $14.57.
Banks rallied smartly off the lows but still off on the day. Deutsche Bank (DB) - Get Deutsche Bank AG Report down for the sixth day in a row can't be evidence of financial stability. Talking heads love financials, I believe they are wrong, frankly.
I see a "double top" in Financial Select Sector SPDR Fund (XLF) - Get Financial Select Sector SPDR Fund Report and have added to my shorts.
Insurance was lower, though long fav Hartford Financial (HIG) - Get Hartford Financial Services Group, Inc. (HIG) Report was up a few pennies.
Brokerages down, but only modestly so. Impressive, considering magnitude of recent rise.
Energy stocks followed crude oil lower.
Autos have peaked and General Motors (GM) - Get General Motors Company (GM) Report and Ford (F) - Get Ford Motor Company Report share prices are beginning to show it. Ford broke important support at $11.60 after exhibiting a disappointing decline of 12% year-over-year monthly shipments.
Retail seemed to stabilize after recent schmeissing. A few more days could indicate that the share price declines have fully discounted the weak fundies. (Note: The weather is finally getting cooler!)
Old tech was weak, led by IBM (IBM) - Get International Business Machines (IBM) Report .
Consumer staples were stable/staple.
Consumer discretionary was mixed. Starbucks (SBUX) - Get Starbucks Corporation Report , Disney (DIS) - Get Walt Disney Company Report .
Ag equipment weak, led by core short Caterpillar (CAT) - Get Caterpillar Inc. Report , which I have been shorting on the move into the high $80s. Now $81. Loved by media talking heads, for no apparent reason, based on business trends (weak retail dealer data).
Biotech down 1.5%. Allergan (AGN) - Get Allergan plc Report down $11. Here is a good conversation/video with Jim and Jack. Some of speculative biotech annihilated (see Cempra down 60%).
Big Pharma continues lower.
(T)FANG breaking down, and this is potentially important. Tesla (TSLA) - Get Tesla Inc Report (on Best Ideas, short) approaching another low, Amazon (AMZN) - Get Amazon.com, Inc. Report down $20, Alphabet (GOOGL) - Get Alphabet Inc. Class A Report down $17. It's never a good signpost when market leadership is rolling over badly.
Apple (AAPL) - Get Apple Inc. (AAPL) Report with a dead fruit bounce after Monday's shellacking.
The Mighty Oak's (Oaktree Capital (OAK) - Get Oaktree Capital Group, LLC Class A Report ) leaves are falling off and, frankly, after digging I don't know why. I have a call into management.
Radian (RDN) - Get Radian Group Inc. Report approaching my buy zone of $12 to $13. I will be patient (my cost basis is $10), but I do like this as an investment for several years.
My fav large-cap long, DuPont (DD) - Get DuPont de Nemours, Inc. Report is Du Lovely, up in a down tape.
Here are some value added contributions on our site:

1. In " Chicago Beats Cleveland and I Don't Mean the World Series," Jim "El Capitan" Cramer scores big!
2. Christopher "Not the Designer" Versace says a December rate hike is "in the cards" (more Poker similes!)
3. My pal, Chief Jay So Many, also chimes in on a rate hike.
4. And Brian Sozzi on the spooky Fed.
5. James Passeri on a deep dive into Valeant.
Positions: Long GLD, HIG large, DD, RDN, CPB, JCP large, 10-year U.S. notes, OAK; Short JCP puts, GM small, F small, SBUX, DIS, CAT, AAPL, NFLX small, XLF, C, JPM, TLT small.
More Retail Woes as L Brands Signals a Miss
Originally published Nov. 1 at 9:37 a.m. EDT

A signaled earnings miss by L Brands (LB) - Get L Brands, Inc. (LB) Report is another strike against the retail sector.
In my broadly defined consumer discretionary sector I remain long only special situation and speculative turnaround candidate JCPenney (JCP) - Get J. C. Penney Company, Inc. Report and short Disney, (DIS) - Get Walt Disney Company Report , General Motors (GM) - Get General Motors Company (GM) Report , Ford (F) - Get Ford Motor Company Report and Starbucks (SBUX) - Get Starbucks Corporation Report .
I am still net short in the space. However, it is likely getting late in that game, given the sharp share price declines.
Position: Long JCP; short DIS, SBUX, GM small, F small .
To Everything There Is a Season
Originally published Nov. 1 at 8:10 a.m. EDT

To everything (turn, turn, turn)
There is a season (turn, turn, turn)
And a time to every purpose, under heaven
A time to be born, a time to die
A time to plant, a time to reap
A time to kill, a time to heal
A time to laugh, a time to weep
--Byrds, "Turn Turn Turn"
To everything there is a season.
So it is with passive investing.
Though a few paragraphs are not enough to explore the active/passive debate, I will make some observations and conclusions.
Passive investing has begun to dominate active investing over the last five years. This should not be surprising, as:
Retail investors have faced two large drawdowns in the market averages, in 2000-02 and in 2007-09. As well, many popular (and low-priced speculative) stocks have burned individuals.
Institutional investors have also fared poorly. Mutual funds have materially underperformed the averages. Hedge funds have failed to "hedge" during The Great Decession and, more recently, many have glommed unto many of the same doomed stocks.
In a low-return setting, high fee active managers have suffered versus lower-cost passive competitors and have lost market share.
Quant strategies (volatility trending and risk parity trading) have upended the institutional money management business, taking inflows away from dissipated active hedge funds that are collapsing these days like cheap suits.
With the passive tide coming in and the active tide moving out to sea, the latter appears to many to be swimming naked.
To some degree, the flows into passive vehicles resembles the preference and inflow surges into "risk-free" bonds over "risky" equities, which are astonishingly occurring at a time when interest rates are zero or lower.
That commonality -- of passive over active and bonds over stocks -- should warrant caution and could represent, as I have written, one bubble forming and another bubble about to be pierced in fixed income.
You Get What You Pay For
From my perch, choosing to save money by spending less for active management in order to improve results is an ass-backwards approach that historically has backfired. By implication, it negates the search for value, which is at the core of some very successful long-term investors such as Warren Buffett, Benjamin Graham and David Dodd, and the underlying precept that superior investment management is not worth the effort.
But, as it is written in Ecclesiastes, to everything there is a season. Or, as I have often written, mean regression is the most common feature of economic cycles and in human behavior.
While we may not know how extreme a cycle will get, we damn well have learned that an extreme in one direction always leads to another extreme in the opposite direction.
The speculative move in the 10-year U.S. note yield to 1.35% in early July 2016 is arguably one such historical extreme, just as the near-20% bond yields of the early 1980s was another extreme. Indeed, looking further out in history and starting at the end of World War II, we have had two separate 35-year cycles in a row in fixed income--both likely ending in extremes.
Conditions Are Ripe for Change
One characteristic that cycles and human behavior share in common is that
acceptance is a feature near the end of every one of those cycles. That helps to explain why being premature in anticipating a cycle's end can be as expensive an exercise as being caught in the turmoil that accompanies a trend change.
This also helps to underscore the value of passing up (as the extreme compounds) on some potentially large gains that occur at the end of a speculative move (e.g., in tech stocks in late 1999/early 2000 or bonds now).
Remember, new paradigms are, more often than not, not the "new normal." Rather, they are a figment of investors' imagination and a manifestation of their greed and herd behavior.
Passive Investing Is the Path to Mediocrity
"That plane leaves the ground and you're not with them you'll regret it.
Maybe not today, maybe not tomorrow
But soon and for the rest of your life."
--Rick (Humphrey Bogart), "Casablanca"
From my perch the present fondness and popularity of passive computer-based investing is another cyclical extreme that we have seen in other asset classes over the years.
Diminishing the value of active money management and research and raising the value of less expensive and less time-consuming "robo investing" and/or algorithmic trading that exploits minute price inefficiencies also raises the risk of crowd/herd behavior, which has been prevalent at previous market tops (e.g., portfolio insurance in 1987, the 1997-2000 tech boom and, finally, in 2007, which lead to The Great Decession).
I have been of the view (anticipatory vs. reactionary) that this sort of crowd behavior is much better played against than rewarding in itself. But, more importantly, I will almost guarantee that, in the fullness of time, an association with passive investing will lead to mediocrity. And, I promise you that active management delivering fundamental Graham and Dodd analysis, which gives recognition to private market value and is not agnostic to balance sheets and income statements, will be rewarded.
Emerging Evidence of a New Dawn for Active Management
The fact is that, even as the momentum of passive and algorithmic investing intensifies, we already are seeing a sharp contrast in strong and weak groups/stocks. Just look at consumer discretionary versus technology, bank stocks versus REITs, Facebook (FB) - Get Facebook, Inc. Class A Report vs. Twitter (TWTR) - Get Twitter, Inc. Report , and so forth.
Passive investing is not currently capturing this distinction and active management has begun to produce better results over the last few months. This development, in and of itself, when clearer to investors, could slow the trends away from passive toward active investing.
But, herds operate together and are slow to deviate in behavior until it is more obvious.
Bottom Line
To everything there is a season.
Passive investing may be cost-efficient, but it ultimately will lead to mediocrity.
While every investment selection process has its pitfalls and weaknesses, the emphasis on delivering a low-management, fee-based passive product is ultimately doomed and, in the fullness of time, again will be replaced by a growing, differentiated and active investment process.
Position: None.
Action Alerts PLUS, which Cramer co-manages as a charitable trust, is long FB, AGN, GOOGL, AAPL and SBUX.
At the time of publication, Kass and/or his funds were long/short XXX, although holdings can change at any time.
Doug Kass is the president of Seabreeze Partners Management Inc. Under no circumstances does this information represent a recommendation to buy, sell or hold any security.