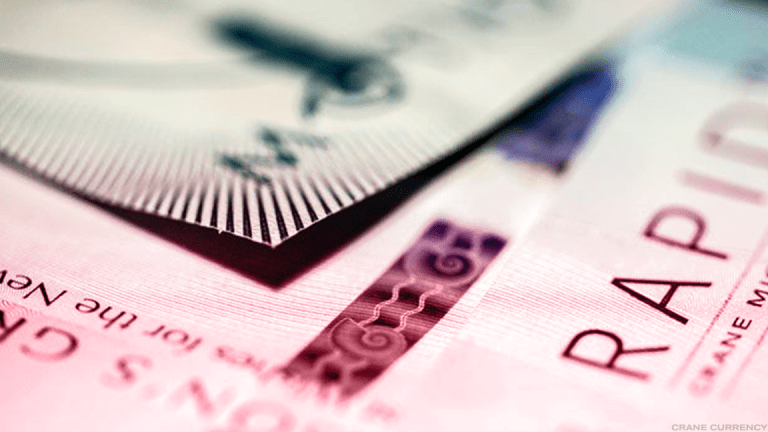 ExsulCoin Harnesses Blockchain to Aid Refugees
The company started work in Myanmar but is testing in other countries with refugee populations.
The proliferation of blockchain companies has led to some peculiar deals to capitalize on the crypto craze, but ExsulCoin has plans that go much further than raking in cash. The company is establishing a transactional platform for refugees in Myanmar, but the platform has far-reaching capabilities designed to accelerate education and provide paying work.
Cutting edge technologies are part of the deal.
"[Artificial intelligence] is really all about analyzing data," company founder James Song told TheStreet, "and it can work really well with blockchain because data is open and transparent on most decentralized ledgers. At ExsulCoin, we're using machine learning to analyze blockchain transaction history to develop highly-accurate credit ratings, which can then be used to price financial products, like insurance and loans, to previously-unbanked individuals."
While educators and administrators have indiscriminately thrown technology at educational systems, in many places education is still relying on teaching approaches that date back to the Middle Ages and classical antiquity.
ExsulCoin is looking for a new approach.
"Traditional schooling is necessarily inefficient, since we group students by age and not ability, to maximize our limited resources," Song said.
"If we had unlimited resources, we would move toward individualized tutoring; for instance, your daughter would be taught biology by a world-class biologist, and then learn geometry from a top mathematician. That tutor would guide your child at an appropriate, optimized pace, and make her lessons highly-individualized.
"It used to be that only royalty or the very wealthy could afford such an approach, but now, with the advent of cheap computing power, we can use artificial intelligence to approximate the same thing on a mobile device, which has the advantage of scalability."
This sort of personalized, adaptive education is hard to achieve in any country, and some of the more costly private schools in the U.S. have not been able to bring it off uniformly. The situation in Myanmar has its own distinguishing features.
"Concurrently," Song said, "smartphone penetration in Myanmar is the highest in the world. Young people all over the world spend a disproportionate amount of their time and attention on smartphones. This time is spent consuming information and entertainment and engaging in new models of work, such as paid sponsorships on Instagram and product reviews on Youtube.
"It makes sense to deliver meaningful education content via mobile—content you can get credit for, outside of traditional systems—since we are spending so much time learning on mobile already."
One of the company's educational principles is to focus on tasks rather than course numbers.
"ExsulCoin delivers modular education content over mobile," Song said.
"We don't deliver courses—rather, we focus on delivering skills, like 'how to multiply fractions' or 'understanding photosynthesis.' Clusters of these skills can meet local education standards. For instance, a geometry course in New York may be different than one in Berlin, and so you can put these modular skills together to create course equivalents depending on where you are."
Here is where machine learning and analysis comes in.
"Underlying the education content is a recommendation engine that uses machine learning and predictive analytics to maximize student performance while reducing learning time. Essentially, it figures out what you're good at and what you are not and then delivers education content to maximize your strengths."
Grades, frequently a form of torment for students, take on a different light in ExsulCoin's system.
"To record educational performance, we use blockchain," Song said.
"Instead of receiving an A or B letter grade from ExsulCoin and having that information stored on our servers, we open that process and give you an A or B digital token instead. That way, your grades are stored on an immutable ledger, which frees everyone from having to trust that ExsulCoin is giving people fair marks. The education content, source code, and examinations and assessments are open-source and everything can be audited.
"Where we innovate as a company is building technology that maximizes academic performance, as well as some premium education content (state licensing training programs, for instance). Blockchain, for us, removes the need for a trust layer since anyone who is skeptical can just review everything for themselves."
The company provides users with the ability to engage in nanowork, a task-specific process that can allow individuals to earn at least small amounts of money for large numbers of short-duration tasks.
Some examples of nanowork are assisting someone in obtaining a driver's license, locating a food ingredient, helping move furniture, and proofreading an application.
One of the less pleasant aspects of social media platforms is their potential for trolling and abuse. ExsulCoin is essentially monetizing troll activity.
"To access the ExsulCoin platform, you need to have an ExsulCoin wallet," Song said.
"The ExsulCoin wallet is a public key linked to your identity, and is used to log into the platform," according to Song.
"You cannot comment or vote on any project presented to you by our recommendation engine unless you have XUL tokens (exsulcoins) in your wallet. Whenever you comment, an appropriate amount of XUL tokens will be deducted from your account. These XUL tokens go toward funding the projects you are commenting on.
"The reason why we chose this structure is because we believe commentary is a good metric for 'hard thinking' because you're paying to say whatever you're saying. Hence, the more hard thinking that's done on a project, the better it will be and the more funding it should get."
Further explanation is in the company's whitepaper.
Editor's note: This article originally appeared on The Deal , our sister publication that offers sophisticated insight and analysis on all types of deals, from inception to integration. Click here for a free trial.