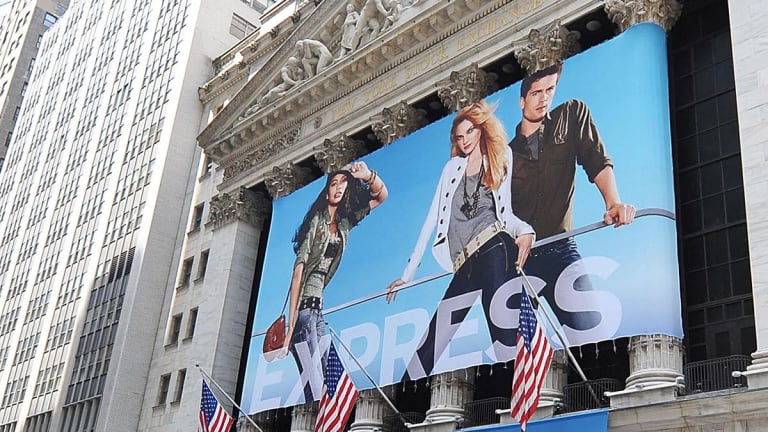 Express Jumps After Posting Narrower-Than-Expected Loss
Express shares rise after the apparel retailer's loss in the first quarter is narrower than Wall Street expectations.
Shares of Express (EXPR) took the fast track Thursday, climbing 2.4% to $3.24 as the apparel retailer beat Wall Street's first-quarter expectations.
The Columbus, Ohio-based company reported a net loss of $9.9 million, or 15 cents a share, compared with net income of $500,000, or 1 cent a share, a year ago. Analysts were calling for a loss of 31 cents.
Sales fell 6% to $451.3 million, but were still good enough to beat Wall Street's estimate of $429 million. Same-store sales fell 9%, narrower than the consensus forecast of a 10.1% drop.
For the second quarter, Express forecasts a net loss of $9 million to $12 million, or a loss of 13 cents to 17 cents a share, while same-store sales are projected to fall 6% to 8%. Wall Street is calling for a loss of 14 cents a share and drop in same-store sales of 6.7%.
"While we had a soft start to the year, the health of the business improved throughout the period. As a result, we were able to reduce promotion levels in the back half of the quarter," said Matthew Moellering, interim CEO.
On May 21, the board named Timothy Baxter as CEO, effective June 17. Baxter will succeed Moellering, who has been interim president and interim CEO since January. Moellering will remain with Express as executive vice president and operating chief. Baxter was most recently CEO of Delta Galil Premium Brands, a group of specialty retail apparel brands. Prior to that, he spent 26 years with Macy's  and the former May Department stores in various roles, most recently as Macy's chief merchandising officer.