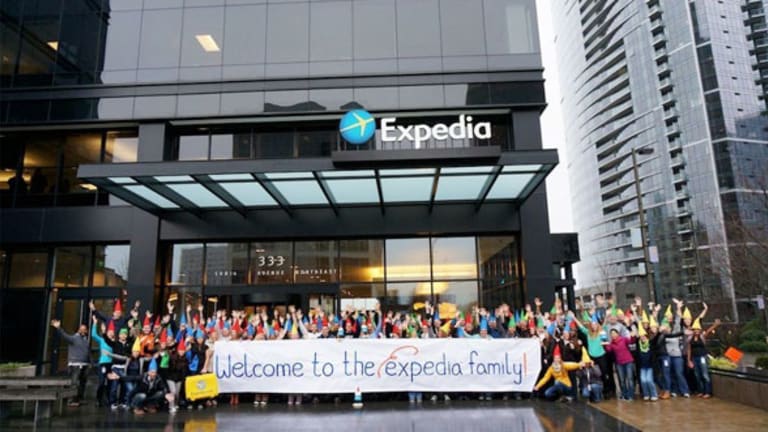 Expedia books Trivago's IPO
The hotel search site could be worth $5B, putting Expedia's holdings at more than $3B
Expedia's (EXPE) - Get Report fast-growing Trivago hotel deal web site is gearing up for an IPO later this year,  CEO Dara Khosrowshahi told investors during a Thursday earnings call.
The German travel site with the stylishly disheveled pitch man could be worth $5 billion, putting the value of Expedia's 62% stake at $3 billion or higher.
Shares dropped $2.93, or nearly 2.5%, to $116.25 on Friday, however, as the integration of Orbitz and other factors weighed on second-quarter numbers.
Trivago generated $200 million in revenue in the second quarter,  and $660 million in revenue over the prior 12 months.
"Today Trivago's [previous 12 month] revenue is greater and grown faster than TripAdvisor's (TRIP) - Get Report when we spun off that company," CEO Dara Khosrowshahi told investors during an earnings call after the market close on Thursday. The company expects to hold the IPO before the end of the year.
Travel review site TripAdvisor, which Expedia spun off in 2011, has a $10.2 billion market cap.
TripAdvisor is growing slower than Trivago and trades at five times projected sales, Cantor Fitzgerald analyst Naved Khan wrote in a report. With Trivago on pace to generate $1 billion in fiscal year 2017 sales, it would be worth $5 billion at TripAdvisor's valuation multiple. Expedia's 62% stake would be worth a little more than $3 billion.
Likewise, Cowen & Co. analyst Kevin Kopelman values Trivago at $5 billion, or five times his 2017 revenue forecast of $1 billion, and puts the value of Expedia's stake at $3.2 billion.
UBS analyst Eric Sheridan values Trivago at 4 times sales, however, and puts the value of Expedia's position at $1.4 billion.
Expedia purchased its 61.6% equity stake in Trivago for $632 million in 2013.
Chaired by Barry Diller, Expedia is an aggressive deal maker. Last year, the company acquired HomeAway for nearly $3.7 billion, paid $1.6 billion for Orbitz and purchased Travelocity from Sabre (SABR) - Get Report for $280 million. Expedia also sold its 62.4% majority stake in eLong Inc. for $671 million.
The Orbitz integration hurt results in the second quarter.
"The weight of the Orbitz book of business combined with other recent acquisitions and organic growth in our core business strained our infrastructure and affected network quality," Khosrowshahi told investors.
Cantor Fitzgerald analyst Khan blamed the Orbitz issues for Expedia's earnings miss in a report. The company posted second-quarter revenue of $2.196 billion, while analysts expected $2.242 billion.
Expedia's earnings of 83 cents per share topped forecasts of 77 cents a share, however.