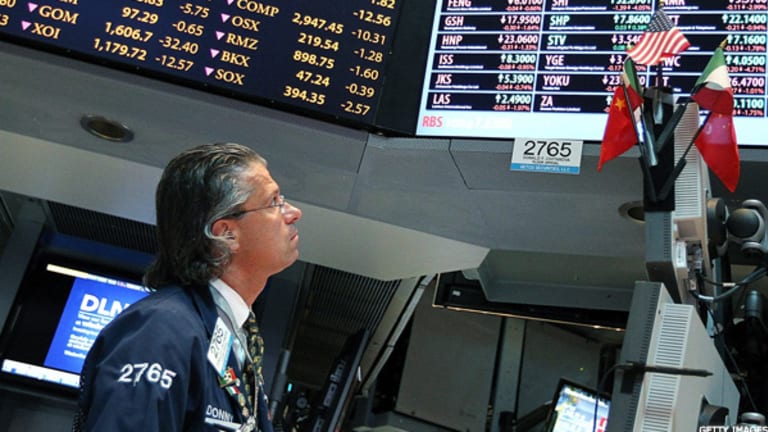 Expecting a Quiet Week
I am favoring long market-equity puts and long inverse-volatility ETFs through early 2012.
This commentary originally appeared Dec. 19 on Real Money Pro -- Click here to learn about this dynamic market information service for active traders.
NEW YORK (
) -- A quiet start to what should be a quiet week. Of course, what should happen and what actually does happen could end up being two very different things. If any year seems like a good bet for the market to have a volatile holiday week, it would be this one. However, I don't believe it will happen. The
Market Volatility Index
still resides in a state of contango, even though the December futures finish trading Tuesday afternoon.
This is a big reason why the VIX higher is today with the markets still staying green. This contango will resolve itself by the close Tuesday and trading on Thursday and Friday should be light. So if we are going to see volatility, then I would expect to see it late Tuesday or on Wednesday of this week. Those are the times I would look for for some quick intraday trades outside of the first 30 minutes of the day, which should offer opportunities for those with fast fingers.
Remember, though, that the VIX will still be in a steep contango for the January expiration. I don't expect to see a flatter curve until the middle of January. That still has me favoring the long market equity puts and long inverse volatility ETFs through the first 10 days of trading in the new year. As we get closer to January expiration or if there is a large spike in volatility resulting in backwardation, then this position will be re-examined. But until that time, I will continue to expand its presence in my portfolio. And if I don't like the idea of the equity puts, then I'll move over to a put position in the euro.
Inhibitex
(INHX)
looked very close to entering a really ugly gap on Friday as it was heading toward $4 rather than back to $10, but a huge intraday rally closed a gap from mid-November instead of the gap in early November. Now INHX looks like it is on the move again with an opportunity to close the gap to $13. In the pre-market on Friday, $13 looked like it was the mountain summit tumbling out of vision as INHX lost its grip on the peak, but now it is very much in play.
A big deal is being made out of
Bank of America
(BAC) - Get Bank of America Corp Report
tumbling toward $5, but as one very astute reader pointed out, BAC has now replaced what
Citibank
(C) - Get Citigroup Inc. Report
had become before its reverse split. The stock is a trading favorite; it is a liquidity pool for high frequency traders to swim and bath. Volume has steadily increased as the price has fallen. Don't get me wrong, the chart is terrible as are those from C and
Goldman Sachs
(GS) - Get Goldman Sachs Group, Inc. Report
.
>>Click here to learn about Real Money Pro, the ultimate traders' resource for actionable trade ideas and in-depth market analysis.
At the beginning of the month, I favored financial exposure through
Visa
(V) - Get Visa Inc. Class A Report
or
MasterCard
(MA) - Get Mastercard Incorporated Class A Report
Dec. 1 to be exact, and I still favor that choice. In fact, the charts on V and MA look fairly good, with V breaking out again today and testing $100. It is clearly the stronger chart of the two. V has been the underperformer of the group and will usually close the gap on MA during most three-month periods; however, once the gap is close, then the better play has been to swap back into MA or move into MA. Right now, the setup still favors V, but a few more days of outperformance by V over MA, and I'll start to favor MA.
At the time of publication, Collins was long INHX.
Timothy Collins has worked as a financial adviser since 1999, focusing on portfolio customization, with a concentration on correlation arbitrage and risk-managed growth. He started Collins Capital Advisors in 2007, which has evolved into
. TangleTrade is an RIA firm dedicated to formulating customized risk-managed investment strategies for individuals and small businesses. TangleTrade Management now manages the
, a correlation arbitrage hedge fund utilizing the trademarked InterETF strategy.
Prior to joining his first firm, American Express Financial Advisors, in 1999, Collins worked as a staff accountant for United Information Systems in Bethesda, Md. He has also worked as a financial analyst for Securities Pricing and Research in Annapolis, Md. Collins is a graduate of McDaniel College (formerly Western Maryland College), with degrees in business administration, economics and sociology and is a winner of the Bates Prize.