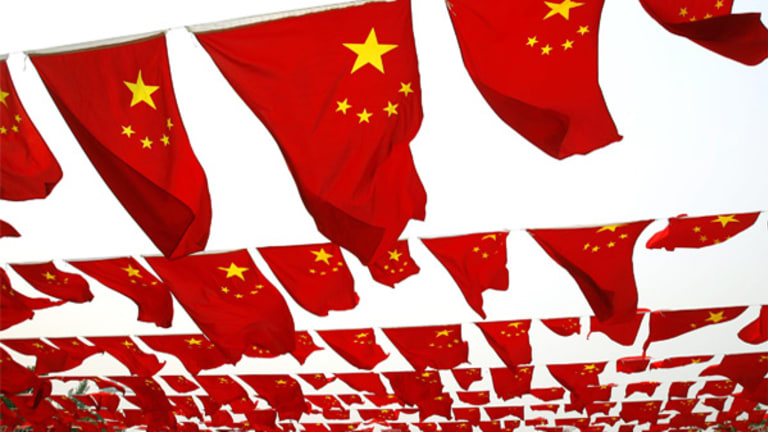 Expect Downside Surprises From China, Oil in '15: Best of Kass
In highlights from his trading diary of the past week, Kass' also-ran 15 Surprises for 2015 includes bets that China growth will slow to under 5%.
NEW YORK (Real Money) -- Doug Kass of Seabreeze Partners is known for his accurate stock market calls and keen insights into the economy, which he shares with RealMoney Pro readers in his daily trading diary.
This past week, Kass published a runner-up list of predictions for 2015 ahead of his official "15 Surprises for 2015" list, due this week. Atop the also-ran list, Kass sees China growth sinking below 5% in the New Year.
Originally published on Dec. 26, 2015 at 7:32 a.m. EST
10 Also-Ran Surprises for 2015
On Monday I will deliver my 15 Surprises for 2015. I think it is my most interesting list in years.
Here are my 10 also-ran Surprises for 2015 that I had considered but didn't make the top 15.
China's real GDP growth falls below 5% in 2015 as economic growth decelerates markedly in the second half of the year.
An accounting "discrepancy" is found at Alibaba  . The shares plummet and the hedge fund community feels the pain.
Under pressure from suppliers and a falling stock price, Ron Johnson is installed as CEO of Sears Holdings  .
George Soros makes $2.5 billion by shorting German Bunds.
The price of crude oil drops below $40 a barrel in the second half of 2015.
The consumer price index turns negative (year over year).
IBM  whiffs and the share price drops below $125 a share. Berkshire Hathaway  suffers a near-$4 billion loss (on paper). At Buffett's suggestion, senior management is replaced.
Warren Buffett announces his successor.
Uber goes public at a $50 billion capitalization. The share price never exceeds the IPO price in 2015.
Monitise's  subscription adds far outpace expectations this year. (The shares double in price.)
Must Read:Dow 18,000: Why This Market Rally May Never Happen Again
Originally published on Dec. 23, 2014 at 12:59 p.m. EST
Back Buying Northwest
This is a conservative holding.
I am back buying Northwest Bancshares (NWBI) - Get Northwest Bancshares Inc. Report based on the following considerations:
* The price of crude may be bottoming -- NWBI is positioned in Western Pennsylvania's shale country.
* The recent add-on acquisition is a wise one and expands the bank geographically into the Cleveland and Akron markets. The deal was done at an attractive price (at only an 8% premium to last sale.)
* The stock has lagged the regional and money center bank groups.
* I continue to admire the holding company's capital strategy of returning capital (regular and special dividends) to shareholders.
* A reasonable yield (above) and an active repurchase program.
This is a conservative holding, and my objective is for a 10%+ return over the next 12 months. The bank is a potential takeover candidate and its private market value is likely in the $16 to $17 per share area.
At the time of publication, Kass and/or his funds were long Monitise and Northwest Bancshares, although holdings can change at any time.
Doug Kass is the president of Seabreeze Partners Management Inc. Under no circumstances does this information represent a recommendation to buy, sell or hold any security.