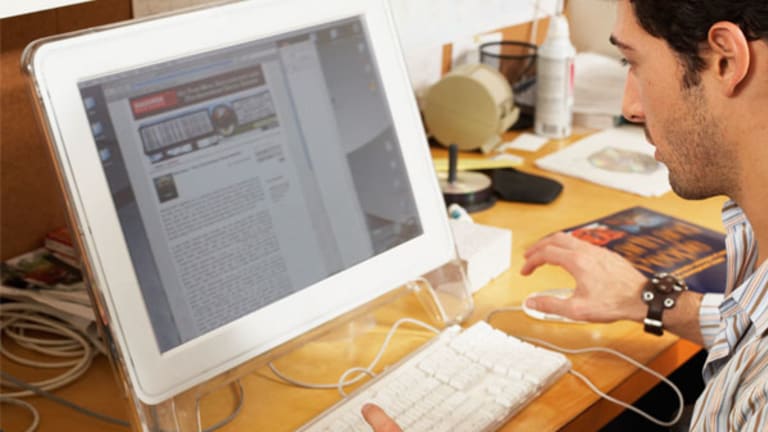 Publish date:
ExecuSpeak Dictionary: Productize
The entire process transforming an idea into a business has been abbreviated into a single word.
The entire process transforming an idea into a business has been abbreviated into a single word.
PHILADELPHIA (TheStreet) -- Productize? Yes, productize. While it sounds like one of those made-up words, it really is a useful concept.
Essentially, it means to transform a service, an idea or an actual product into something repeatable, scalable, duplicable, replicable, brandable, marketable ... oh my. Don't mean to be difficult. Maybe an example will help.
An inventive entrepreneur comes up with a great idea. For the sake of discussion, the idea is a thing, though it could be a service. For the sake of discussion, let's say "the thing" is a brand-new way to grow tomatoes in a box.
A tomato seed in a box is not a product until it is "productized." The tomato seeds in a box is an idea that needs a memorable name, perhaps a trademark, a box with graphics and directions, product variations (small, medium, and large?), a pricing scheme (two for the price of one, three for the price of two?), a brand identity so printed and Internet materials have the same look and feel, a plan for telling prospective customers this wonderful product exists, a set of procedures for how to order, a billing system to get money from people who order and an operations system to create lots of tomato seeds in lots of boxes so they can be delivered to customers who have paid their money. Let's not forget the customer service to handle complaints if boxes don't arrive or if the seed doesn't sprout. And a means of keeping track of the numbers ... the number of tomato seeds in a box that were built, the number ordered by customers, the number paid for, the number of dollars spent on trademarking and graphics and marketing and creating tomato seeds in boxes and the number of dollars received.
Whew! That's productized.
The same could be said when the idea is a service. For the sake of discussion, let's say "the idea" is a brand-new way to offer lawn services. While the marketing and customer service challenge might be similar, the efforts associated with creating and duplicating the service experience will focus on managing and deploying the people and processes associated with lawn services.
One large company might assign a product manager to develop a product plan. Another large company might put together a business case or a business opportunity assessment or a feasibility study. An entrepreneur might sit down with a virtual pen and paper and just make a bunch of lists as to what needs to be done to create a business out of the great idea.
All this is to say productizing is more complicated than simply creating a marketing plan or a branding plan. Though many believe productizing is simply a marketing effort, all the pieces of a business come into play. The entire process of what transforms a business idea into an entire business has been abbreviated into a single word.
Carol Heiberger is the author of ExecuSpeak Dictionary. Her industry experience includes positions with Ford, Bell Atlantic (now Verizon) and a large energy utility. Her clients have included government entities, not-for-profits and businesses of every size. She has served as the COO of a start-up CATV/ISP company, director of operations and as an adjunct assistant professor for an MBA program. Her volunteer work includes service as a SCORE business counselor and on the loan committee for a microlender. Her education includes an MBA from Wharton. ExecuSpeak Dictionary is the result of her experience in industry and consulting and teaching. She can be contacted at Carol@execuspeakdictionary.com.