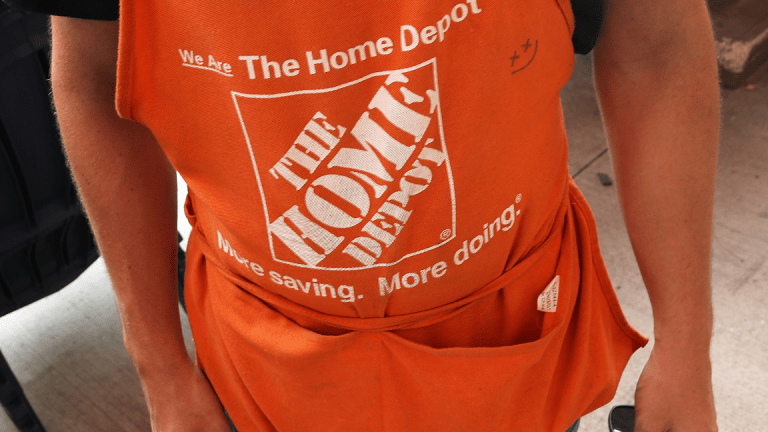 Publish date:
Exclusive: Home Depot Cuts Staff Across the Country in Installation Business
Home-improvement chain is shuttering part of its HDE exterior-installation unit.
Home-improvement chain is shuttering part of its HDE exterior-installation unit.
Home Depot (HD) - Get Home Depot, Inc. (HD) Report  is quietly winding services within its HDE exterior-installation unit and laying off people across the country who worked for the operation, TheStreet has learned.
An employee told TheStreet that a large portion of staff under the HDE banner was eliminated on Tuesday at a California location. Adding to the injury, the source, who chose to remain anonymous, said that the move cut many workers who had defected from Sears (SHLDQ) after its bankruptcy filing only months ago. He added that the cut came unexpectedly, as employees were alerted to their status on a conference call that was held with no warning.
Home Depot said it was laying off less than 1,000 people, but declined to give further specifics. However, a thread on TheLayoff, a website in which laid-off workers discuss developments, highlighted the national reach of the cuts. including postings about pink slips at the unit's operations in California, Florida, Georgia, New England and Wisconsin.
Company spokesperson Stephen Holmes explained to TheStreet that the move is part of a shift in focus on Home Depot's part from outsourced installation to its core business in retail sales of materials for these products as well as more profitable installation segments aside from gutters, roofing, insulation, and siding.
"After reviewing the installation business, we've decided it's right to wind down our roofing, siding, insulation and gutters," he said. "[They are] just not going to be part of our focus moving forward."
But Holmes said the business is not entirely winding down, as many products -- including doors and windows -- will remain available for installation. He lamented the layoffs, but noted that Home Depot is doing what it can to maintain staff within its core business.
"We are eliminating an extremely small percentage of our workforce," Holmes said. "We are also looking for opportunities to move employees to other departments."
(This article has been updated.)
Employees of TheStreet are restricted from trading individual securities.