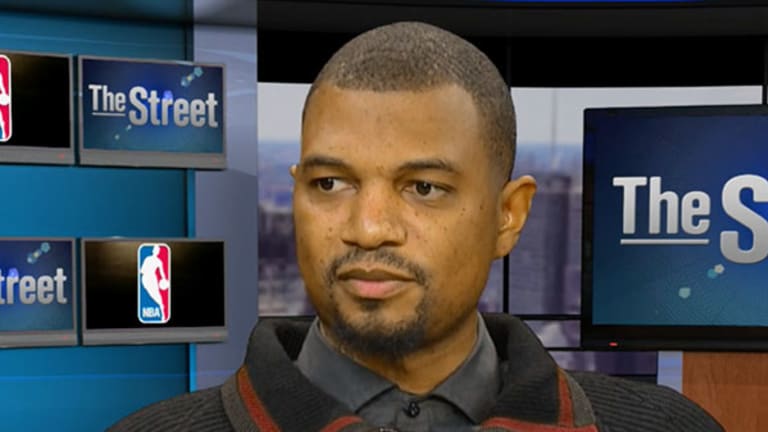 Ex-NBA Pro Turns Focus to Medical Devices, Algae Supplements
Former NBA pro Jonathan Bender invented his own medical device, tapping at $2 billion market to help rehabilitate and strengthen joints. Now he works with ISG Health creating algae-based supplements.
NEW YORK (TheStreet) -- In an effort to build a career off the court, Jonathan Bender, a former center and power forward who played 8 seasons in the National Basketball Association, has become a medical device inventor.
"I wanted to build something that was my own" outside of the game of basketball, said Bender, who developed the JB Intensive Trainer, which aims to reduce joint pain and aid in rehabilitation efforts.
He also created the JBIT Leopard Sport, which is geared toward intensive workout routines and athlete rehabilitation efforts. 
Bender's company, JB3 Innovations, was acquired by International Sustainability Group (ISGP) , a green technology company.
Bender now serves as president of its ISG Health unit, which aims to "develop and distribute innovative sports medicine devices and algae-based nutritional products." 
The company's algae-based products are of particular interest, Bender said. Algae has very high concentrations of protein, which helps to build muscle and ultimately relieve joint pain.
It works even better when paired with one of the company's medical devices, Bender added. 
While algae may be commonly known, it hasn't been widely viewed as a supplement for athletes and highly active individuals. 
"This industry is huge," he said of the roughly $2 billion joint pain relief market, adding that his is a new product for these athletes to use and try in their workouts that may offer relief for joint pain, Bender said.
-- Written by Bret Kenwell 
This article is commentary by an independent contributor. At the time of publication, the author held no positions in the stocks mentioned.