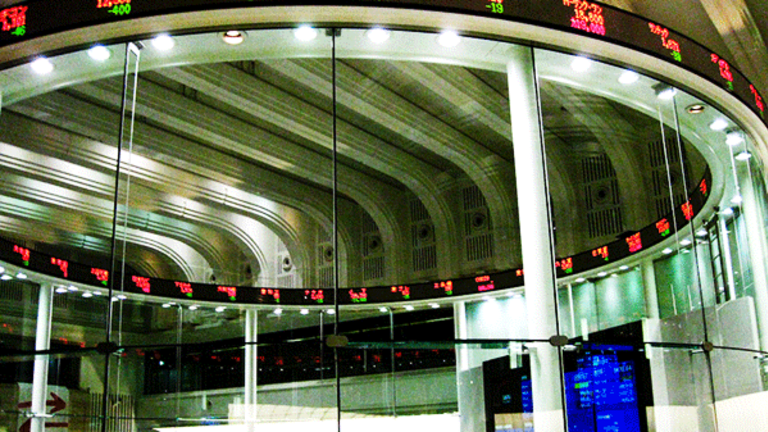 Ever Wondered About the Japanese FANGs? Here They Are
The days of rapid growth are far behind Japan. So can these Tokyo listings deliver as much bite as the FANGs?
Japan's days of surging growth are three decades behind it. Can the country still produce stocks that set the pulse racing quite as much as Action Alerts PLUS charity portfolio holding Facebook (FB) , Amazon.com (AMZN) , Netflix (NFLX) and Google parent Alphabet  (GOOGL) , the famous FANGs?
It's not necessarily in tech that you'll find their Japanese translations, according to the investment bank Nomura. It's the medical field that generates many of the strongest prospects for outperformance among Tokyo-listed shares. But the investment bank figures it has found the Japanese FANGs.
"When looking for strong growth stories on the Japanese equity market, we think it makes more sense to focus on strong managers than on business domains," investment strategists Hisao Matsuura, Masaki Motomura and Kiichi Fujita write. It's strong management that creates outperformance in Japan, they believe. 
They therefore screened for companies run by the same managers for 10 years, and that have produced an average return on equity of more than 8% per year over that decade.
Fast-fashion chain Fast Retailing undefined , drugstore chain Ain Holdings T:9627, tiny-motor maker Nidec (NJDCY) and the Softbank Group (SFTBY) are the Japanese FANGs -- taking a little liberty by using the "G" from Softbank Group's name.
They are the leaders among 35 stocks that meet Nomura's requirements. Guess those are the rest of the teeth -- three more than the human standard, but you get the idea.
At ¥10.1 trillion ($91 billion), Softbank is the biggest of the bunch; Fast Retailing, parent of the clothing chain Uniqlo, is the second-largest, at ¥3.9 trillion ($35 billion). They are arguably Japan's most-exciting companies in terms of expansion and innovation, certainly among large caps. 
Softbank recently launched its $100 billion Vision Fund, backed by Middle Eastern money and Apple (AAPL) . Together with Softbank's direct investment in companies such as Sprint (S) , the fund will turn what used to be a telecom into a tech venture-capital fund more than anything. 
With its holdings in Yahoo Japan, Alibaba (BABA) , Sprint and the like, Nomura figures Softbank has a "sum-of-the-parts" valuation of ¥11,550 per share. That's up 24.9% from ¥9,247 today.
Fast Retailing, through its flagship Uniqlo stores, is in the much-more prosaic business of shifting clothes. But it is one of the most-proficient companies in the world at doing just that, in huge volumes, with exceptionally short timeframes from product design to clothes on the shelf.
The stock is well off its 2015 highs that brought it close to ¥65,000. Nomura calculates a target price of ¥42,500, an advance of 13.1% from its level of ¥37,580 today.
The company recently moved into a new headquarters in Airake, near Tokyo Bay. It plans to tighten the time it takes from when it designs new products to delivery to 13 days, which would put it on a par with Zara, but Uniqlo says it will take much more customer feedback into consideration when making new products.
In Japan, Uniqlo has signed deals with 7-Eleven's Japanese parent Seven & i Holdings T:3382, Lawson (LWSOF) T:2651 and Family Mart undefined to enable drop-off for shipments at convenience stores. That means customers now have 43,000 pickup points around Japan that are open 24 hours per day.
But it's outside Japan that Uniqlo will see its greatest growth, with rapid expansion into emerging markets such as Indonesia. The increasing complexity of those operations will be management's key challenge, Nomura figures, once they've got over any disruptions caused by the move to the new HQ. 
Nidec ranks fourth among the stocks screened for FANG-like qualities, at ¥3.5 trillion ($31 billion), sandwiching electronic-parts and manpower mashup Murata Manufacturing (MRAAY) in third spot. Nidec makes motors, but veers to the high-tech side of the craft, its parts going into optical disk drives and hard disks, as well as autos and appliances.
Its stock has been a steady gainer over recent years. Nomura has set a modest target price of ¥12,300 for the shares, a 4.7% advance on the level at which they are now trading of ¥11,805.
Nomura credits the company's strategy of corporate acquisitions for its potential. Management has bought companies that quickly contribute substantial cash flow, and they've been able to boost margins at their targets. A slowdown in the advanced economies that are its major markets would be the chief concern.
Ain Holdings, which runs pharmacies and drugstores, is quite a bit smaller than the other FANGs, at ¥252 billion ($2.3 billion) in market cap. But it may have the best prospects for short-term stock gains. 
Nomura has a ¥10,800 target on that stock, an improvement of essentially one-third, 32.2%, from its trading price of ¥8,170 today. The investment bank bases that valuation off profit growth and price/earnings ratios at its pharmacy peers Sogo Medical T:4775 and Sugi Holdings T:7649. Ain stock should be trading at 30x earnings, on that basis, up from an average of 20x for the fiscal year that ended in March.
Another seven of the screened stocks have market caps of more than ¥1 trillion. They include old-world industrials such as SMC (SMCAY) , which makes valves and air cylinders, and Shimano (SMNNY) , which makes bicycle parts and fishing rods.
Several of them might be better suited to the role of FANG stock, were it not for their inconvenient initials.
The best-known among them is Japan's largest Internet retailer, Rakuten (RKUNY) , which bought Buy.com to give it a U.S. presence. Rakuten has the top B2B online site in Japan, and the company operates in just about every online sphere in Japan, including online hotel booking, instant messaging and securities brokerage.
Earlier this year, it partnered with Napster to improve its streaming-music service in Japan. It also runs the Tohoku Golden Eagles in Japan's top baseball league. My son might soon have a new name on the front of his Messi soccer jersey, too -- Rakuten will grace the shirts of FC Barcelona through 2020.
Elsewhere among the FANGs, Hoya (HOCPY) might be most notable as the company that bought the Japanese camera company Pentax in 2007. But its core business is medically oriented, revolving around optics and thin-film technology for the medical industry, including contact lenses and eyeglasses. The company also makes software known as VoiceText, which translates written text into human speech.
In fact, you could build a decent medical portfolio out of the Japanese FANGs. That's not a bad idea, given Japan's ageing population and technological adeptness in this area.
Drug maker Eisai  (ESALY) invented the Alzheimer's drug Aricept, which it now markets with Pfizer (PFE) . For the anti-ulcer drug Aciphex, it has teamed with Johnson & Johnson (JNJ) on promotion.
Sysmex (SSMXY) makes laboratory equipment and drugs for lab testing, such as reagents. It runs lab tests on blood, urine and other specimens, and has branched out into computer hardware and software for use in hospitals and clinics.
There's a more tech-oriented play in the form of M3 T:2413, which is a 21st century take on the medical-outsourcing business. It's perfectly poised to benefit from Japan's ageing society, and is also being closely watched in countries like China, which will soon be in similar situations.
The company provides online support and services for corporate clients such as drug makers, for instance, with support for large-scale clinical trials conducted around the globe.
This article originally appeared at 09:00 ET on Real Money, our premium site for active traders. Click here to get great columns like this from Jim Cramer and other writers even earlier in the trading day.
At the time of publication, Alex McMillan had no positions in the stocks mentioned.