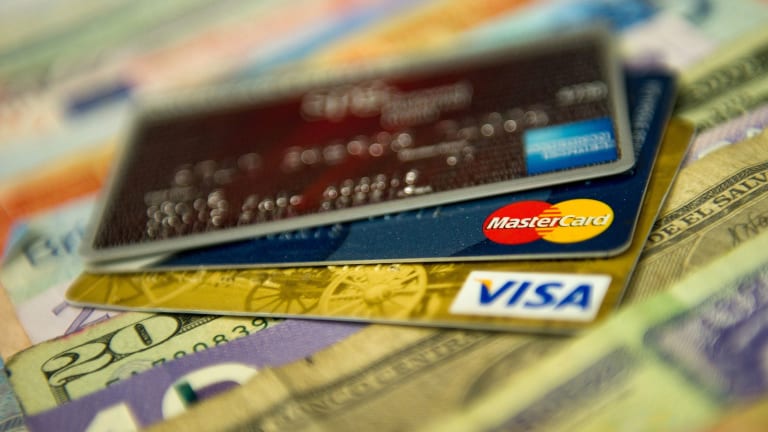 Even if You're Not a Cardholder, Chase Can Help You Manage Credit
JPMorgan Chase's card services division is introducing a website that will let consumers track their credit scores for free -- and learn ways to boost them.
Editor's pick: Originally published Dec. 21.
Rebecca Bloomwood was the queen of the maxed-out credit card: The heroine of Sophie Kinsella's 2001 novel, Confessions of a Shopaholic, she used plastic to deal with all the myriad challenges of single life in London.
Used it at every department store, boutique and museum gift shop in town. 
Finally, with her balances due outpacing her paycheck, the (fictional) financial journalist began hiding the bills when they arrived rather than opening them, and her story culminated the way such tales usually do: With an embarrassing scene at a cash register involving an irritated clerk, a pair of scissors and an ill-fated card.
While it's darkly comic, in a book or on a movie screen, no one wants to be that person in real life. JPMorgan Chase (JPM) - Get Report , the largest U.S. lender, introduced a website this week that can help avoid such a fate, offering free credit scores that are updated weekly and can be compared to those of other U.S. residents, along with a simulation tool that lets users gauge how certain actions might affect their results.
The tool was created in part because of input from customer surveys, said Pam Codispoti, president of branded cards at Chase, the New York-based bank's consumer business. Roughly 25% of responders said they weren't confident about their credit scores and how best to manage and take advantage of them.
"We thought it would be important to give them a tool that would help them take the first step on their journey to get more financially fit by understanding their credit scores and then giving them advice and tools so they could put a plan in place to improve that credit score," she said in a telephone interview.
The service, branded as Credit Journey, arrives as total U.S. household debt is drawing closer to its peak of $12.7 trillion before the 2008 financial crisis. Balances increased to $12.4 trillion in the three months through September, according to a report from the New York Federal Reserve Bank, with about 8.1% coming from credit-card loans.
Interest rates, meanwhile, are rising after the Federal Reserve's monetary policy committee approved an increase earlier this month. The 25-basis-point hike, only the second boost since the financial crisis, prompted banks to raise their primes rates -- what the best-qualified borrowers pay for loans -- to 3.75%.
That makes paying balances on variable-rate cards more costly, just as the largest U.S. financial institutions are reporting significant gains in such loans. JPMorgan's average consumer card balances climbed 5% in the third quarter to $132.7 billion, while rival Citigroup's (C) - Get Report increased 12% to $145.5 billion.
While it has long been common for lenders to offer credit reports and scores to their customers, making them free to everyone, as Chase is doing, is less typical. McLean, Va.-based Capital One (COF) - Get Report  also offers such a service, and like Chase, it uses TransUnion's VantageScore 3.0, a system that employs the same scale as FICO but a different scoring algorithm.
"This is something we felt we wanted to do not just for our own customers, but for all consumers," Chase's Codispoti said. The service is designed to help users understand how their credit score "can help them achieve whatever their personal goals are," she said, "whether that would be to get a better credit score so they can get a mortgage at a rate they want to buy their dream house or simply to get a loan to buy or lease their first car."
EXCLUSIVE LOOK INSIDE: Citigroup is a holding in Jim Cramer's Action Alerts PLUS charitable trust portfolio. Want to be alerted before Cramer buys or sells the stock? Learn more now.