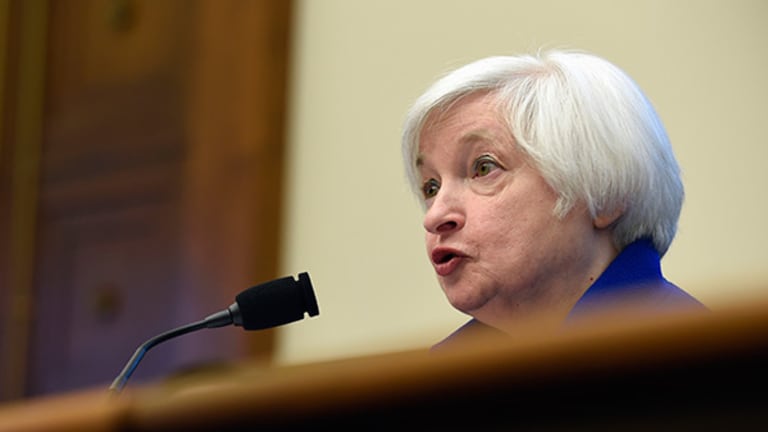 Europe's Predictable Recovery; Janet Yellen Set You Free: Jim Cramer's Best Blogs
Jim Cramer lauds the one analyst who predicted Europe's recovery -- a year ago -- and thanks the Federal Reserve chief for making it safe to invest in companies again.
Jim Cramer fills his blog on RealMoney every day with his up-to-the-minute reactions to what's happening in the market and his legendary ahead-of-the-crowd ideas. This week he blogged on:
How only one person predicted Europe's recovery
How Janet Yellen did something positive for the stock market
Click here for information on RealMoney, where you can see all the blogs, including Jim Cramer's -- and reader comments -- in real time.
This European Recovery Is Exactly as Predicted
Posted on March 31 at 12:57 ET
I poke fun at a lot of analysts who don't bother to think past a quarter or a quarter of an hour when it comes to stocks and bonds -- and economic calls. I find most of them too fleeting to be used by all but the quickest hedge fund managers who are able to get a short off, or grab stock after hours, and make a few bucks in the process.
But when I see a piece of research that is terrific, that can really help you make money, I want to shout that from the rooftops, too.
Which brings me to an Eye on The Market segment by Michael Cembalest from J.P. Morgan Asset Management that I saved from April 1 of 2015, where he said that it was time to turn bullish on Europe. The piece, entitled A brief note on the European mini-renaissance, talked about how there were signs that Europe was about to take off, and yet no one was paying attention -- in part because everyone was sick of hearing about a turn and in part because the soap opera of Greece hadn't yet been resolved.
I had been reading Cembalest for years, and he had been the biggest bear on Europe since 2010, when he wrote a legendary Six Men of Europe piece that proclaimed that every attempt at reviving Europe was doomed to fail. But at that precise moment, when pretty much everyone had given up on the idea that anything could save the continent, he drilled down on the actions that Mario Draghi, the European central banker, was taking, and said they were going to take root and turn around European business.
He cited the fact that corporate interest rates to non-financial corporations and mortgage rates had plummeted, which would turn around industrial manufacturing and home building and buying. He took a hard look at how the European-area business surveys, like the PMI composite, had turned up. He scrutinized charts that showed more aggressive lending to households, and measured European consumer confidence. And he checked retail sales and car registrations.
His conclusion? Every one of these indicators was flashing green. But it's clear from reading other publications that came out at the same time the short-termers and their acolytes in the media weren't seeing it -- because a very small country, Greece, was grabbing all of the headlines, and it would soon be resolved. "This is the first three-month period I can recall since 2010 when the stars aligned for a mini-renaissance in European economic data -- and for financial markets, changes versus expectations can have powerful consequences," he wrote one year ago.

Well, there sure have been powerful consequences. One year ago, the euro hit its low versus the dollar. I like to measure the euro by looking at the CurrencyShares Euro ETF  (FXE) - Get Free Report , which reflects the price of the euro, and it was at about $104, a price that almost everyone -- except Cembalest -- felt was where the real breakdown would occur, the real plunge that would take the euro to well below dollar parity.
They were dead wrong, and he was dead right.
As of right now, we are going to have what we call easy comparisons starting next week, because the impossible has occurred. Europe's come back; it is strong and its currency is therefore strong. The U.S. is weaker and therefore our currency is weaker. It is the beginning of the end of dollar tyranny and when we hear the earnings reports a fortnight from now, we will get estimates bumped just when analysts were predicting severe declines because of a continually plummeting euro.
Those of you who are astonished at this turn of good fortune, let me just say there's nothing astonishing about this. The unemotional detective work was there, yet only one Sherlock Holmes was there to see it -- Michael Cembalest from J.P. Morgan. His prediction of a European recovery, and therefore a concomitant bottom in the euro, is what's driving this run to all-time highs that many U.S. industrials are now experiencing.
Position: None
Yellen Damps Rising Dollar Fears and Sets Companies Free
Posted on March 30 at 1:28 p.m. ET
We are free to look at the merits of individual companies. We are free to stop fearing parts of the economy are good. We no longer need to be frightened that good earnings mean look out, the Federal Reserve is going to make that earnings number the last bad quarter.
Until Janet Yellen spoke Tuesday, we had to presume the economy was like a child -- "When you have too much fun, somebody is going to get hurt."
Yellen, however, changed the narrative. She said that things are far more fragile than they seem, and that while she may at some point feel that there is too much fun on Main Street, she wasn't going to be the reason why the party is going to end because, alas, there is no party.
There's just a lot of people not doing well and some doing very well. She doesn't want to make those not doing well even worse off just because of the jeremiads of some individuals, including people on the Fed, who think money is too easy.
So now let's look at this new world where we don't have to be fearful that the rug will be pulled out from under us and examine industries that are capable of doing better so that we can get out of this rut of 2% growth that's not creating higher wages and is leaving many people behind because of higher rents and higher health care.
The first thing we don't need to fear anymore is the dollar soaring in our faces. We know we don't need to fear it because Yellen has had enough of other countries stealing our jobs and dumping their goods on us. She doesn't want our economy to be a piñata for overseas industries. She knows that a stronger dollar is doing just that. She has watched central banker after central banker basically say, "Those jobs and sales in the U.S., I want them for ourselves." She won't tolerate it.

So, we need to look at all of the companies that have been hurt badly by the strong dollar.
Let's start with the airlines. This bedraggled group sells at about a third of the average stock in the S&P 500 even as they are making more money than they ever have -- that's right, ever have -- and are returning capital at record amounts.
Why are people reluctant to buy these stocks? Wrong question. You see, buyers are only reluctant to purchase the stocks of companies that have been hobbled by a strong dollar and what it has done to tourism and travel to this country. Three airlines -- United Continental (UAL) - Get Free Report , American (AAL) - Get Free Report and Delta (DAL) - Get Free Report -- are selling at absurdly low multiples of about six to seven times earnings. That's because they are losing so much foreign business.
How else can you explain why Southwest (LUV) - Get Free Report and Alaska Air (ALK) - Get Free Report trade at 12 times this year's earnings? Simple -- they don't have much exposure to foreign business at all. It is saying something that Southwest, which is flying into the heart of Texas, where low oil is sapping the economy, is attracting buyers who are more willing to bid up its stock than they are the stocks of airlines that are seeing crimped overseas business.
Speaking of the transports, you should now be willing to pay more for the rails. Why? Because they transport commodities to be sold overseas -- everything from coal to lumber to chemicals -- and they, too, will have better numbers.
Next up would be tech. Here's a group that's been decimated by a strong dollar. Whether it's IBM (IBM) - Get Free Report or Microsoft (MSFT) - Get Free Report or Alphabet (GOOGL) - Get Free Report or Apple (AAPL) - Get Free Report -- the last two of which are part of the Action Alerts PLUS portfolio -- and the semis that go into their products and are affiliated with them, these companies have had to handle gigantic currency swings.
You go on an IBM conference call and your head is spinning about how much the strong dollar has hurt them. You go listen to Apple's Tim Cook speak about the hazards of a strong dollar and how much it has meant to them in lost sales and profits and you will want to scream. Alphabet has more overseas earnings than domestic. They are doing well enough -- you don't hear about it on the call, but I bet you will this time. Stop worrying about Microsoft, it will do amazingly well if Yellen has halted the dollar's rally. Same with Adobe (ADBE) - Get Free Report , Salesforce.com (CRM) - Get Free Report and Oracle (ORCL) - Get Free Report . They could really kill it here. That's why you see their stocks going higher. Don't leave out Accenture (ACN) - Get Free Report , either.
Then there are the consumer products companies that recognized that they had tapped out the United States and moved aggressively into Europe, where they have had their heads beaten in by Unilever (UL) - Get Free Report . These stocks have been moving up but, I would highlight Procter & Gamble (PG) - Get Free Report and Pepsico (PEP) - Get Free Report , another part of the Action Alerts PLUS portfolio, as two of the most important companies because they are uniquely hobbled by our currency being too strong.
PG put on a tutorial last time it reported about how little it makes on much of its merchandise overseas. I can only imagine how spectacular a turn it can have. Pepsico is jumping the gun because people are starting to figure out the bounty it can take in if the dollar has peaked. It could be a massive switch, and I can't wait to hear their conference calls. They could be amazing.

You want amazing? Consider both Estee Lauder (EL) - Get Free Report and Johnson & Johnson (JNJ) - Get Free Report . Here are two fabulous companies that sell more than half their goods in other countries. Their calls have been fabulous. I can't imagine how much they can raise their forecasts for the back half of the year now that we have had the weakest month for the dollar in six years. Mouthwatering calls, higher prices.
Finally, there is McDonald's (MCD) - Get Free Report . I know that Steve Easterbrook's work has made the stock of McDonald's reach levels unimaginable a year ago. I am almost tempted to say you ain't seen nothing yet, because at the same time the dollar is going down the price of beef is going down, too, as Sonic (SONC) told us in its award-winning number. How many ways to win there!
But few companies will do as well as the industrials. Let me tick them off. First, there is General Electric (GE) - Get Free Report , which we just started buying for Action Alerts PLUS, my charitable trust, now that the coast seems clear for overseas earnings. GE has been up against so many foreign industrials in so many areas that it's just downright unfair as if it is playing with one hand behind its back. No more. That hand is released to make more money, pay more dividends and buy back more stock.
You think the stock of United Technologies (UTX) - Get Free Report is where it used to be because of the aborted Honeywell (HON) - Get Free Report bid? Nope, it's because business will improve so much that it is now above the price it traded at when Honeywell made its offer. Honeywell's stock isn't looking back, either. Weaker currencies have been the bane of its existence. Same with 3M (MMM) - Get Free Report , which the media said gave cautious guidance in its analyst meeting. I say nonsense -- it gave you stretch goals that it will beat because that's what CEO Inge Thulin does.
While I am continually worried about the competitive disadvantages of General Motors  (GM) - Get Free Report and Ford (F) - Get Free Report , given that foreign central bankers are just trying to crush these two and send business to their own companies, it will be hard for their earnings to stay as low as they are given the stronger yen and euro. Tepid buys.
Let's end with a wild one. Yellen cited housing as something that she wants to do better. I was aghast at how little the stock of KB Home (KBH) - Get Free Report went up after its monster quarter. It's worth more dead than alive, meaning its real estate is so valuable, especially its West Coast holdings. How can that one stay independent now that Yellen doesn't want that industry crushed? Green light: Lennar (LEN) - Get Free Report !
I am so used to hearing the Fed wanting to cool housing even as we are nowhere near how many homes we make and there is such a shortage that rents are out of control. Yellen must do homework on this industry. She knows it punches above its weight and does more than just create jobs. It lowers prices when left alone, too.
So, there you go. Winners and winners and winners. All explained by a Fed chief who isn't some wayward general from Vietnam who wants to destroy the village to save it. She wants it to prosper and she wants more jobs and better jobs and higher-wage jobs, and she doesn't want them taken away. All I can say is, what's not to like?
Position: Long GOOGL, AAPL, PEP and GE