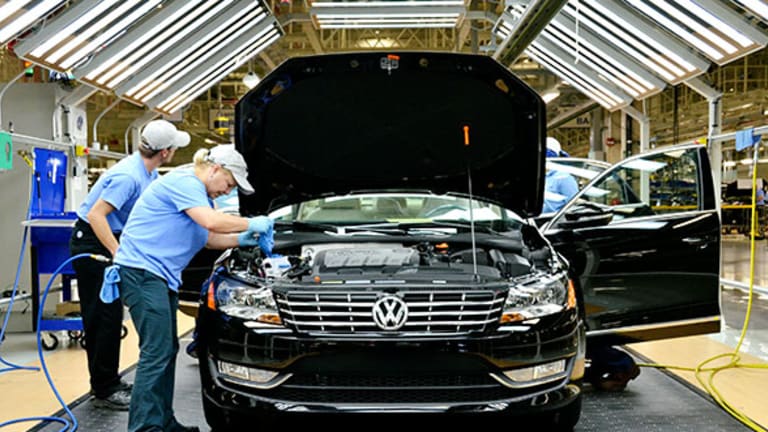 European Regulators Fail to Smoke Volkswagen Out
The scandal-hit German car maker reports third-quarter earnings on Thursday, with little sign European outrage is having much effect on its earnings.
Volkswagen (VLKAF) (VLKAY) (VLKPF) (VLKPY) , the German auto-maker that motored into global trouble last year with its emissions scandal, releases quarterly results on Thursday as European regulatory pressure fails to let up.
But analysts aren't expecting sales or earnings to have hit any bumps in the road.
VW group sales are forecast to reach €52.57 billion for the third quarter, higher than  the equivalent quarters in 2015 (€51.48 billion) and 2014 (€48.9 billion), and earnings per share for the quarter of €4.6, according to a FactSet poll of 29 analysts. VW reported a loss-per-share of €3.45 in the third quarter of 2015, but earnings per share were positive in the third quarter of 2014, at €5.84.
Just a day before judge Charles Breyer of the District Court in San Francisco granted final approval for the disgraced car company's $14.7 billion settlement in the U.S., EU authorities on Monday warned its recall program in Europe does not go far or fast enough.
EU Justice Policy Commissioner Vera Jourova reportedly wrote to VW demanding it consider buying back some of the diesel vehicles affected by its cheat technology instead of forcing them to wait for the technical fix VW is rolling out instead.
"The letter is a sign of the Commission's frustration that VW has prioritized customers in the US - including offering them compensation - despite most of the cars in the cheating scandal having been sold in Europe," wrote the Financial Times, which first broke the news of Jourova's letter.
Jourova has previously urged consumer organizations to explore options for suing Volkswagen over the so-called dieselgate scandal. She argued the Wolfsburg-based car maker might have breached an EU directive on unfair commercial practices with marketing campaigns suggesting its cars were "green," even though it might not technically have broken Europe's all-too-lax emissions rules.
However, the U.K. government's Competition and Markets Authority might have undermined her argument with a decision - - also announced on Monday - - not to open a formal investigation under Britain's own consumer protection legislation.
"A number of considerations have been taken into account in reaching this conclusion," the CMA said, "including the fact that the Consumer Rights Act 2015, which gives the CMA new powers enabling it to secure compensation for consumers, only came into effect on 1 October 2015, which is after the affected vehicles were sold, and that VW has committed to fixing the affected vehicles. This means that in this case, the CMA's civil enforcement powers have limited application to the alleged wrongdoing that took place."
However, the CMA also noted that the alleged misconduct is already the subject of criminal investigation in Germany.
The market will inevitably want to assess the braking effect of all this baggage sitting in Volkswagen's trunk, but the signs are analysts are not expecting a car crash this quarter.
Meanwhile, Volkswagen's Chinese arm announced separate January to September results earlier this month, reporting sales growth of 10.7% compared with the same period last year for its Chinese joint ventures, SAIC Volkswagen and FAW-Volkswagen.
It said the group delivered 2.85 million vehicles to customers in China and Hong Kong in the first nine months, including 131,500 imported vehicles, and planned to expand its range with additional SUV and "new energy" models.
Volkswagen branded vehicles were the top-selling passenger car in China, with nine-month deliveries of 2.13 million vehicles, up 11.4% on 2015, while Audi was the most popular brand in the premium segment. Skoda and Porsche deliveries also grew strongly.