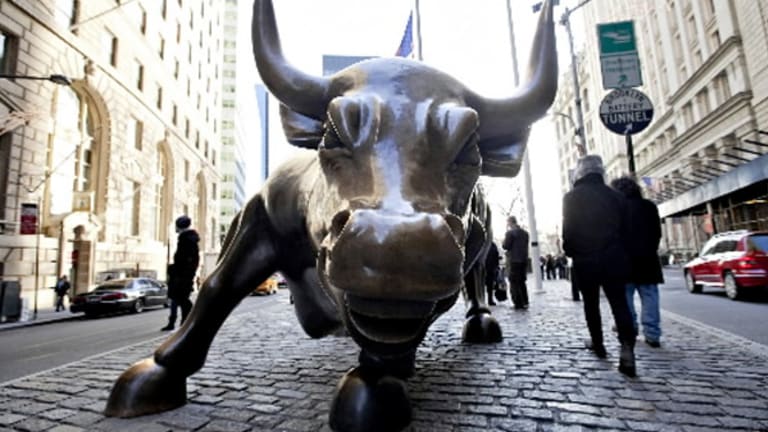 European Markets Rise On Strong Corporate Earnings
Strong corporate earnings drive post-Brexit rally across Europe.
European stock markets rose on Tuesday following a wave of better than expected corporate earnings updates.
London's large cap FTSE 100 index rose by close to 0.62% to 6,851.30 and its mid-cap sibling, the FTSE 250, by 0.74% 17,687.40. Leading the charge among larger companies was insurer Standard Life (SLFPF) and payments infrastructure firm WorldPay (WPYGY) .
U.K. banks also rose sharply as investors responded to the outcome of a review into the current account market carried out by the U.K.'s Competition and Markets Authority, perceiving the final proposals as much less of a threat than the once-mooted breakup of bank current account businesses.
Standard Life stock rose by more than 6% on Tuesday, to 338.11 pence, after it announced a strong set of results. Earnings grew to £226 million ($300 million), after revenue gains outpaced cost growth and one-off charges reduced for the period.
Standard Life management also pointed toward the uncertainty thrown up by the U.K.'s vote to leave the European Union and suggested that it would be good for Standard Life, given that households tend to save and invest more for the future during times of uncertainty.
WorldPay, the private equity backed payment infrastructure firm, saw its stock jump by 3.2%. The group announced a 10% increase in revenues, to £2.1 billion, and a sharp increase in profits to £168.9 million from £300,000.
The group also sought to soothe investors concerns following the outcome of the referendum by saying that it does not anticipate this having any meaningful impact on the business.
In Germany, the Dax index rose by 2.5% to 10,692.90 after heavyweight Munich Re reported a strong set of half-year results, which pushed the stock 5.7% higher to €161.30.
Airline Lufthansa (DLAKY) continued its post-Brexit recovery, partly off the back of news that it will soon take back full ownership of its logistics business, with the shares rising by 4.5% to €11.04.
In France, the Cac 40 rose by 1.19% to 4,468.07, pushed higher by multiple risers including industrials firm Air Liquide (AIQUY) , retailer Carrefour (CRRFY) and consumer discretionary sector favorites Pernod Ricard (PDRDY) and L'Oreal (LRLCY) .
In Spain, the IBEX 35 rose by 1.20% to 8,665.40 as gains across the banking sector outweighed losses elsewhere. Bankia (BNKXF)  was up by .87% to €0.70, followed by BBVA (BBVA) - Get Banco Bilbao Vizcaya Argentaria, S.A. Sponsored ADR Report whose shares rose by 2.22% to €5.22.