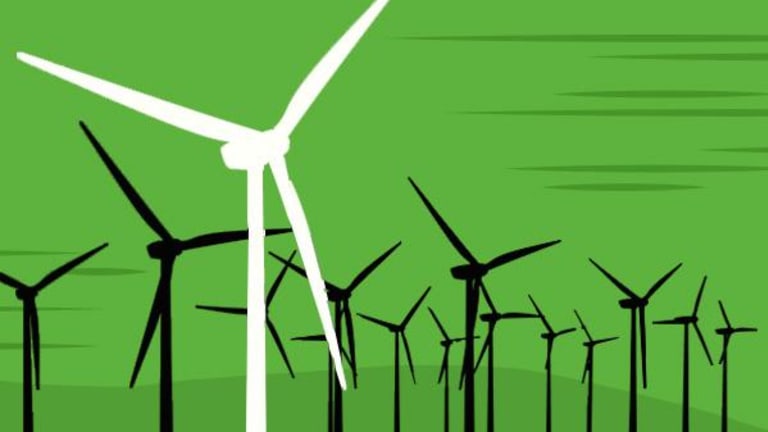 Here's Where Goldman Sachs Sees a $3 Trillion, 20-Year Energy Boom
Falling wind and solar power prices will undercut fossil fuels within six years here.
European renewable energy will be cheaper than fossil fuels within six years, sparking a €3 trillion ($3.37 trillion), 20-year boom in green energy investment according to Goldman Sachs.
"An acceleration in the pace of cost reduction for renewables, particularly from wind, puts Europe on course to no longer require subsidies after 2023 to displace legacy power sources," the bank wrote in a report published this week. "We estimate a 48% average annual increase in wind and solar installations through 2036, and we more than double our estimates for growth in European wind turbine revenues."
The report adds fuel to the criticism of the Trump administration's apparent aversion to green energy and its backing for fossil fuels, and notably thermal coal. European politicians made the business opportunities presented by renewables a center piece of their lobbying for the U.S. to remain in the Paris Climate Accord, but failed to convince President Donald Trump who announced on June 1 he will withdraw the US from the agreement.
Improvements in wind turbine efficiency and solar panel production have reduced the cost of renewables by about 60% over the past seven year and should deliver a further 37% improvement over the next eight years, according to the bank. That should push wind generated power below the current wholesale price in Italy, Spain and the U.K. within three years and in France and Germany by 2023, according Goldman Sachs.
That shift will be accompanied by new investment, resulting in a tripling of installed wind capacity and a quadrupling of installed solar capacity over the next 20 years. "We estimate that this...will create a capex opportunity of €3 trillion (2.3 times the market cap of the MSCI global utilities index), with new installations focused on Asia (54%), Europe (25%) and the U.S./Canada (15%)," noted the bank.
European wind turbine makers will be the biggest beneficiaries of the increased spending on renewables. Goldman Sachs is tipping annual average revenues in the sector will grow about 17% a year from 2017 to 2036, boosting annual net income by 58%.
"We estimate that this will support an equity value c.15% higher than we previously anticipated for the manufacturers," wrote the bank.
Denmark's Vestas (VWDRY) , the world's largest wind turbine maker, is Goldman Sachs top pick with a 12-month price target of 730 danish kroner, a 19% premium to its Thursday price of Dkr609. Vestas's "low level of outsourcing supports a higher margin than peers, and an absence of M&A integration should help the group focus on reducing costs," wrote Goldman. "Vestas trades at c.30% discount to peers on 2018E P/E, while offering c.4% points higher 2018E FCF yield post capex."
Among European utilities Goldman likes Spain's Iberdrola (IBDRY) and Enel (ENLAY) , which are tipped to gain 4% and 16%, respectively, over the next 12 months.
What's Hot on TheStreet
Alibaba lit things up: After a monster run in its stock on the heels of a bullish investor day, Alibaba (BABA) - Get Alibaba Group Holding Ltd. Report founder Jack Ma saw his net wealth rise $8.5 billion to $41.8 billion. He is Asia's richest man, according to the Bloomberg Billionaires Index.
Why not stay long this tech stock, momentum lives on: Chip-maker Nvidia (NVDA) - Get NVIDIA Corporation Report is the best-performing S&P 500 component this quarter. The stock is up a robust 54% in June as Wall Street has become even more bullish on the company's prospects.
ROBOTS: There really isn't any additional information needed on this one. Softbank Corp. (SFTBY) has struck a deal to pick up Alphabet's (GOOGL) - Get Alphabet Inc. Class A Reportrobot-maker Boston Dynamics. TheStreetshows you inside of five seconds what Boston Dynamics does -- it's really cool stuff.
Click here for the latest business headlines.
Editors' pick: Originally published June 8.