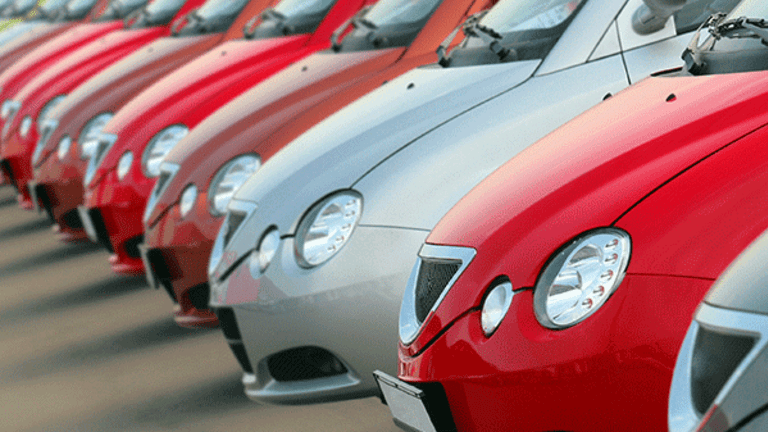 European Car Registrations Post September Record; Volkswagen Returns to Growth
Volkswagen sales return to growth, but group market share loss might mean opportunity for everybody else.
European car registrations hit a record high for September, the Association of European Automobile Manufacturers said Friday, amid healthy premium brand sales and solid figures from the scandal-hit VW Group. (VLKAY)
VW Group, the largest European car manufacturer by volume, saw registrations across the group rise by 5.6% in September and by 3% for the year-to-date, driven by strong demand for luxury brands such as Porsche and Audi. The core Volkswagen brand also saw volumes rise by 0.1% for the first time since the emissions-rigging scandal made headlines in September 2015.
However, the continent's premier auto group may still have some way to go before it makes a full recovery, with Friday's figures showing its market share falling from 23.3% to 22.9% during the twelve months to September. Around 2.7 million new VW Group cars were registered during the nine months ending in September, the statement said.
Volkswagen stock was up by 2.25% in European trading at €120.35, but is down by 10.8% for the year-to-date.
Total car registrations for all firms operating in the European Union and the European Free Trade Area were up by 7.3% in September, the ACEA said, to 1.4 million vehicles. Registrations were 0.3% higher during the nine months to the end of September, when compared with the previous year, totalling 11.6 million.
The strongest growth in registrations was seen in Italy, France and Germany, with these seeing an increase of 17.4%, 13.9% and 9.4% respectively. Growth in the U.K., the jewel in Europe's automotive crown during recent years, came in at just 1.6% in September and 2.6% for the first nine months of the year. 
Most European auto firms posted good growth in registrations during the recent month, along with gains of market share, with Peugeot manufacturer PSA Group PEUGY being the most noteworthy exception.
PSA Group registrations were down by 5.8% during September, compared with one year ago, and its market share was down to 8.6% from 9.8%. But the stock was up by 1.3% in early trading, to €13.02.
Renault Group (RNSDF) was one of the biggest gainers among large European auto firms, with registrations rising 18.7% in September and market share up to 8.7%, from 7.9%. The shares were up by 2.8% Friday, the biggest gainer on the CAC 40, to €76.14 
BMW Group (BMWYY) also saw noteworthy growth, with registrations rising 13% in September and market share up from 7.2% to 7.6%. BMW stock was 1.1% higher at €76.58 in early trading.
FCA Group (FCAU) - Get Report, the maker of Fiat cars, grew market share from 5.7% to 6.1% on one year ago during September, while registrations were up by 14.2%. It shares were up 1.4% at €5.68 in early trading.
Daimler (DDAIF) also grew market share from 6.2% to 6.8% with registrations up by 17.9% during the year to date. Daimler was also trading higher on Friday, with the stock changing hands around €63.97 a few hours into the session, up 1.3%.
The advance of Asian manufacturers into Europe stalled during September, with market shares largely flat, despite volume growth for Hyundai (HYMLF) and Toyota (TM) - Get Report.
Toyota registrations were up by 8.4% in September, but market share was flat at 4.5%. Hyundai registrations were also up, 3.9%, but market share was down from 2.6% to 3.4%.