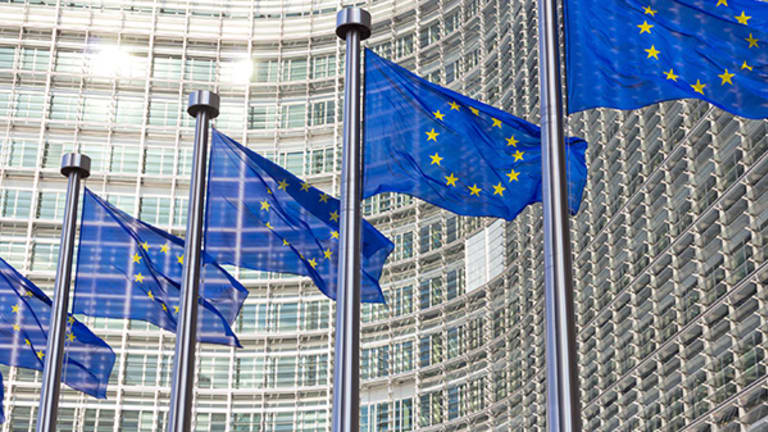 European Banks Could Be in Even More Trouble
What now looks like a technicality could still hurt European banks' shares.
The latest survey by German institute Sentix shows that the eurozone is getting more and more confident as the danger of a breakup decreases -- but don't get too used to it. A technicality about European banks could knock confidence right back down again.
First, the good news. Data released Tuesday show that the Sentix euro break-up index -- an indicator that captures investors' perception that at least one member of the single European currency area will leave within the next 12 months -- declined to 15.7 points. Since the eurozone debt crisis started in 2011, a reading below 20 has correlated with increased confidence in the monetary union, while values above 20 have correlated with negative news about a worsening crisis there.
"Investors' perceived level of fear, ignited by the unexpected result of the Brexit referendum at the end of June, has almost entirely receded," the Sentix institute, an independent expert in behavioral finance, said in a statement releasing the index's latest reading.
But the group also admitted that worries still seethe just under the surface. While the index's current-situation component (dealing mainly with present economic conditions) has been falling, another component that measures the fear of a contagion has been growing.
Take a look at this Sentix institute chart that shows the two:
"Despite that investors perceive that contagion risks have fallen in comparison to last month, the current state of the Italian banking sector continues threatening investors," the institute's statement said.
This brings me to the bad news: an old fear about European banks might come back to the market in a new form.
Unsurprisingly, investors find it difficult to price in all of the risks these banks face, from litigation risks for mis-selling scandals to big non-performing loans (as in Italy). But another risk that's not fully priced in involves the derivatives that sit on banks' books. This issue keeps coming back to haunt the markets, and it's been one of the big factors that's repeatedly knocked down share prices for Deutsche Bank (DB) .
Well, European banks could be about to get hit again on this issue as markets try to price in the fact that firms are going to miss a Sept. 1 deadline to phase in implementation of margin requirements for over-the-counter derivatives. The news isn't a total surprise (and the deadline is somewhat self-imposed), so this sounds more like a technicality -- but it could become important.
The Financial Stability Board, made up of bank supervisors in the biggest eurozone members (Germany, France, Italy and Spain) and 20 other big countries around the world, had asked members to  introduce margin requirements by Sept. 1 for derivatives not cleared using a Central Counterparty Clearing House, or CCP.
Beginning Sept. 1, banks in these countries that have more than €3 trillion ($3.34 trillion) in outstanding derivatives positions are supposed to start exchanging variation margin when trading non-centrally cleared derivatives with other big banks. These margin requirements will also apply to all banks in FSB member states (regardless of a firm's outstanding derivatives position) as of March 2017.
However, a progress report that the FSB published last week shows that only Canada, the United States and Japan (and Switzerland up to a point) are ready to start phasing in margin requirements. The United Kingdom and other European member countries are lagging behind.
While this might sound like a technicality -- and it largely is -- the consequences could be dire when combined with other market jitters about European banks. After all, the fact that some countries are implementing the new standards and others aren't only reinforces the idea that we have a two-tier financial system, with European banks on the weak side.
Imagine a U.S. bank refusing to buy derivatives from a European bank because the European bank isn't ready to submit the required margin. It suddenly becomes more than a technicality -- and not really the stuff of confidence.
Editor's Note: This article was originally published on Real Money at 8 a.m. on Aug. 30.
Employees of TheStreet are restricted from trading individual securities.